I love decorating my home for the seasons and the fall is my second favorite, right behind Christmas. This beautiful and colorful season is cute, festive, and every inner child's dream. During a recent shopping trip to Kirklands I found this gorgeous glass jar with a jute rope handle. I knew right away that it would be one that I could fill and refill time and time again as the seasons and holidays change. Today I am going to share with you three ways to fill these fall jars. This, starts a solid week of fall home decor projects so be sure to check back with us daily.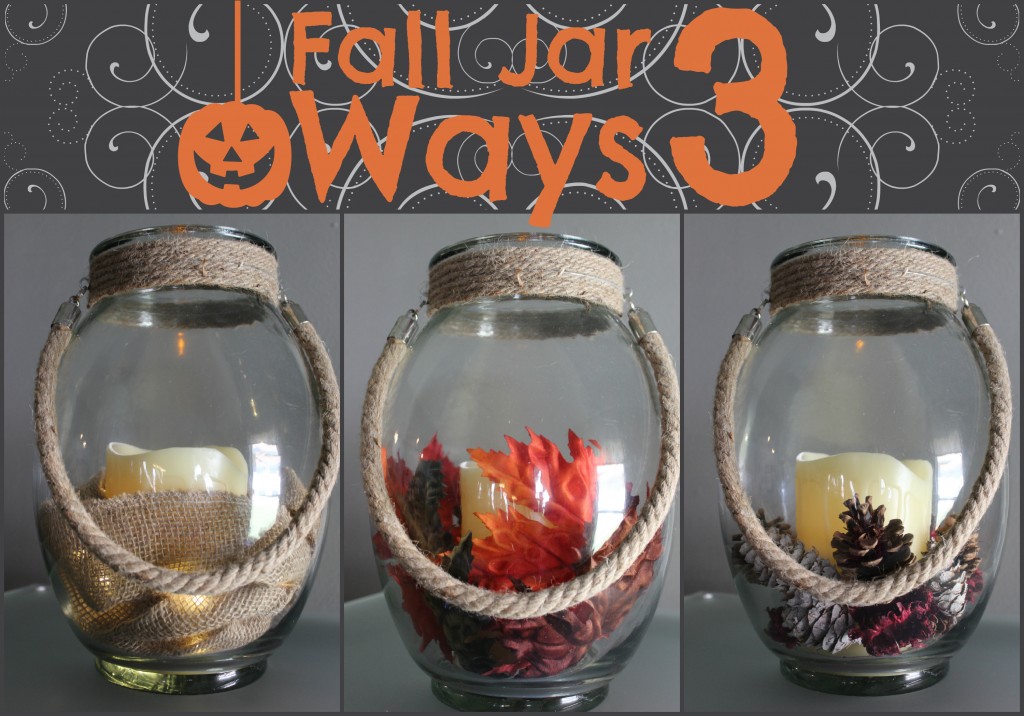 Each of these three Jars features a central candle first and foremost. Because I have children at home with me, I opt for the battery operated lights most of the time. Because this candle is battery operated, I did not have to worry about anything that I put in with it being flammable.
1. Lighted Burlap Ribbon
Rustic, yet chic, this is perhaps my favorite of the three. I got this incredible spool of ribbon at Kirklands, along with the jar itself. I fell in love with this ribbon because it has little twinkle lights built right into it, which are turned on and off with a little battery pack at the end of the ribbon. I can already tell that I am going to use this ribbon in many different ways throughout the coming seasons.
2. Artificial Autumn Leaves
For jar number 2 I simply traded out the burlap ribbon for a half dozen of the beautiful artificial autumn leaves that I had left over from my fall wreath clock of last year. This addition added a bright pop of color to the car and only took a minute or two to arrange.
3. Scented Pinecones
My third and final glass jar was made using those scented pinecones that you can find at every grocery store and home decorating store around the holiday season. I picked the smallest ones out of the bag and carefully arranged them around the flameless candle. If you don't get around to decorating very often, this one will look great from the beginning of fall right through to Christmas.