Do you want your guest to feel like they are staying in a high-end resort when they come to your home? There are three easy steps that you can take to completely transform your guest room. We recently did just this at my mother's new home and you won't believe the results. Designing a guest bedroom couldn't be easier.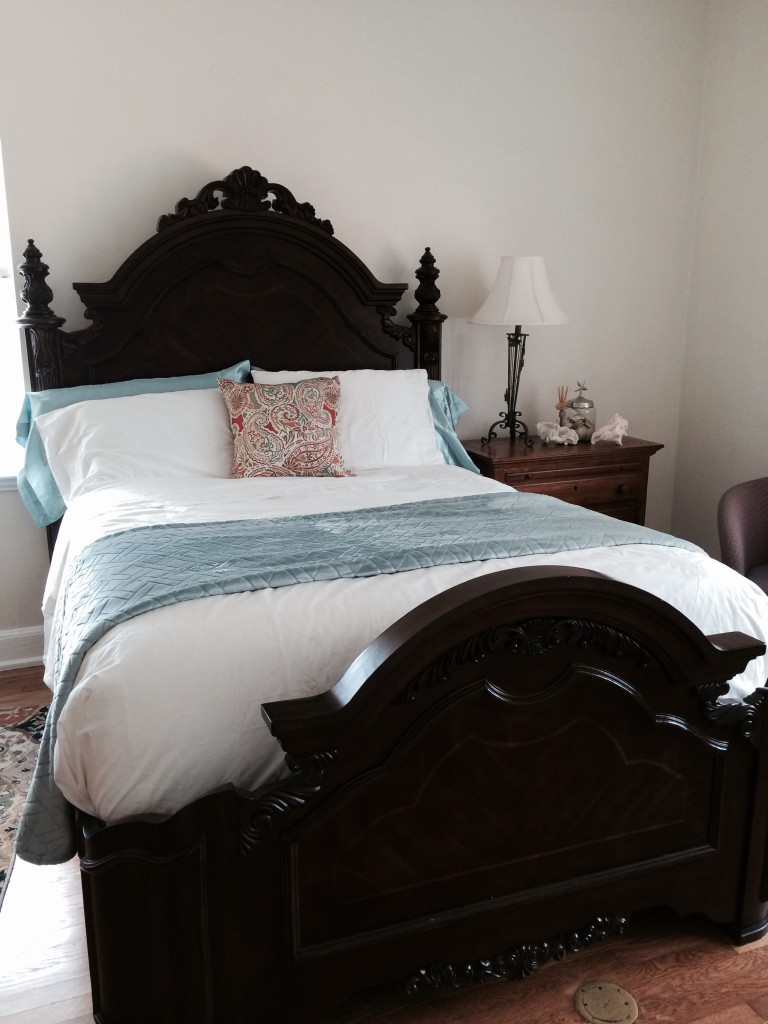 White Bedding
Make the switch to white bedding. All of the best hotels use high thread count, all white bedding to translate a clean, luxurious look to the guests. We traded out our traditional bedspread for a fitted sheet, two flat sheets, two colored pillowcases, two white pillowcases, and a white comforter.
When you make the bed place the white comforter between the two flat sheets. It will look like a duvet without all the work that stuffing a duvet takes. We then stacked pillows (two on each side) and finished off the bed with a beautiful blue blanket (our accent color) that was folded in quarters and laid across the bottom of the bed. The result is an incredibly inviting bed that your guests will have a hard time getting out of in the morning.
Individual Soaps and Shampoos
There is something luxurious in knowing that no one else has used a soap, shampoo, or conditioner before you. For that reason, we placed a clear jar on the bathroom counter and filled it with individual-sized bottles of these essential bathroom items. The top of the jars have a seashell motif that coordinates with the design of both the bedroom and the bathroom.
Towels & Robes
After a nice hot shower, nothing is better than wrapping up in a plush bath towel or fluffy robe. We placed a stack of blue plush towels on the counter and hung a matching robe on a hook right outside of the shower.
Before we knew it, our guest room transformation was complete. We had anticipated the needs of our guests and channeled all of our favorite things about our favorite hotels. Why keep this idea only for your guest room though? Try it in your bedroom and every night can feel like a vacation.