There was once a time when an outdoor living space consisted of a porch or patio decorated with a couple of rocking chairs and a standing grill. In recent years, the term 'outdoor living' has taken on a whole new meaning and outdoor rooms have become every bit as impressive as their indoor counterparts. Although a relatively new trend in home decorating, this rapidly growing desire to design lavish outdoor spaces is one that spans country-wide. According to a study conducted by the American Home Furnishings Alliance, nearly 70 percent of American homes have outdoor living spaces. Today, we start our series on how to design the perfect back yard by focussing on outdoor living ideas. By the end of this blog, you should have the inspiration you need to start creating the outdoor living space of your dreams. Over the next two weeks we will dive a little deeper and talk about outdoor decorating ideas and outdoor entertaining ideas. Now, let's get started designing the perfect back yard.
Outdoor Living Ideas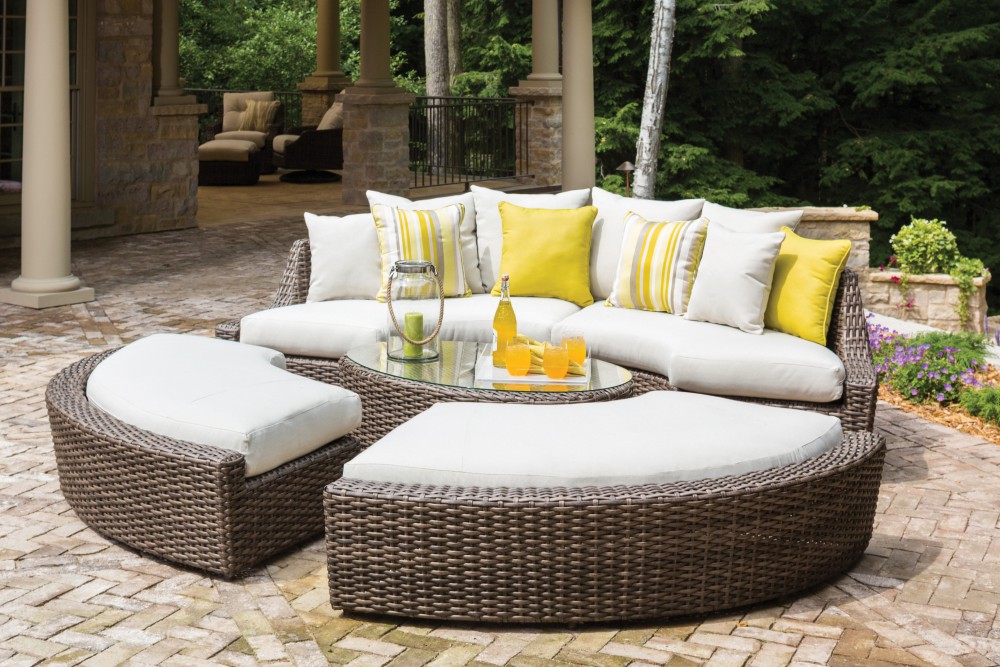 2016 Outdoor Living Trends
With every year comes new trends and 2016 sees homeowners nationwide designing or redecorating their outdoor spaces to accommodate their specific needs. While outdoor living rooms, kitchens, and dining rooms are still some of the most popular choices for outdoor living spaces, the American Home Furnishings Alliance also notices a trend toward creating individualized spaces such as outdoor yoga retreats and sport courts. Today, people are choosing to make the most of their back yards by decorating them in ways that will best suit the entire family.
No matter what type of outdoor room homeowners create, one thing remains a constant: a focus on comfort and relaxation. Outdoor furniture is outfitted with plush cushions and throw pillows in an effort to make the space more inviting. These cushions, pillows, and outdoor accessories offer an opportunity to infuse fresh colors into outdoor designs. In the end, these relaxing retreats become an ultimate extension of the home.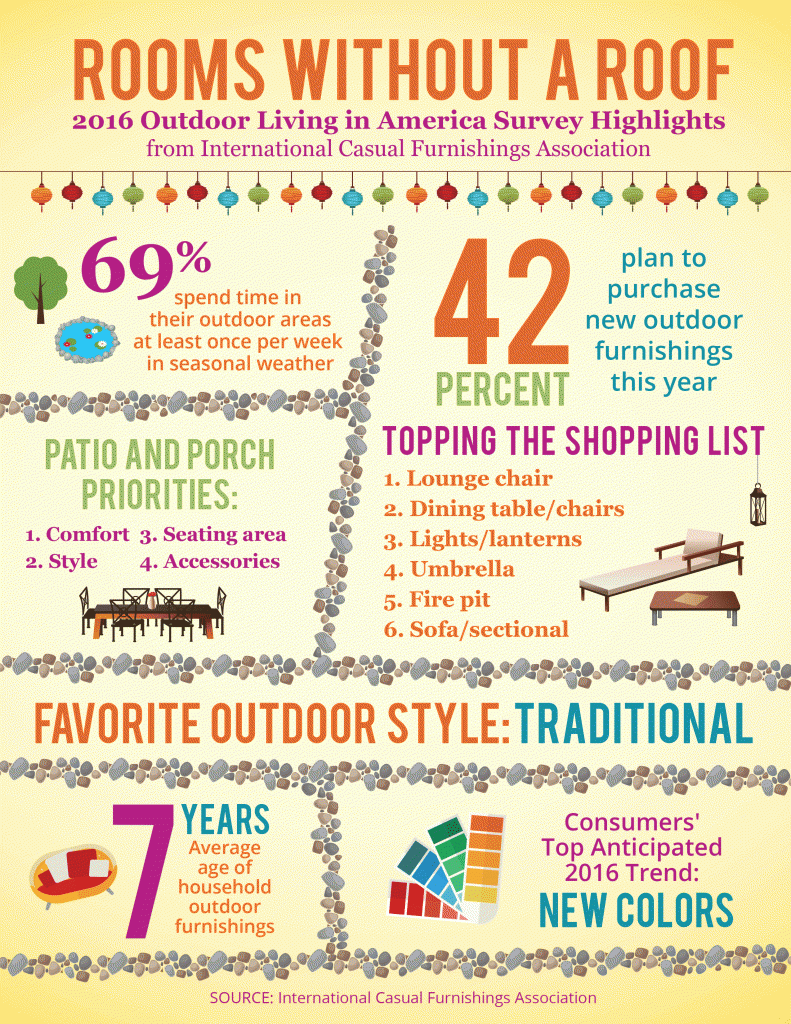 Planning Your Outdoor Living Space
Step 1: Determine a Function
If you are considering remodeling your landscape or adding an outdoor living space to your home, there are many things that you may want to consider. The first question you will want to ask yourself and your family is "how would you like to use your outdoor space?" It may seem like an obvious question but really stop and give it some consideration. Look at the size of your yard and think about how you could make best use of that space. If you like cooking out, perhaps an outdoor dining room and kitchen would be of the most use. If you would rather spend your time visiting with family or reading a book, an outdoor living room may be better utilized. Don't stop at just the obvious. Think of your favorite vacation destinations. What was it about them that promoted relaxation? Here are some of our favorite inspirations for outdoor rooms.
Pool Deck
Yoga Retreat
Outdoor Bar
Bistro Areas
Reading Nook

Bocce Ball Courts
Family Play Areas
Outdoor Movie Theater
Raised Vegetable Gardens
Fire Pit Conversation Areas
Step 2: Consider What Would Make the Space Comfortable
Now that you know what type of space you would like to design for your home, take a few moments to set back and think about what would make that space the most relaxing and comfortable. The answer could be anything from deep cushion seating to the addition of a grand outdoor fireplace. Sit in your blank space as you consider your dream for the space. Start to think about where each item would be placed. Make sure you account for the number of people you will be hosting in the space. If you find that you require more visual inspiration, check out our Pinterst boards for some more ideas. Here are a few things that many homeowners are adding to their elaborate outdoor rooms to promote comfort and relaxation.
Swings
Fire Pits
Bar Stools
Dining Tables
Lounge Chairs

Water Features
Outdoor Area Rugs
Full Built-In Kitchens
Heating & Cooling Elements
Large Cushioned Seating Areas
Step 3: Determine Hardscaping
Now that you know exactly how you want to use the space and what general types of furnishings you want to use to decorate, it is time to decide how you are going to set the stage for all of these things to happen. Do you have an existing concrete slab or deck large enough to accommodate your new outdoor living space? If not you will have to consider what type of foundation you will need to add to the space. These hard, immobile parts of your outdoor living room are referred to as the hardscaping of the area. Depending upon how involved you want to be, this may be the point in time where you bring in a professional to get a quote on your overall project. Here are a few hardscaping ideas to help you get started toward creating the outdoor room of your dreams.
Arbors
Pergolas
Pathways
Sand Areas
Retaining Walls

Built-In Fireplaces
Gravel Installations
Laying Brick Pavers
Concrete Deck Addition
Complete Outdoor Kitchens
Laying the Groundwork
Whether you are taking on a simple weekend DIY project or embarking on a complete back yard redesign, hopefully today's blog has inspired you to lay the groundwork for your dream back yard. With the foundations of your outdoor living space in place, we can soon talk about how to decorate your outdoor room. Next time, we take on the second part of our journey: creating the perfect back yard by delving into outdoor decorating ideas.
How to Design the Perfect Back Yard Part 1: Outdoor Living Ideas
How to Design the Perfect Back Yard Part 2: Outdoor Decorating Ideas
How to Design the Perfect Back Yard Part 3: Outdoor Entertaining Ideas