Saving money on utilities is always on the mind of every property manager. Here are the top 8 ways you save money every month on energy costs.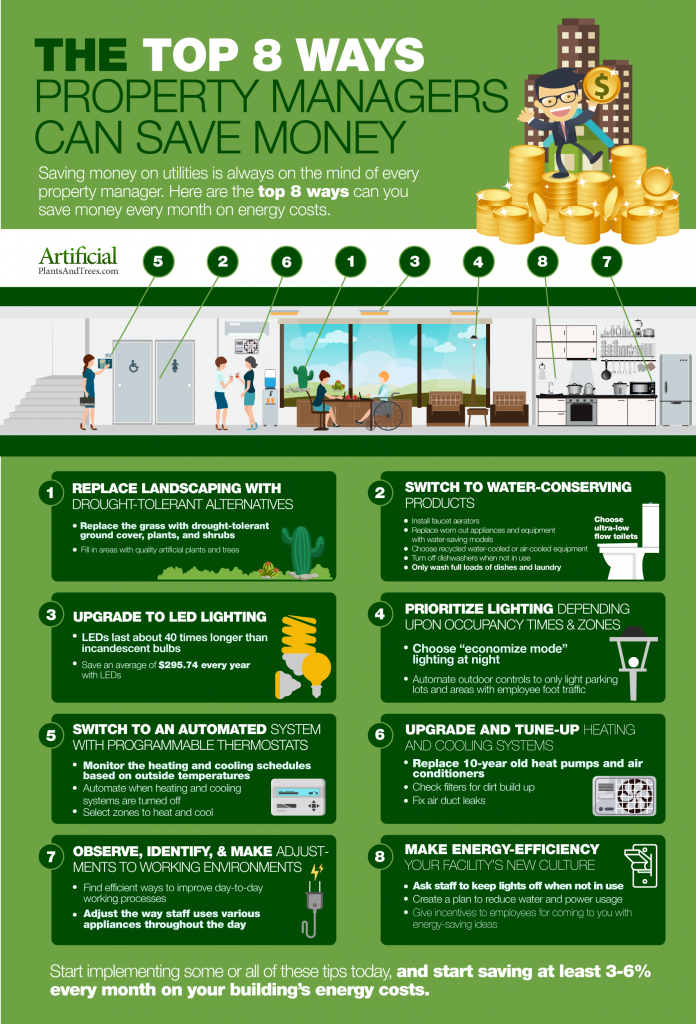 Share this Image On Your Site
Replace Landscaping with Drought-Tolerant Alternatives
Replace the grass with drought-tolerant ground cover, plants, and shrubs
Fill in areas with quality artificial plants and trees
Switch to Water-Conserving Products Indoors
Choose ultra-low flow toilets
Install faucet aerators
Replace worn out appliances and equipment with water-saving models
Choose recycled water-cooled or air-cooled equipment
Turn off dishwashers when not in use
Only wash full loads of dishes and laundry
Upgrade to LED Lighting
LEDs last about 40 times longer than incandescent bulbs
Save an average of $295.74 every year with LEDs
Prioritize Lighting Depending Upon Occupancy Times and Zones
Choose "economize mode" lighting at night
Automate controls to light only areas with employees and vehicles
Switch to an Automated System with Programmable Thermostats
Monitor the heating and cooling schedules based on outside temperatures
Automate when heating and cooling systems are turned off
Select zones to heat and cool
Upgrade and Tune-Up Heating and Cooling Systems
Replace 10-year old heat pumps and air conditioners
Check filters for dirt build up
Fix air duct leaks
Observe, Identify, and Make Adjustments to Working Environments
Find efficient ways to improve day-to-day working processes
Adjust the way staff uses various appliances throughout the day
Make Energy-Efficiency Your Facility's New Culture
Ask staff to keep lights off when not is use
Create a plan to reduce water and power usage
Give incentives to employees for coming to you with energy-saving ideas
Start implementing some or all of these tips today, and start saving at least 3-6% every month on your building's energy costs.