If you like to peruse home design and craft blogs, maybe you've noticed the same new plant trend we have: Succulents, also known as "fat plants," seem to be popping up everywhere.
While "fat plant" may seem like an unflattering moniker, it simply refers to the ample water storage ability these plants exhibit. After all, they grow in the desert where water is scarce.
At first glance, a succulent plant seems unassuming—even a little plain. But succulents vary greatly in appearance, some with long spikey leaves and others with short, round leaves. Plus, hues include purples, pinks and blues. Mixing the different types together creates an eye-catching plant arrangement that is anything but dull.
Hanging several single succulents, like this artificial succulent, against a blank wall creates unique wall art. Try staggering them on varying lengths of invisible string.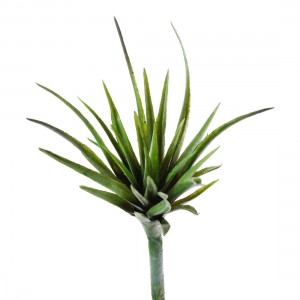 I especially like the idea of framing a whole bunch of tiny, colorful succulents and hanging them on a wall. You can actually contain soil using taught cheese cloth and stick the stems in small holes throughout. When it's time to water your succulents, just take them off the wall, lay them down and spray them.
For all you crafters out there, a succulent wreath could be a perfect summer project for you. Though a succulent wreath is always in season, it seems to radiate a cooling ambiance from smooth, thick petals.