Often, it can be difficult to judge how well a silk plant or tree will fit your home or office just by looking at pictures on the Internet. Even if you think the one you like will be a pretty good fit, we strongly advise you to take a few measurements. This removes the guesswork, and helps you avoid the hassle of exchanging your tree or plant for a smaller or larger one after you've received yours in the mail.
Below, we explain how to measure our silk trees and plants. Use this guide to gauge whether they'll be a good fit in your home or office. Break out the measuring tape and refer to these guidelines to figure out whether that special silk tree or plants will look as good as you imagined in your space.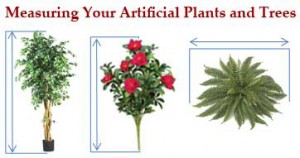 For trees:
Our artificial trees are measured from the bottom of the non-decorative pot to the top of the tree. Please note that fluffed trees (those that require shaping) may settle 6 to 12 inches, so final height may vary.
Topiary trees are also measured from the bottom of the non-decorative pot to the top of the tree. The measurement is exact.
For plants & Greenery:
If unpotted: silk plants are measured from the top of the plant to the bottom of the bare stem.
If potted: they are measured just like trees—from the bottom of the pot to the top of plant.
For width: Plants are measured by the longest leaves on each side.
Ferns are only measured by their width. A 38 inch fern is 38 inches wide using the two longest fern leaves.
For all items:
If a decorative planter is included with your tree or plant purchase, the planter is included in the product height.
Unless Noted – Decorative planters are sold separately .
Click to learn how to shape your artificial tree