Whether you choose silk plants or live plants to decorate your home, you should make sure to choose fun, creative planters to anchor them in. The planter you choose is as almost important as the plant itself—maybe more.
You don't need to spend a lot of money, and you don't even need to look very far to find decorative planters that are charming and unique. In fact, rarely-used household items and natural treasures make some of the best plant displays. Take a good look around the house, shed and garage for inspiration. If you need help with your vision, you might find some of these plant displays we found on design blogs to get you started.
It's hard to imagine a pile of old tires looking bright and cheery, but then you see this photo and it all becomes clear. You might have a few tires ready for painting, but if you need more, visit your local transfer station or junkyard.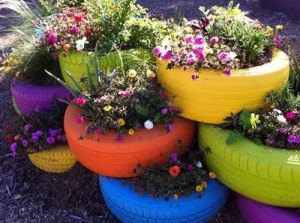 In fall get creative with your pumpkins and turn them into decorative planters for your mums.  Just hollow out the gourd and leave the mums in their plastic pot and drop in.  You can also put the mums in a pot without holes so you can water without making the pumpkin moldy.
Survey your family's old shoe collection for a boot planter display like this one. Choose boots of a similar style and material, but mix up the color scheme for a whimsical ambiance.
We really like the idea of using seashells as planters for smaller plants, such as succulents and cacti. A conch shell or sea urchin makes a great home for a little plant. Top the soil off with sand for a beachy feel. If you want to add color, give your shells a light coat of paint.