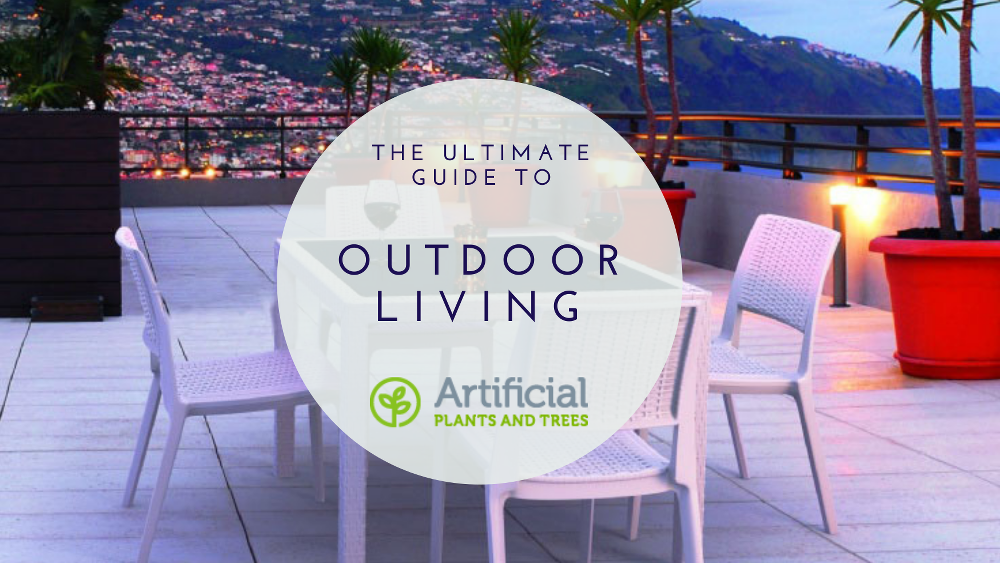 If you need to extend your living space, moving outdoors is the perfect solution. You needn't actually build on to your property. Simply invest in some top quality and durable outdoor furniture, use a splash of imagination, and there you go, an instant extra room.  The art of outdoor living as exploded in popularity in recent years with creative and complex designs for ultimate comfort and relaxation.
Now we realize that creating a comfortable outdoor space may take a bit more thought than sticking a couple of plastic chairs in your garden. You have a great opportunity to design a really wonderful space that enhances your home and lifestyle. Spending time outdoors is good for the spirit and soul – and if you can do this in comfortable and sociable surroundings, even better.
Here are a few things it's good to get straight before you start shopping for outdoor furniture.
Find your space
Firstly, where is your outdoor space going to be? Where do you have the most room? Where has the best views, the most privacy, or sees the sunsets? If you have a semi-covered balcony or porch, that's the obvious place to create an inviting indoor-outdoor space. Do you need to work your furniture around a pool, hot tub, or outdoor kitchen? How close to your home to you want your sitting area to be: immediately outside makes life easier if you plan to dine outside, or you may want a quiet, relaxing zone away from the bustle of the kids!
What will you use your outdoor room for?
Will this be a place to relax with friends, read a book, or enjoy family meals? Or, would you like a multi-purpose space that everyone can enjoy in their own way? How you want to use your outdoor space dictates what furniture you need. However, don't forget that you can easily add a chair or two and a relaxing sofa as the function of the space evolves with time.
Choose your style
Wood, metal, plastic, and wicker all give you such different looks. Do you want the light and contemporary feel of a pale wood, or prefer the old-school styling of cast aluminum? Match your style to your home – or, be daring and give your garden a whole new look. With some of our furniture, you can choose different designs and colors of cushions, which can completely transform the look of your space – and don't forget to accessorize…
If you need some help, have a look at these inspirational ideas
Are there any storage needs?
If you live in a State with inclement weather, you may need to think about storage. Even the best-quality fabrics will suffer if they're constantly exposed to damp. If you plan to pack up your outdoor room in the colder or wetter months, look out for folding varieties and detachable cushions; or if you're short of storage space, choose furniture that's designed to live outside, such as our iron sets, and follow the manufacturer's guidelines for treating it.
Year-round outdoor living
Do you plan to use your outdoor room throughout the year? If you live in a colder climate, embrace the Scandinavian lifestyle with an outdoor fire pit, and cozy up around it on cool evenings. For hotter days, plan for welcoming shade: a patio umbrella is a must for yards without much shelter. If you choose wood furniture, you'll need to think about protecting and preserving it against damp or heat-cracking.
Getting started
Having thought these things through, it's time to start looking in more depth at what you need. Here's our guide to creating your ideal outdoor room.
If you have the space for a patio furniture set, this is a sure way to create an instant and stylish living area. Different materials create different looks; and just as you can inside, you can choose from different colors and designs to suit your taste.
For timeless charm, you can't beat wicker patio furniture, and this always looks just perfect on a porch. Our wicker furniture is made from resin wicker, which is a synthetic material designed for outdoor use. This doesn't affect its authenticity, as "wicker" actually refers to the style of weaving, rather than the actual fabric. Traditionally, wicker furniture was made from canes such as bamboo; however, for patio or garden use, you need something more durable! Choose eight seater sets for family gatherings, or look out for love seats for companionable after-dinner drinks.
Beautiful hardwood teak furniture is a popular garden choice. If you leave it untreated, the durable wood fades to a lovely silver shade. The attractively-grained wood is hardy, and so is a good choice for all-seasons seating. We have other wood furniture sets as well as teak. Wood is the best choice is you want your furniture to blend in with nature, and it looks superb with your planting. For a completely different look, choose a white-painted style.
And then of course, there are the magnificent metals. Modern aluminum sets offer sleek and stylish designs, and are perfect in contemporary settings. The simple styling of most aluminum furniture means that they are the perfect base for bright and colorful cushions – go on, pick something bold and beautiful! For a classic look, cast aluminum adds a touch of vintage chic to your garden. Think Parisian pavement cafés or old-world parks. Both aluminum styles look elegant but are very robust. To add some drama, go for an iron furniture set. The tubular metal has been powder-coated with a dark finish, giving a striking result which again works well with vibrantly-colored cushions.
Finally, we have the new kid on the porch, plastic resin. This is an excellent option for so many gardens, and you can choose from traditional presidential rockers or laid-back Adirondack-style seating. The plastic resin has been finished to look like painted wood, but is wipe-clean and so durable. It's also a great eco option, as our plastic furniture is made from recycled bottles.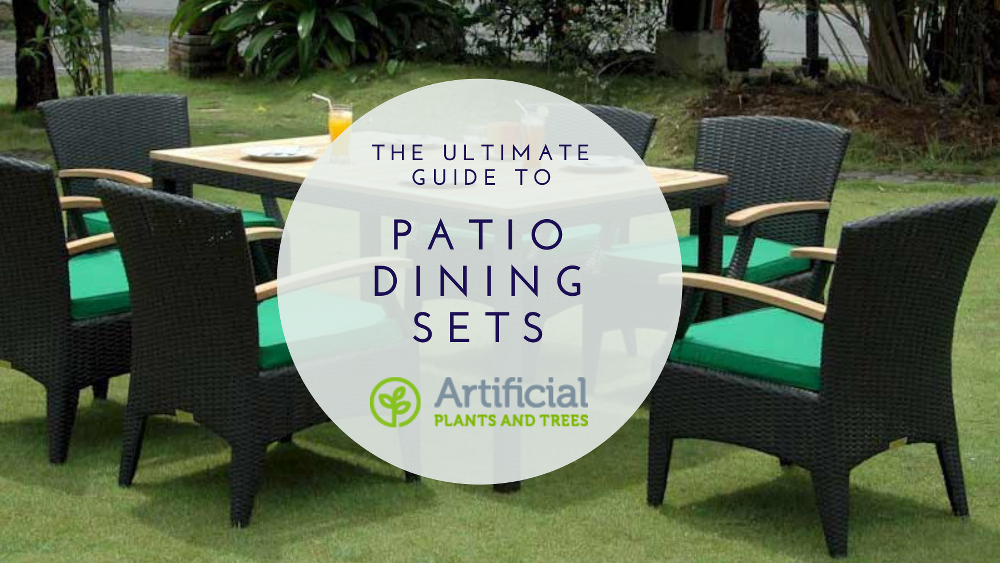 Dining outside on a warm evening with friends and family is one of life's real pleasures. From reviving breakfasts to long, lazy lunches to fun family barbecues, al fresco dining adds an extra zest to the food. A good-quality table and chairs make all the difference between a comfortable and uncomfortable outdoor meal; and if you plan to eat outside a lot, this is as much of an investment as your indoor dining set.
There are a few things to take into account. How many diners will you need to fit around your table? What sort of space do you have? Do you perhaps need two sets: a small bistro table for the two of you, then a banqueting style option for when the family come round? Then of course, there are the material and style considerations… We'll take you through some suggestions.
We love the European bistro table look: small, round and intimate, made from delicately patterned yet durable cast aluminum. Perfect if you want your table to look like it's been there for years. It's so easy to picture the two of you, sitting at your petite table, enjoying a sundowner together; however, some of our cast aluminum sets can seat up to eight diners, so you can also capture the liveliness of café culture. If you like the robustness of aluminum, but don't want the vintage look, browse our other aluminum dining sets.
We've already mentioned how well teak furniture weathers, so this is a lovely option for an outdoor dining set. It looks great in a garden or on the patio, and it fits especially well in a coastal environment. One of the advantages of wooden furniture is its flexibility of use: you can choose folding and extendable options, and make sure that your dining set suits your lifestyle. For a lovely informal feel, have a look at our other wooden dining sets. Relaxed and comfortable, these are the perfect sets for barbecues with the kids. And speaking of kids, if you're envisaging a lively, messy kind of outdoor dining, try a low-maintenance plastic resin dining set. This versatile material has been made into all kinds of styles, and you're bound to find one you like.
Last but not least, classic wicker dining sets create an elegant eating space in any outdoor setting. Choose from cozy bistro table sets, or big, sociable dining tables. White styles give an old-style colonial look (team with an artificial potted palm or two!) or there are more minimal, modern looking designs.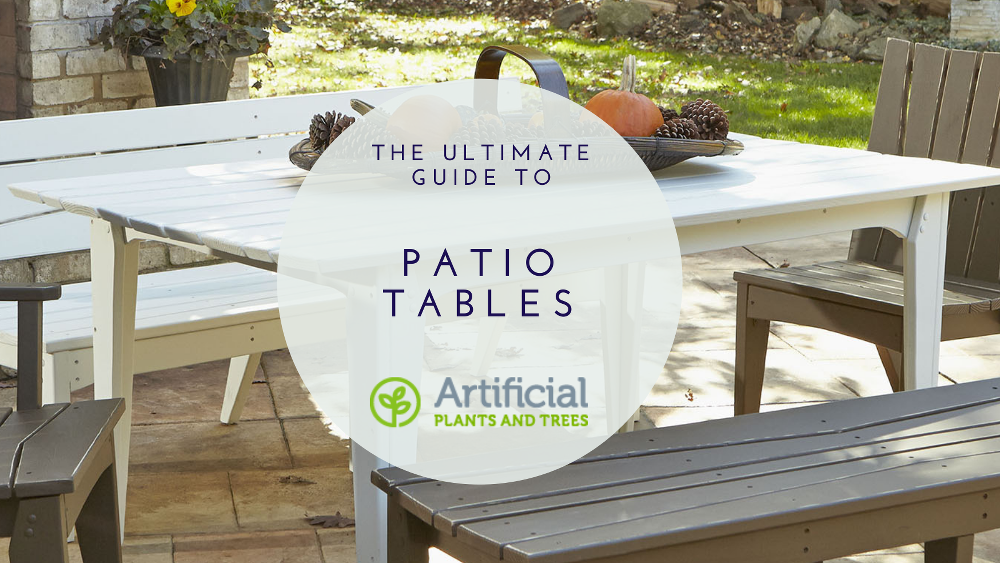 Of course, you don't need to buy an entire, ready-made dining set. Choose them separately for a funky mix and match look, or it could be that you simply need an extra or different type of table.
Our dining tables come in a range of different materials. There are all the favorite materials that we've already covered, as well as the wonderfully neo-classical limestone tables. Look out for extendable tables for flexible outdoor living. If you want to add an extra occasional table here and there, or want a compact table for a modest balcony, think about a pretty little bistro table. To make the most of stunning views from a patio or balcony rail, a taller counter table is a good choice.
If you want to really make your outdoor area feel like a comfortable living room, a coffee table is a great addition. Made from the same durable materials as our dining and lounge sets, it's easy to choose a table that fits in with your style. They really do add that extra element of relaxed and enjoyable lifestyle to an outdoor room. Likewise, a well-placed end table to place your drink is an extra touch of luxury that you don't always get in an outdoor suite. Why have a gorgeous, high-end settee or steamer chair, then have to scrabble around on the ground for your glass of wine? Perfect for poolside comfort.
If you use your garden as an entertaining space, invest in a bar table (or several). Tall and elegant, these are the perfect place to perch your cocktail during a garden party. If you host large events where many people stand up and circulate, a few of these tall tables are a thoughtful touch. And don't forget to add a console table to hold pitchers, glasses, salads, potato chips, olives…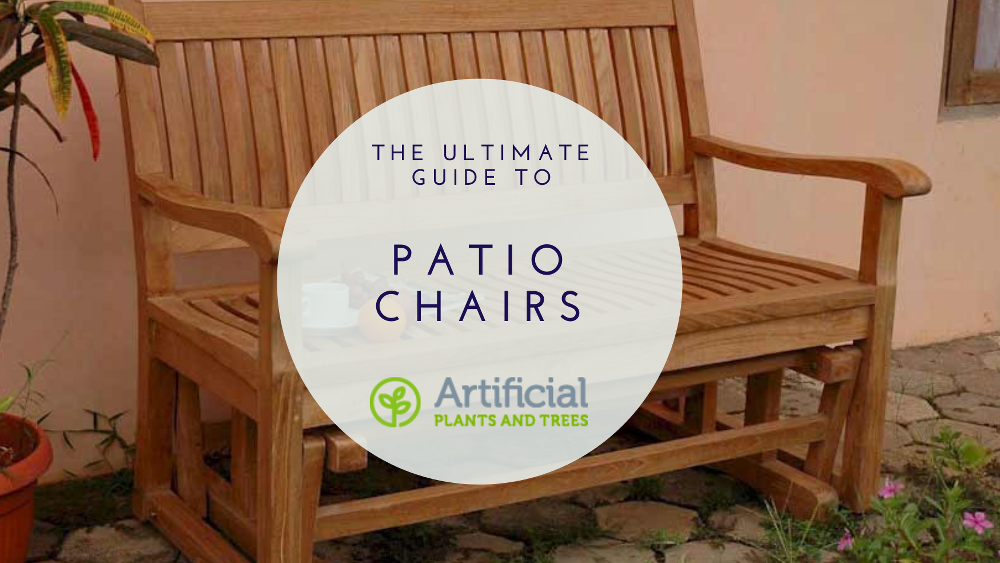 Why have a garden or a balcony if you can't sit back and enjoy it? There's nothing like relaxing in a comfortable patio lounge seat after a busy day at work, or for taking welcome breaks during gardening. From balcony bar stools to poolside chaise lounges, there's a place to unwind for everyone.
There's something so homey and inviting about a chair on the porch. We just love traditional outdoor rocking chairs and outdoor gliders. Add an end table for your book and drink, or just sit and watch the world go by, in good old grandpa style! Have a look at these authentic and stunning porch suggestions from Southern Living. For a more modern (and companionable) take on porch living, try a small sofa or love seat. If you're recreating your living room outdoors, chairs and sofas with deep seating are absolutely perfect for both style and comfort. Add an outdoor ottoman and coffee table, and you have a second living area – just one with great views and plenty of fresh air!
If you want real relaxation, try rocking yourself to sleep in the garden! How about a hammock? Lash one up between a couple of trees in a sheltered spot, or attach it to a hammock stand and have it by the pool or on the patio. Grab some cushions and a cocktail, and just lay back gazing at the sky, gently swaying… If you prefer a more upright position, check out our iconic porch swings. Although these have been a feature of American porches for generations, you can choose to hang yours elsewhere in the garden by selecting one with a stand.
If you've already chosen your dining table, you'll need a few patio dining chairs to complete the set. Don't feel you have to choose matching chairs – go for a lively modern look by mixing and matching from our selection, or perhaps order the same design in a variety of eye-catching colors. Make sure you dine in comfort by adding patio chair cushions. These are available in a whole spectrum of colors and a variety of patterns, letting you customize your outdoor space as you would your indoor rooms. If you've gone for a taller table, look out for bar and counter stools for your dining set.
These are such special and iconic garden chairs that we've devoted a bit more space to them! Americas have been relaxing in the distinctive Adirondack chair for over a century – and their simple and comfortable design makes it easy to see why they are still such a garden staple.
The first chair was made by Thomas Lee in 1903 while he was at his summer house in the Adirondack Mountains. The classic outdoor Adirondack chair is made from eleven wooden planks, and has a straight back and distinctive wide armrests. These days, the backs are often rounded and the low seat slopes backwards. A classic cedar Adirondack chair is a pleasure to sit in and a joy to behold – place a pair on your porch for a feeling of timeless relaxation.
However, materials have moved on, and we feel sure that the practical Mr Lee would approve of modern plastic copies. Finished to resemble wood but with the definite advantage of being wipe-clean, these are a fantastic option. The poly plastic version is particularly good for coastal homes, as it's resistant to damaging salty surf spray. It's also available in a variety of colors.
There are all manner of variations on the Adirondack chair now. Look out for tete-a-tete seats with a handy little table or relaxing rocking styles. If you're short of space and need to store your chair when you're not using it, search out folding designs. There's even a kids' Adirondack chair, so the whole family can sit in style!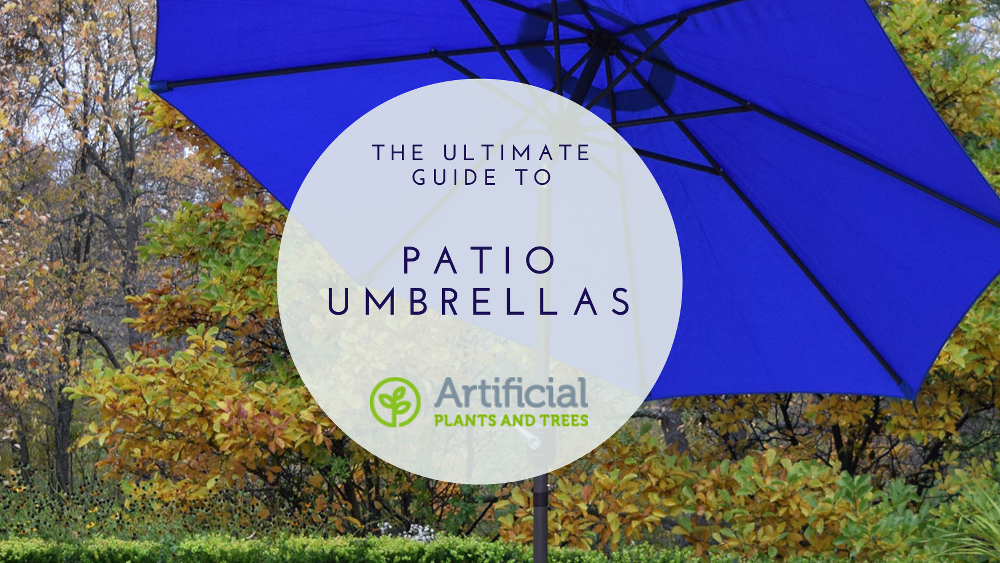 Bright and sunny days are wonderful; however it's never a good plan to sit directly in sunlight. A patio umbrella is an easy and attractive way to make sure your outdoor room continues to function even on the most dazzling days. They won't protect you from UV so you'll still need your sunscreen and shades; however they will prevent screen glare and squinting, as well as creating a cooler and more comfortable area for you to relax in.
An umbrella is more than a functional piece – it's also a chance to add some color and character to your patio or garden. Create a new accent color for your garden with a brightly colored shade, or go for a shade that matches your patio chair cushions. Natural-hued shades look wonderful with wooden patio furniture or against colorful planting
A patio umbrella finishes off an outdoor dining set perfectly. Wooden umbrellas are a smart and popular choice, and perfect if you have a wooden patio table with a center hole. Aluminum bistro tables often have a central hole for parasols too, so choose a metal patio umbrella if you have one of these. If your table doesn't have space for a pole, you'll need a stand for your umbrella. Choose a cantilevered umbrella that can be angled to one side, so you can position the shade over the dining set or the seating area. Place a cantilevered umbrella behind a love seat or bench to create a lovely little shady reading zone.
Tilting umbrellas allow you to sit in the shade at any time of day. Easy to use, the pole bends, allowing you to gently move the umbrella shade to follow the sun. A tilting umbrella is ideal to keep the bright rays off your book while you lounge by the pool or in the garden, or to gradually adjust the shade during an especially long lunch… One of the advantages of this design is that you can simply pick it up and move it around your garden or patio. Many of our tilt umbrellas come with integral stands: if not, you can add a separate one. If you're planning on leaving your umbrella outside when not in use, it's worth investing in an umbrella cover.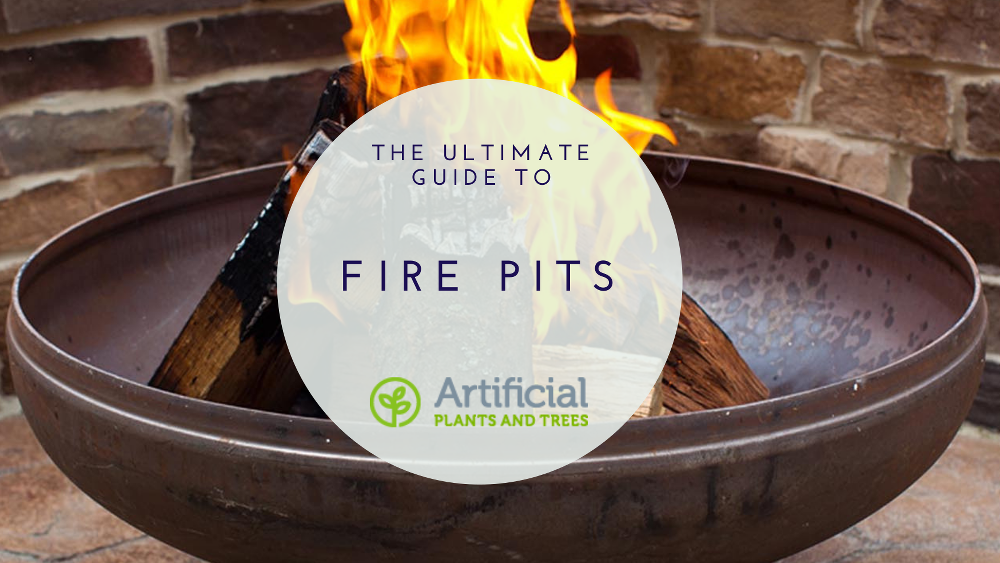 We now move from hot to cooler weather. Don't shut your garden room away when the temperature drops. Do what they do in really cold climates and wrap up warm, then sit around a fire pit!
Made from solid steel with a naturally rusted and weathered appearance, our fire pits have a real rustic charm. There are shapes punched out of the steel base to give lovely flickering patterns when the pit is alight. Choose from collegiate designs, team names, and attractive natural decorations, or go for an artisan-styled fire globe or fire bowl instead, which are rounder and more oriental in design. Raise your fire pit off the ground with a neat three-legged stand.
Look out for models with barbecue grills so your fire pit can double as an outdoor cooker. Light up winter evenings with some hot grilled food, cooked outside (there are some great ideas for fire pit cooking here). They burn logs, so everything you cook will get that wonderful, smoky tang – you can cook like a backwoodsman in your own garden! Perfect for parties, or family evenings spent swapping jokes and stories around the flames. Outdoor living at its warmest and most convivial.
Contact Us About Your Outdoor Furniture Requirements
We hope we've inspired you to step outside and think about what's possible. With a bit of thought, your garden can be as comfortable and stylish as the inside of your home. Extend your space with a sofa set or a dining area, and then extend the outdoor season by adding a cozy fire pit.
If you need some advice about creating an outdoor living space, please click here to contact us or call now on 1.888.532.0232. We're standing by to help in any way we can.