Welcome to the world of artificial topiary – and it really is a whole new world. For centuries, gardeners have been painstakingly coaxing and shaping shrubs and trees into distinctive shapes. The result is often elegant, sometimes amusing, and always eye-catching. However, as you can imagine, creating then maintaining these leafy works of art takes a lot of effort. We all love the look, but we don't have the time to take care of a living sculpture.
So – welcome to the world of topiary! You get the same characterful plant on display, but without the constant need for pruning to keep your designs in shape. It's the perfect solution.
Let's have a closer look at artificial topiary and the stunning range of topiaries, great and small, that we have in our collection.
The Story Of Topiary
Topiary has been around since Roman times, when shaped plants were popular ornaments in the atrium's of Roman villas. The art was also practiced in the East, with beautiful shapes created from shrubs in Japanese Zen gardens. It then came to Europe in the 16th century, resulting in beautiful gardens such as the famous one at Versailles outside Paris. Shaping plants fell out of favor for a while, to be revived in the later 19th century when the fashion also came to America. In the US, we especially developed the idea of portable style topiary.
Modern  topiary nothing short of spectacular. The Smithsonian magazine chose their favorite five gardens, including the incredible Topiary Park in Columbus, Ohio. However, you don't need to create your own park to make the most of your yard. A simple pair of shrubs in your conservatory or flanking your porch will still look absolutely stunning.
---
Why Choose Artificial Topiary?
Artificial topiary gives you the look you want without the stress of creating it. It goes without saying that shaping plants is a complicated business. Firstly you need a clear idea of what design you want. You then have to select the right plant, and be able to shape and trim it to match your vision. Because this is a living sculpture, you then have to keep tidying it so it stays in shape. You're as much hairdresser as gardener! (One wrong snip and oops… All that work, gone.)
Let's be honest, most of us don't have the time, skills, or inclination to take up shaping  plants as a specialty. However, the end result, whether elegant or quirky, is a truly special garden or conservatory feature. A good quality artificial plant looks fabulous, and requires only a little light dusting to keep it in superb condition.
Our fake topiary is designed to look incredibly realistic. By knowing and understanding the real plant, we can design beautifully realistic faux topiary.  And if you don't appreciate how a plant will behave when shaped and sculpted, you won't be able to create convincing look. It's also important to use the right materials. Our products are made from natural-looking rubberized plastic or durable but delicately-detailed plastic, and some are protected against UV. However, please check the specification of each item to make sure it's suitable for full sunlight – just like you do with a real plant!
You'll already have a good idea of what look you're hoping to achieve. You may want to capture the elegance of a Roman villa in your yard or garden room, or perhaps you want to add a real eye-catching feature to your garden planting scheme. If you like the idea, but haven't quite decided how to work topiary into your designs, have a look through a few ideas on Pinterest and see these fabulous pictures on Houzz.
To help you search, we've divided our range of products to  "shop by shape" and "shop by style". Wander through our topiary collection, and see where your imagination leads you!
---
Shop By Shape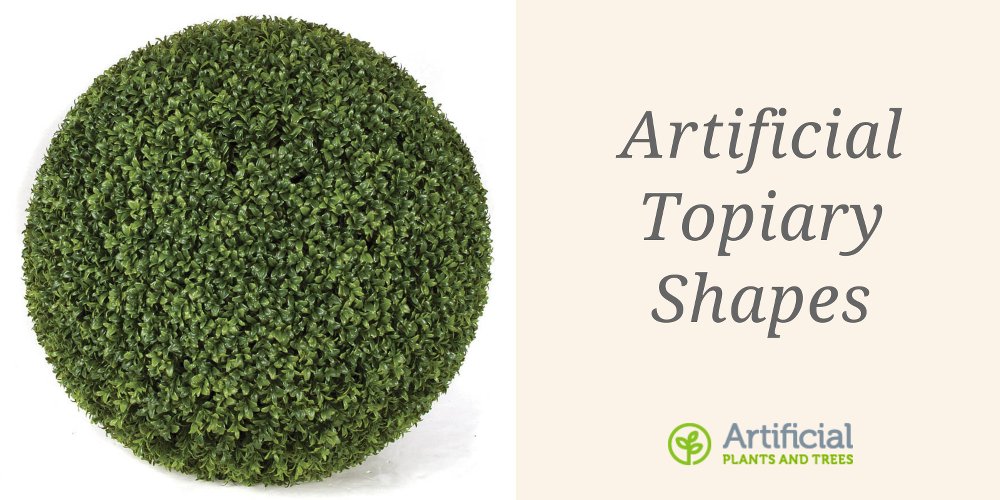 Artificial topiary comes in all shapes and sizes. Choose from perfect spheres, twisting spirals, and graceful cones. Size-wise, we have a range of sizes from tabletop designs for indoor use right through to artificial hedges. Have a look at our selection of different designs, and see which shape or combination of shapes works for you.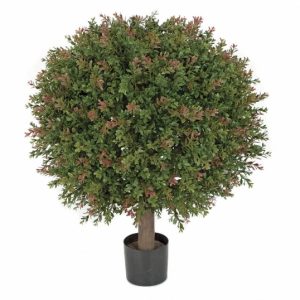 A carefully-shaped ball is one of the classic shapes but fairly difficult to accomplish– and an extremely hard design to get exactly right if you're working with real leaves! Our collection of artificial ball topiaries is perfect for adding a touch of Renaissance-style elegance to your porch or office foyer. There's a large choice of single balls, which can be used to form part of a display and which look wonderful planted in pots. Look for varieties on slender trunks for that "lollipop" effect. Or you may prefer a dramatic potted double ball variety, or a tree with even more tiers.
Slow-growing evergreen shrub boxwood is extremely popular design, and we have a great selection of boxwoods. Its clusters of small, dark green leaves are perfect for creating a thick, full effect. For a less formal look, try a topiary ball made from artificial bay leaves. These larger leaves give a looser, more natural effect than boxwood, while still keeping the sculptured look that's essential in topiary.
Look out for triple ball bays for a lovely little tree that looks chic anywhere from a shop to a balcony. For beautifully realistic detail, check out the rich, dark needles of our cedar ball topiaries. These traditional and stately genus are best displayed in classical urns or other traditional planters.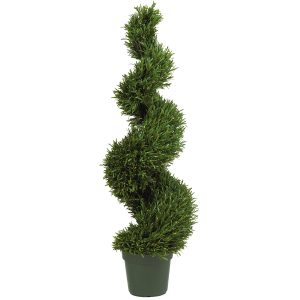 Don't get into a twist about cutting a spiral sculpture – if it's curves you're after, an artificial spiral tree gives you the look you want without the tricky pruning. They are equally happy indoors or outdoors – or you can simply move them around to keep creating new looks. Our spiral topiaries range in height from tiny two foot trees to stunning six footers; so even if you're a bit short on space, there's still room to add one of these graceful creations. We love the look of these shapes flanking a doorway or staircase.
Spiral topiaries can be tall and elegant, adding height to a planting scheme or a touch of verdant refinement to your home. Try one of our boxwoods, is this is the style you're after? For a fuller effect, go for a cedar or a cypress variety. These have lush, dark green leaves, and give you a lovely, plumper-looking plant.
For an extra bit of detailing and a lovely color, our range of rosemary spirals are a fabulous option. We also have a variety of other leaves – have a look through the complete collection to see which suits you the best.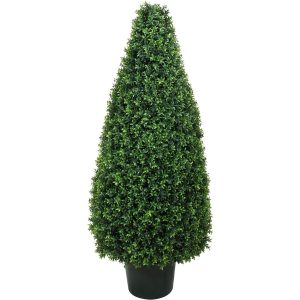 With designs ranging from table top to towering seven footers, there's a great range of conical plants to choose from. One of the many advantages of this graceful, elongated design is that even taller products have a relatively small footprint, meaning that they will still fit into more modest sized spaces.
If you're looking for a cone topiary tree to add height, we have a great selection of trees of 5 feet and over. These elegant trees can either create a mixed bed outdoors, or make sophisticated decorative house plants indoors. Look out for tea leaf, which have densely packed yet delicate leaves, and which work wonderfully well as taller plants.
Another leaf variety to watch out for is our old friend the boxwood, which comes in a variety of styles that can include cone tower, pyramid, and cylinder. Remember that every look doesn't have to be architectural – we have a selection of smaller cone-shaped plants, which make superb house plants or table decorations. And speaking of which…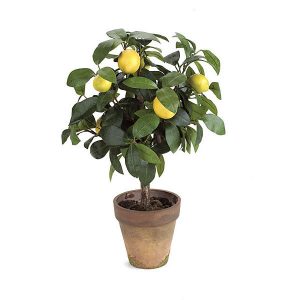 Why stop at the garden or conservatory, a neatly trimmed plant is a real asset to your indoor decor. We have a stylish selection of tabletop topiary (try saying that quickly!) that make fantastic indoor accessories. Available ready potted, these high-quality artificial plants are good to go, making them superb gifts as well as a treat for your own home.
Tabletop topiaries look fabulous positioned on a mantelpiece, shelf, or side table – and just think, they never need watering! This means that you can place your plants in those difficult-to-reach areas, or put them on surface that you really don't want marking with water. Plus of course, you can go on holiday or leave the office for the weekend without fear of your beloved plants drying out.
We have various different types of table top plans. There are smaller versions of classic styles, such as the cone or the ball, which look really appealing in their planters. If you want to add a splash of color, look out for trimmed artificial fruit trees. Real citrus trees are notoriously difficult to look after; and if you have young children, faux versions avoid the risk of the kids eating inedible fruits. Our miniature fruit and olive trees look sensational in sunny garden rooms, or conversely, brightening up darker areas.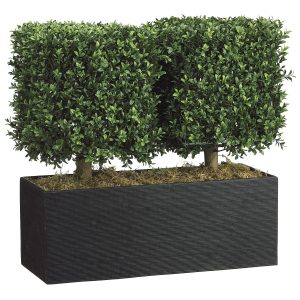 Artificial hedges are so useful. Aside from providing a low-maintenance border for your garden or balcony, they have all sorts of creative uses. Fake hedges can be used to create lively shop displays, props for theatrical productions or filming, jumps for horseback riding, and stylish space dividers in restaurants.
Trim them with twinkling lights for a stunning effect. Artificial hedges look smart alongside driveways and paths, without the worry of keeping them tidy and well watered. You don't even need to make sure you have soil!
Our plastic hedges come in a variety of heights, depths and styles. From small bushy varieties through traditional dividing hedges, you're sure to find a style that suits your needs. The absolute classic leafy hedge is made from attractive and reliable boxwood, so we always have a great range of boxwood hedges in stock. Think about the level of cover you need, and the length of your boundary, then browse our collection to find the right size and number of sections required.
---
Shop By Style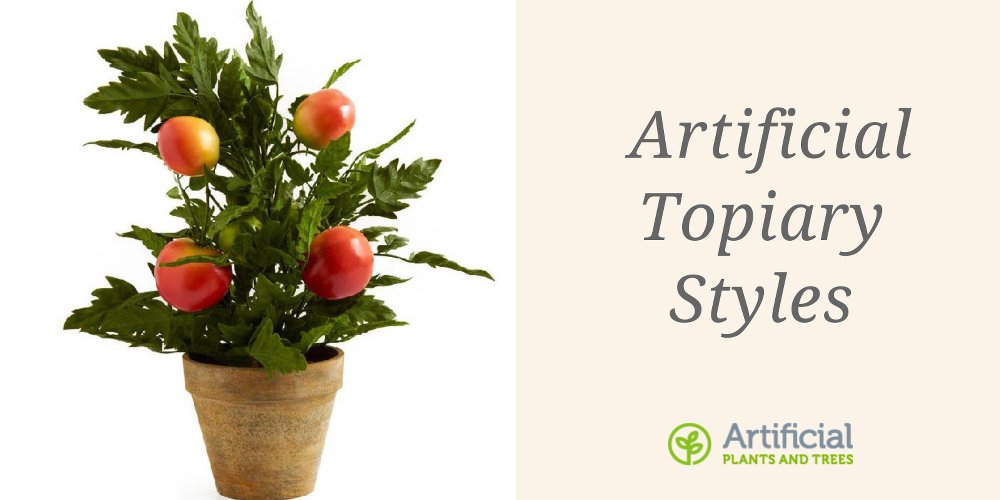 Another way to choose your artificial topiary is to shop by style. Have a look at the different varieties of topiaries available, and simply see which type you like the best. All our products have been designed and made to look as realistic as possible – and it's so hard to tell the different between our false plants and the real thing. Browse our selection of wonderful styles to find your perfect plant.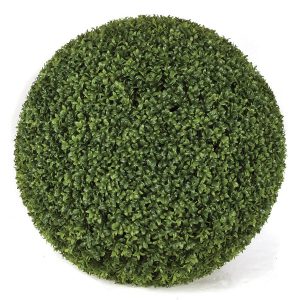 Evergreen shrub boxwood is an extremely popular hedging material, because its smallish, dense leaves grow in clusters that provide thick, year-round screening. For topiary purposes, it's a real star to prune. However, a natural boxwood hedge or shrub needs plenty of attention, and it can be prone to "box blight". Capture the right look with some artificial boxwood, whether in a boundary hedge or a real showcase topiary piece.
As a traditional topiary shrub, boxwood is fantastic for recreating maintenance-free classic designs. Try a sphere or two if you're looking for a typical topiary design. A single sphere can be displayed in an individual planter; or choose something more dramatic and go for a double, triple, or even quadruple ball topiary.
This is where the topiary balls are stacked vertically, creating a fantastic look. If you're searching for a decorative artificial plant to impress in a lobby or foyer, this is an excellent option. Boxwood is definitely the Queen of Topiary, and we always have an excellent selection of fantastical designs to choose from.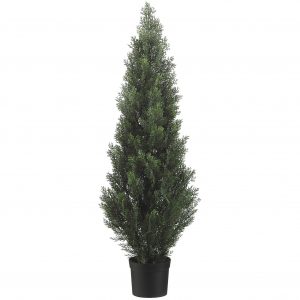 Where boxwood gives a tight, tidy finish, cedar topiary is something rather different. Looser and more laid back, cedar lives at the natural-looking end of the topiary spectrum. Its natural liveliness always shines through, even in the more intricate topiary designs, and our artificial cedar trees capture this exuberance. If you want a shrub that's tamed and tidy, but still has a leafy texture, consider an artificial cedar tree.
For a really natural-looking false shrub for your garden, try one of our outdoor cedar topiaries. These go right up to 12 feet tall, an impressive addition to your planting scheme. Unlike real cedar, they'll never experience leaf burn or struggle with too much or too little water. They'll just stand there, calmly looking amazing, whatever climate or soil they happen to be in.
If you're searching for cedar for indoor use, there are some fabulous spiral designs. These make an original feature for a conservatory or porch, and you can even add some sparkle with a set of fairy lights (without worrying about watering the flex).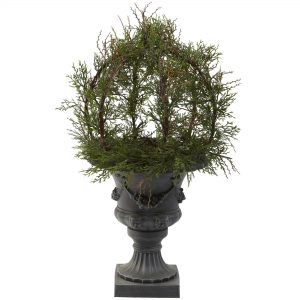 The cypress is a conifer with frond-like leaves, which provides boundary hedging for gardens across the globe. Its popularity comes partly from the fact it can be incredibly fast growing, which is great if you need to grow a border quickly. However, this is also where its greatest flaw lies. If you don't keep trimming and pruning, the cypress will be out of control in no time – not ideal for topiary. Artificial cypress topiaries give you the lush green fronds of the real thing, but without the constant need for attention.
In terms of looks, the cypress tree is often somewhere in between boxwood and cedar: neat, but not too disciplined. Look out for graceful cone shaped design for a formal look, or be more playful with a ball design. For something rather different that will look spectacular, choose one of the taller spirals, which go up to ten feet in height.
These slender giants aren't just for the garden: they would look stunning in a double-height space in either the home or a workplace. And just think – you'd have no concerns about having to prune all that way up.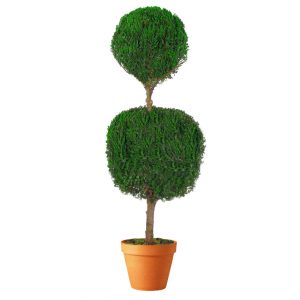 Preserved topiary is a different way of creating an artificial plant. A real plant (we use blue juniper) is grown to the right size, carefully sculpted by skilled artisans, and then naturally preserved to keep its color and texture. Although still a real plant, it no longer needs light, food, water or soil.  The preservation process freezes the plant at that moment in time.
Some people prefer preserved topiaries to artificial ones, feeling that they're closer to nature and retain the "essence" of the plant. That's simply a personal choice; we like both styles, however we do appreciate that preserved topiary has a certain special something about it…
We have a wide selection of preserved topiary, and our range of smaller items is particularly fine. The vibrancy of the preserved foliage makes these a popular choice to brighten up darker areas of home or office interiors – and of course, as the plant itself no longer needs sunlight, it doesn't matter that it's in a shaded spot.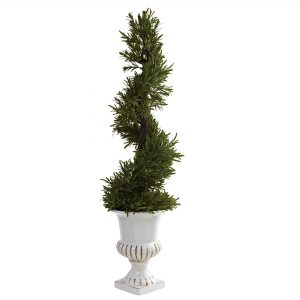 The soft-but-spiky leaves of the rosemary bush are a beautiful basis for topiary creations. These gorgeous designs have captured the silvery sheen of the green rosemary leaves, and they look wonderfully realistic. Real rosemary is fussy about soil and drainage, and often won't thrive in a pot.
False rosemary has no such diva-like drainage demands, and we have a lovely collection of potted rosemary topiaries. It is famous for its heady scent; however, its herbal smell can be really overpowering, especially if you want to bring it indoors or onto a porch or balcony.
Have a look at our range of spiraling rosemaries. Starting at 30 inches and going up to six feet, there's topiary here for all manner of different settings. A pair of artificial rosemary spiral trees looks superb placed on either side of an entrance doorway, driveway gates, or staircase. They add a verdant charm to restaurants and shops, and would make a real talking point in a conservatory or porch.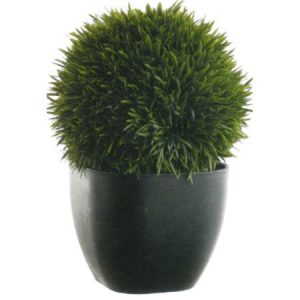 Tea plants are grown in the mountains of China, Tibet, and India. But, don't worry if you can't provide the right humidity for these tender leaves, as our artificial tea leaf topiaries look wonderful and are maintenance-free! Like boxwood, tea leaves are small and green, and grow closely together, providing excellent cover. Topiary created with real tea leaf plants is neat and trim, and we have recreated that look with our fake versions.
Search out elegant styles, such as the cone shaped designs. Display your conical plant in a classical urn for a traditional shape and effect. Or go with the plant's Asian origins and work it into a Zen garden design, with a dark stone pot. The timeless simplicity of the tapering lines means that they will work equally well in a classic or contemporary setting. You don't have to display your plants in a planter; just add the tea leaf plant to your garden as part of a mixed bed.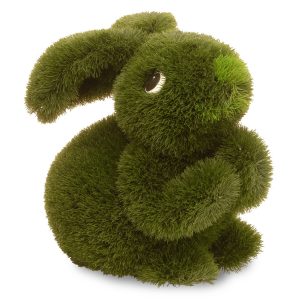 And finally, simply a bit of fun! We couldn't end without showing you how enjoyable art can be, and we love these cute little creatures. Animal topiary goes back a long way.  Peacocks, rabbits, and horses are just some of the menagerie that has graced stately home lawns over the years.
We're not offering anything as dramatic as an avenue of deer, just a selection of charming little characters that look so appealing peeping out between plants in your yard. They often end up as houseplants, when kids adopt them as leafy family pets!
---
Buying Your Artificial Topiary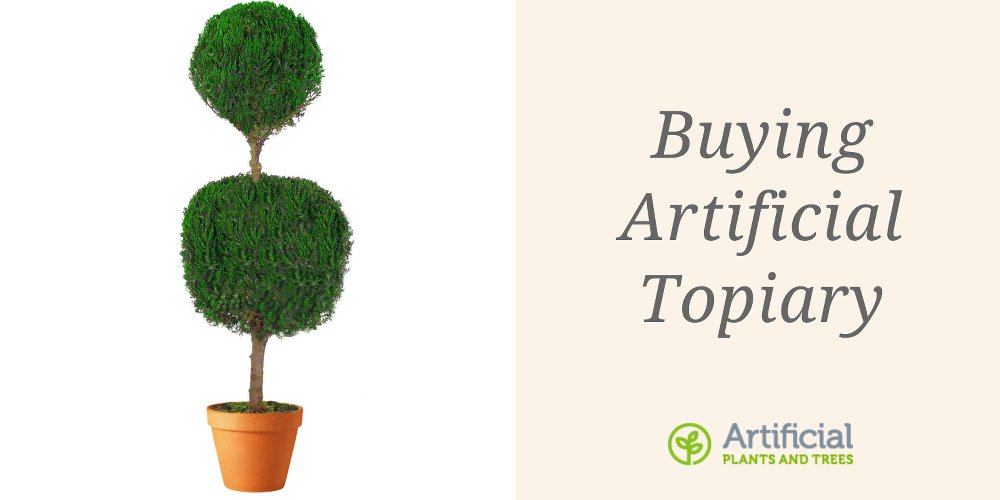 We hope this has helped guide you around the leafy maze of artificial topiary. By choosing fake varieties, you have all the benefits of this elegant art without having to become an shaping artisan as a time-consuming hobby.

Contact Us To Discuss Your Artificial Topiary Requirements
Whether you're looking for topiary for your home and garden or your workplace, or even as part of a shop display, these distinctive shrubs will always add an individually elegant touch. And the best thing? They'll always keep their shape, without you having to snip and trim them all the time.
If you've seen some products that really appeal to you, or you'd like some advice, please shop our secure online store or call now on 1.888.532.0232. We're here to help you with any topiary-related questions, from shipping inquiries to design tips.