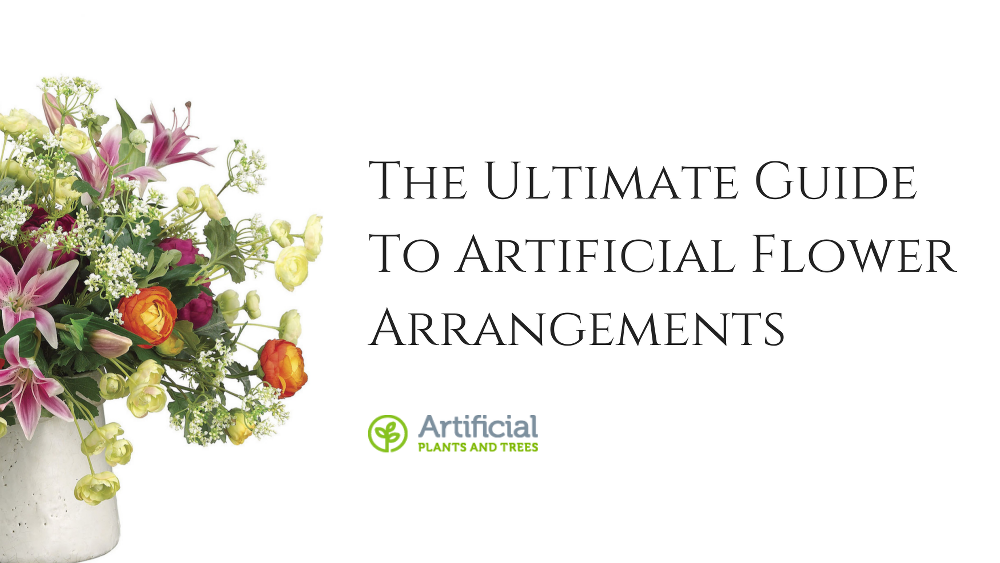 Everybody loves to see a vase of beautiful, colorful flowers – but even the most stunning, high-quality display is only ever temporary. Create floral displays that last forever with gorgeous and realistic silk flowers.  Artificial flower arrangements look as good as the real thing, without having to be replaced every few days when the blooms wither. Today's silk flowers come in so many varieties, and have such fantastic attention to detail, that they're indistinguishable from natural plants.
From wedding decorations to hotel foyers, to simply adding a splash of color to your living room, artificial flowers have so many uses. Here's our guide to choosing and displaying silk flowers in your home or business.
Why Choose Artificial Flowers?
There are so many reasons to choose artificial flowers over real ones. Forget the waxy-looking fake flowers your grandma had when you were a kid: today's artificial flowers are masterpieces of detail. They even have realistic little touches such as stamens on lilies and thorns on roses – it's almost impossible to tell them from the real thing. And if you miss the scent of real flowers, simply add a quick spritz of perfume!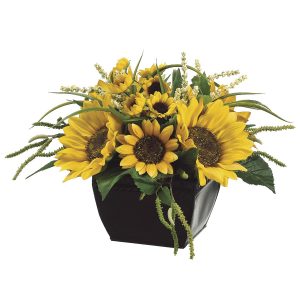 If you find a display you love, it will last for ever
You know what it's like. You get a bouquet or flower arrangement, and it looks so perfect you want it to last forever. When you finally have to put the flowers in the trash, the room looks empty without them. An artificial arrangement can become a much-loved permanent feature. Have a look at these ideas from Houzz for inspiration.
They won't wither or drop petals
Flowers are never at their best for their last few days. If you have a mixed display, the blooms age at different rates, leaving you with an untidy, semi-withered mess and petals everywhere.
They're non-allergenic
Great news for hayfever sufferers! Provided you gently dust your flowers, they won't cause the problems that pollen does. Silk flowers are a must for weddings where any of the bridal party or guests have allergies. It's not fun sitting at the wedding feast opposite a lavish floral display that's making your eyes itch.
You can keep sentimental displays for a lifetime
And speaking of weddings… It's hard to let go of those beautiful wedding flowers, isn't it? Decorate your venue with stunning silk flowers that you can treasure forever, or pass onto guests as mementos. All of these wedding centerpiece ideas can be created with artificial flowers.
Seasonality isn't an issue
You can have whichever flowers you wish, at whatever time of year suits you. If you want sunflowers in the winter, you can have them! No freighting flowers over from the other side of the country if you want out-of-season flora – whatever your climate, you can choose your blooms.
No spills, no mess, no uninvited little critters!
Display silk flowers on a priceless antique table without fearing for water marks or spillages! This is great in homes with children or in busy businesses. Another great advantage is you won't get flower-dwelling bugs popping out of the centerpiece to say "Hi" while you're having dinner…
They save you money
How many dollars do you spend each month, replacing fresh flowers? Unless you're lucky enough to have your own cut-flower garden, each time you change your display, it's going to cost you. Invest in an artificial floral arrangement and save this ongoing expense.
They're easy to buy
There are two main ways to shop for your artificial flowers. You can look at the style of the flower arrangement, matching it to your decor and personal taste. Or, if you want to choose specific varieties, you can shop by type.
Shop Artificial Flower Arrangements By Style
Shopping by style is a great way to match your flowers to your décor. Whether you're after classic or contemporary, you can quickly and easily choose an arrangement that sits perfectly with your decorative scheme. If you want a simple way to create a seasonal display, have a look through our range of spring, summer, fall and winter arrangements. Perhaps you've been tasked with making your work foyer look inviting – if so, this is the best place to start.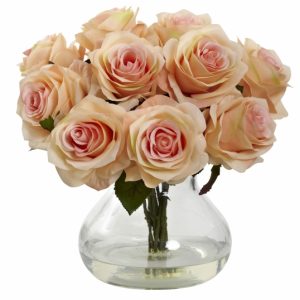 From entrance hall showstoppers to delicate wedding table arrangements, an artificial centerpiece can transform a space. Traditionally, a centerpiece is a display on a dining table, and artificial flowers are a beautiful (and hygienic) way of dressing your dinner party or reception. However, you can also use a centerpiece as a focal point; and we love them in hallways and foyers.
How do you choose the right centerpiece? Firstly, what size do you need? This is the hardest one to compromise on, especially if it's for a tabletop arrangement. So, before browsing further, think about whether you need tall, long, spreading, or compact. If it's for a narrow table, you'll need something upright like an orchid, and a row of rectangular planters works well for wedding banquet tables. Make sure the scale is right: a modest vase of roses will look superb in a guest room, but get lost in a hotel lobby.
Next, you need to consider color. Our silk centerpieces come in all shades from deep reds to palest peaches. Do you have a decorative scheme to match to, or do you want to add an eye-catching splash of a contrasting color? If you're thinking about flowers for the workplace, do you need to tone with corporate colors?
Finally, what's the function of your centerpiece? Is it for occasional use, such as a formal dinner, or will it be a permanent fixture in your home or office? Do you want it to be the star of the show (for example, in a prominent position near an entrance or stairway) or do you need it simply as a beautiful ornament on a table or sideboard? Think about what it will be standing on, and match the shape of the vase or planter to the shape of the table or other surface.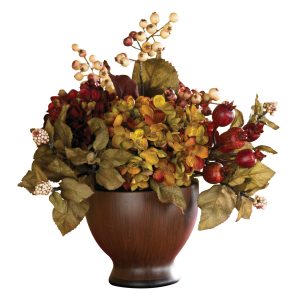 If you want your silk flowers to mirror nature as closely as possible, think about changing them with the seasons. From laid-back summer meadows to rich autumnal shades for fall, these beautiful arrangements celebrate the changing seasons, replicating Nature's wonderful colors exactly.
Choose simple styles for spring freshness. Lovely lavenders and delicate daisies are perfect for a spring dinner table, or to look pretty on your nightstand. Look out for elegant planter displays for a stunning spring wedding. In the summer, be bold with bright sunflowers and hydrangeas. One of the many advantages of artificial flowers is that if you're having an outdoors meal or party, you can easily pick up the display and pop it on your garden table without spilling water or shedding petals! Enjoy the summer with a vibrant array of mixed colors that won't be affected by dry conditions.
For the fall, go richer with New England-inspired yellows and oranges, and harvest-themed arrangements. The winter brings many celebrations: Thanksgiving, Christmas, and Hanukkah are all major winter holidays, and times when we all want our dining tables to look at their best. Go for festive and warming reds with touches of green.
Of course, with artificial flowers, the time of year doesn't really matter! If you want your home to look sunshiny whatever the season, go for it, and have a beautiful year-round display of sunflowers.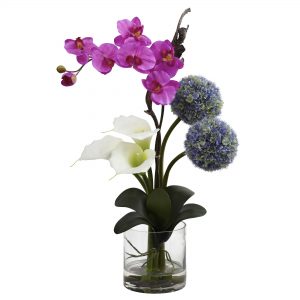 As we said earlier, silk flowers are no longer the preserve of grandparents, but today's way of creating distinctive displays. Some of the most spectacular arrangements we stock are the contemporary ones, which look absolutely amazing in a modern home or on-trend office.
For a really clean, contemporary look, go minimalist. An orchid in a vase is a modern classic – simple and elegant, like a piece of art in your home or workplace. A single, modern bloom in a vase is also a fantastic choice if you want to make a design statement but space is limited; and this look is popular for mantels, shelves, reception desks, and store counters.
However, don't assume that you have to go minimal to be modern. Leaves, fronds, and small branches are stylish additions to contemporary artificial flower arrangements. Think architectural, and choose by shape as well as by flower. If you have a larger space or want to sit your arrangement on the ground, you can get displays up to 3 feet high. We also have pretty little flower arrangements that sit well under a foot tall – lovely as a discreet centerpiece, on occasional tables, or even on nightstands.
The vase or planter is an important thing to consider when choosing your contemporary flower display. Look out for eye-catching metallics or retro-style urns that contrast with the beautifully-realistic blooms. The glass vases come in a variety of on-trend designs: search out tall, square, or bowl-shaped designs.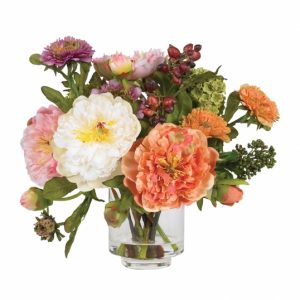 Now, let us solve one of the mysteries of realistic artificial flower arrangements: fake water. Many of our silk flowers stand in realistic-looking water – how do we create that illusion? We use something called acrylic water, which is made from a resin that sets to look incredibly real. We love using it, as it adds a real life-like touch to an artificial vase display. However, getting it right isn't easy. You have to be really careful with air bubbles and specks of dust, and make sure that your display is exactly as you want it before committing with the setting resin! Because of this, we'll take the job off your hands, and our vase arrangements come with the stems standing in acrylic water.
If you want your silk flowers to look as realistic as possible, fake water is the way to do it. Place a few flowers (silk or real) in a vase empty of water, and you'll immediately notice that something isn't right. It just looks wrong! Real water isn't good for artificial flowers (apart from a quick clean with a damp cloth), so if you want a clear vase, choose a display that uses acrylic water.
The advantages are obvious. There's no risk of getting marks or spills on your surfaces, and you can stand your flowers near varnished furniture or electrical items with no fear of damage. The flowers can be displayed in busy workplaces or in homes with lively children and waggy-tailed pets. It's also low-maintenance:  you don't have to top up or change the water, and it will never look scummy. So, if you want a practical silk flower display that looks ultra-realistic, have a look at our collection of acrylic water arrangements.
Shop Artificial Flower Arrangements By Type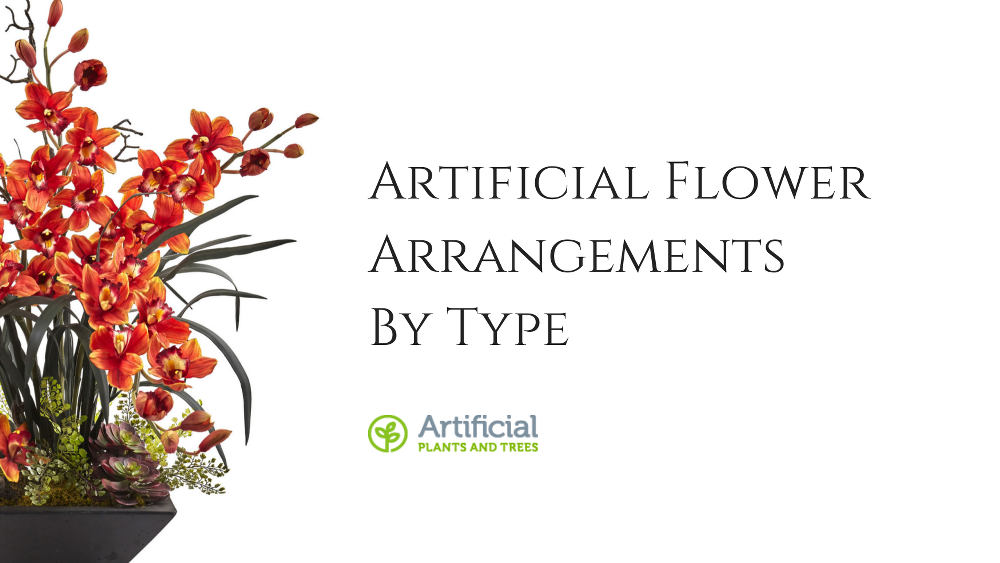 We've looked at fake flower arrangements by style; now let's think about shopping by the type of blooms you like. As with real flowers, different varieties of silk flowers can create really diverse displays. From traditional roses to dramatic orchids, our realistic blossoms are here to help you create the look you want for your home or business. Specific flowers naturally work best with certain decorative schemes. Here's a look at our main four faux flowers, plus a guide to our beautiful preserved flowers.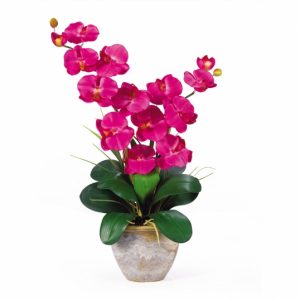 Queen of the contemporary display, there's no flower quite as elegant as the orchid. Looking after real orchids is an art, so artificial ones are very popular, especially in workplaces where caring for plants isn't always easy. There are around 28,000 species of orchid in the world: we can't replicate them all, so we've chosen a selection of the best-loved! Our orchids have painstaking detail, from stamens to pseudo bulbs; and it is genuinely very, very tricky to tell real from fake.
How do you choose your silk orchid display? The first main choice is whether you like the classic, minimalist single stem look, or prefer a fuller arrangement. If you are going for one or just a few stems, then color is your most important consideration. A hot pink or deep red orchid gives a pale contemporary décor an exciting edge; however many people love the pure, clean look of the white orchid. You can also choose between potted varieties and flowers displayed in vases.
There's no pressure to be minimalist however, and larger displays of orchids or mixed arrangements including orchids look fabulous. Cymbidium orchids have lots of delicate blooms on each stem, and create a spectacular display en masse. Look out for styles which combine orchids with extra foliage, or that add another, complementary bloom such as the prettily-colored peony.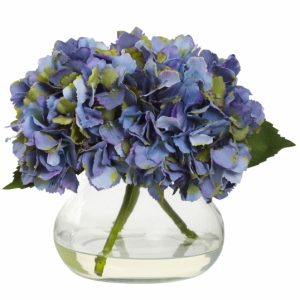 The summery hydrangea may be mainly seen as a large outdoor shrub; however its generously-sized blooms make fantastic cut flowers. Real hydrangea flowers are prone to browning, so artificial hydrangeas are the way forward if you don't want to change your display every few days.
Available in many gentle colors and with beautifully soft petals, these large flowers are perfect for informal, natural-looking displays, or for adding volume and texture to mixed arrangements. On their own, they create simple and fresh arrangements, which look lovely in both traditional and contemporary settings.
If you want a discreet display, look out for silk hydrangeas in cute little vases – perfect for the center of small, round tables. These have acrylic water for that extra realistic touch, and come in a range of colors such as the classic bluey-purple or pink, or more unusual yellow shades. The simple hydrangea-in-vase arrangement also comes in larger sizes, but retains that charming, natural feel.
The hydrangea also looks wonderful in mixed displays, and we think it works really well in table centerpieces. Keep it informal with meadow flowers, lavender, and leaves; or you can dress it up with graceful silk roses. With its many-petalled prettiness, the hydrangea bloom is a lovely addition to a summer wedding arrangement. Have a look at these hydrangea displays for some fabulous ideas.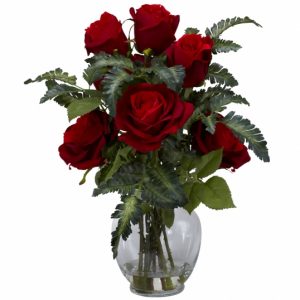 Possibly the world's best-loved flower, the rose is certainly one of our most popular flowers. Elegant and timeless, roses will always look beautiful, however you display them. You may love the look of a few buds in a simple glass vase, or prefer a rich display of many stems and lush green leaves.
Roses are often grown in domestic gardens. However, this most beloved of bloom can be tricky to cultivate, as it's prone to damage from funguses and insects, and is host to all sorts of garden pests. It's also tricky to pick and arrange, with thorned stems and low-growing leaves to remove. Our silk roses are impressively realistic – and really low-maintenance!
How do you select your perfect silk rose arrangement? As we mentioned, you can choose to keep the rose in its opening bud stage (a real big advantage of fake roses) or go for flowers in full bloom. Then of course there's color. Natural roses come in a range of lovely shades, and so do ours. Rich reds, peaches, pinks, whites, and creams – take your pick! Also look out for different vases or planters: a tall and simple glass vase, or displayed in a more ornate container?
As the flower of love, roses often find their way into wedding or christening displays: look out for elegant mixed arrangements as centerpieces for celebrations. If you're buying an artificial flower arrangement as a gift, the romantic rose is an excellent option.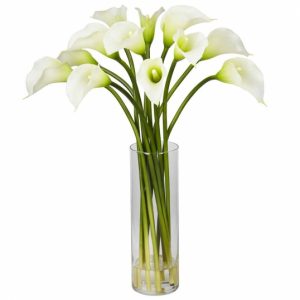 Along with the orchid, the lily is the bloom of choice for modern displays. Tall, handsome, and unfussy, the elegant lily is superb in a contemporary business foyer or as an eye-catching decoration in a home. Our artificial lily arrangements are so realistic, it's almost impossible to tell them apart from the real deal.
However, displaying a real lily is not always ideal. Lilies are toxic to cats, and shouldn't be brought into homes with inquisitive kittypets. The pollen can stain; so even though lilies look superb on your gloss white kitchen counter, it's not a good idea to place them there. Plus the top-heavy nature of lilies in a vase can all-too-easily lead to messy spillages…
So, if you like the look of lilies but don't want to risk the real ones, browse our selection of silk lilies. If you want that classic contemporary look, go for cala lilies in a tall vase, with or without extra foliage. Many of our silk lilies are in timeless white; however you could add a bit of drama with a red or bright pink variety.
Lilies make a wonderful addition to a mixed arrangement, and like roses, are popular as wedding centerpieces. But don't feel you have to save these for special occasions: your dining tale can have a lovely, summertime feel all year with one of these colorful displays!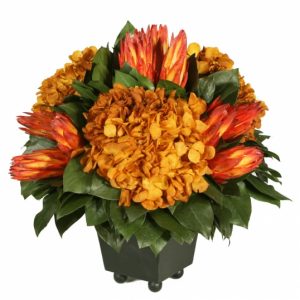 Here's something rather different: real flowers that have been perfectly preserved at the height of their beauty. Without the restraints of time and the different watering needs of living blooms, we could be really creative when we designed these arrangements, putting fruit, grasses, woods, and seedpods together with the flowers.
These make particularly effective centerpieces: if you're after a dinner table decoration with a difference, try a preserved flower display. They're also perfect for the tables at summer weddings. For fall celebrations, search out the arrangements in warm oranges, yellows and reds, as the natural woods, leaves, and grasses we use are perfect for this time of year
Find Your Perfect Artificial Flowers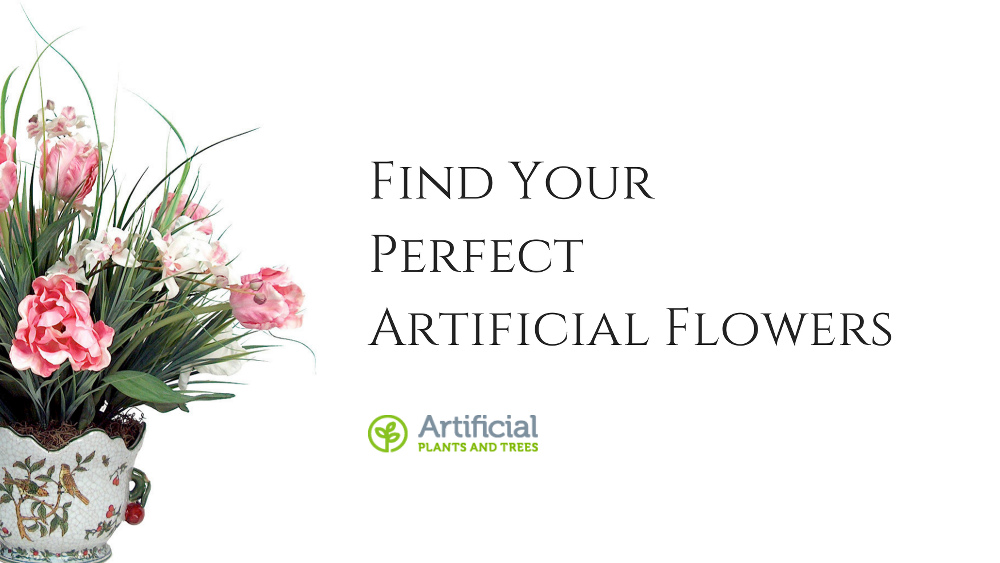 As you can see, it's almost impossible to tell the difference between real flowers and these top-quality artificial floral displays. However unlike natural flowers, looking after silk flowers couldn't be easier. No dropped petals, droopy stems, or spilled water. Just beautiful, ever-lasting silk blooms that need no more attention than the occasional light dusting. And because you won't need to replace them every few days, you'll soon see a cost saving.
We trust you've enjoyed looking through these beautiful artificial flower displays, and that you've got a shortlist of arrangements for your home or office.

If you have really specific requirements then don't worry: simply get in touch with us and we'll work together to create a custom display for you. Please click here to contact us or call now on 1.888.532.0232. Our team are standing by to assist you today.