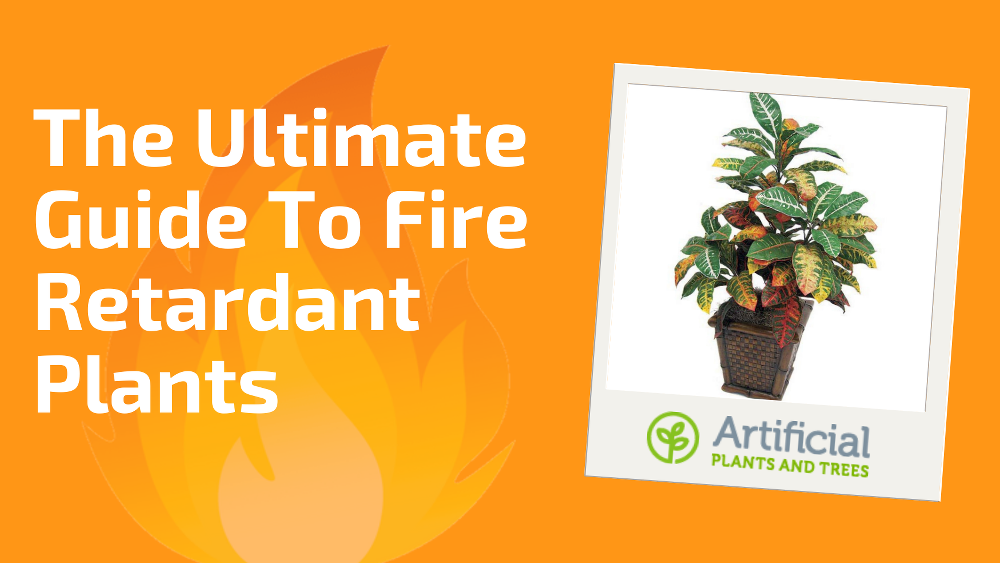 Our artificial fire retardant plants look exactly the same as conventional fake plants. However, they have an added ingredient that prevents them from igniting. It's a simple way to reduce risk – while still making sure that your décor looks great.
Why Do We Need Fire Retardant Artificial Plants?
It's a reasonable question. After all, many of the items in our homes or workplaces aren't fire retardant. But now, you're thinking about what's in your office or lobby, and wondering if all your fabric items are as safe as they could be…
We need fire retardant artificial plants because fire retardant fabrics can prevent major fires from happening, and that can only be a good thing.
Here are just a few reasons why fire retardant plants are so important.
It's safer for your workplace
Many workplaces like to use artificial plants to make their lobbies look attractive, or simply to brighten up open plan offices or meeting rooms. If you have a look at these fantastic global office interiors, you'll see how often a splash of greenery is added to make the place look more natural and inviting.
However, staff and customer safety should never be put at risk for the sake of interior design. If you're introducing new decorative elements to your workplace or maybe hotel lobby, ask yourself if you're actually adding potentially flammable items. With health and safety increasingly being taken seriously, most employers are extremely conscious of reducing risk. Fire retardant artificial plants will not ignite or spread fire, and are one less item to worry about when compiling your fire safety checks. Plus, depending on where you're based, your local regulations may insist upon fire retardant artificial plants…
Fire retardant plants meet regulations
Each state and city has different regulations. It's worth checking with your local fire marshal's office if you want to know your local fire regulations, and also check the building codes for your state. To generalize, many states and cities are increasingly requiring public buildings to have fire retardant artificial plants and trees, and some will ask you to keep a copy of certificates proving that your organization's foliage is fire retardant.
Our artificial plants meet the standards specified by the California State Fire Marshall Flame Retardant Product Registration – and if you're not sure what your local regulations are, the thorough California regulations are good ones to stick to. It's worth noting that many fire marshals don't require the trunks of artificial plants to be retardant (in much the same way that wooden furniture doesn't have to be retardant); but again, please check before buying a hybrid tree (more about these later!).
Safer decorations

If you are the venue, planner, or host of a party such as a wedding reception, you want to make sure that your decorations are fire retardant. Again, some states or individual venues may need to see certificates. Aside from this, you really want your event to be safe!
A table decorated for Thanksgiving or for the holidays, for example, may have artificial branches and lanterns in close proximity to each other. Now everyone is aware of the need to keep flames away from, well, just about everything, but it's always better to be safe, which is why we sell fire retardant branches. These pretty branches make lovely festive or celebratory displays, and you can use them safe in the knowledge that a stray spark won't result in a conflagration.
What Makes Artificial Plants Fire Retardant?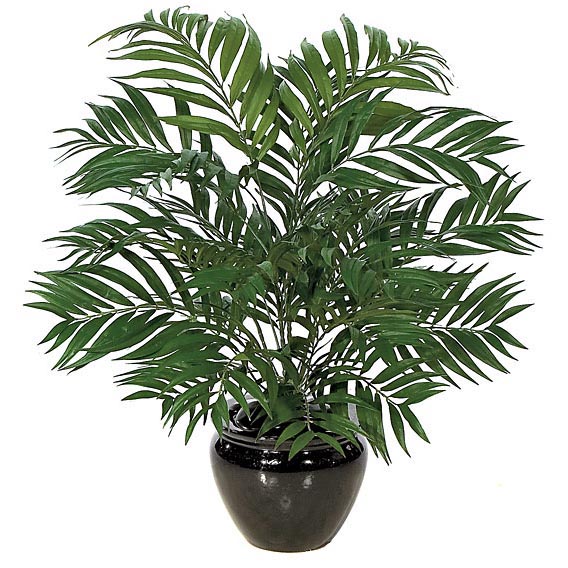 The fabric of the artificial plants is impregnated with a retardant. This is done before the leaves are molded into shape, which prevents a sticky film from forming on the leaves, and makes sure that the retardant doesn't wash off or simply dissipate.
Artificial plants made in this way will be fire retardant for their lifetime, and are classed as "Inherently Fire Retardant" (IFR). If a lighter is held up to an IFR plant (although experimenting with flames is never a good idea, so please don't!), the leaf will blacken and smoke, but it will not catch fire or spread.
We should emphasize at this point that the plants in this collection are fire retardant rather than fire resistant. This is because they have been treated with a chemical that makes them self extinguishing. Fire resistant fabrics are already fire resistant because of the make-up of their fibers.
How Are The Plants Tested?
All our fire retardant plants have to pass the National Fire Prevention Association 701 test (NFPA 701) and meet the California standards we mentioned above. During the NFPA 701 test, a small sample is set alight, and three measures are taken: flame height, char length, and residue. Certificates are issued to fabrics that pass these three tests. If you need certificates for your plants (your insurers may require this as well as your local fire marshal), please just let us know and we'll supply it.
What About Hybrid Trees?
This is a different issue. Some of our plants have artificial foliage and real trunks, and are therefore classed as "hybrids". These natural trunks do not fall under most regulations. As far as most fire marshals are concerned, they're simply wooden furniture, and no more under any regulation than the desk you're probably sitting at right now. However, as we keep saying, the world of US fire marshals is a diverse and varied one, and it's always worth double-checking locally before buying a hybrid tree. If you're unsure, or want to be extra safe, we have a range of plants that are completely artificial.
What Types Of Fire Retardant Artificial Plants and Trees Are There?
As with all our collections, our range of fire retardant plants and trees is wide and varied. Choose from pretty little pot plants and architectural trees, brightly-colored bushes and elegant palms. Whatever look you're aiming for, there's a plant or tree that works perfectly. As you've just read, there are hybrid plants with wooden elements, and those that are 100% artificial – go for whichever one meets your requirements.
All our fire retardant foliage is made from fabric that was treated prior to being shaped, ensuring that it's thoroughly impregnated with the retardant. Fabric that's been treated topically needs re-coating, plus it can leave a messy film on the leaves attracting dust. None of our plants has been treated topically, so you can rest assured that when we say lifetime guarantee, that's what we mean.
Safety always comes first; but with our fire retardant plants, good looks come a very close second! You'll be amazed by just how realistic these plants and trees are. You can transform your workplace or business premises into a verdant oasis – with no gardening or maintenance required (apart from a little light dusting). Here's a closer look at our beautiful range of plants, trees, and branches.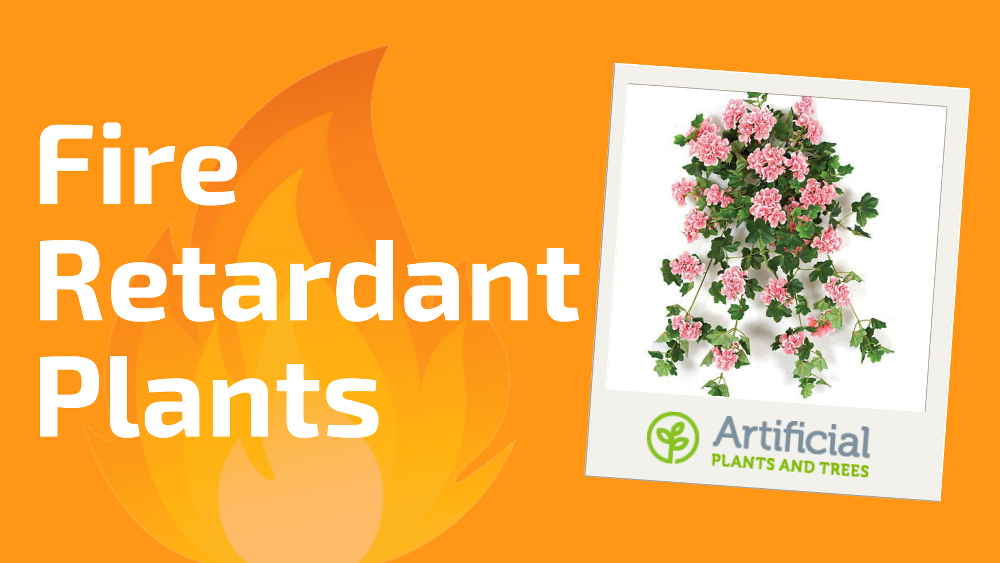 There are so many different varieties of plant to choose from; and you're not limited if you decide to go for the fire retardant range. With so many workplaces working towards eliminating fire risk, we consciously expanded this range, so our commercial customers wouldn't have to choose between fire resistance and the type of plant they wanted. We now have a really comprehensive collection to pick from, from classic flowers to contemporary succulents. Many of our old favorites have been redesigned as fire retardant plants, including incredibly detailed and delicate ferns, and eye-catching onion grasses.
Most of our artificial plants are 100% synthetic (although you really can't tell this. Artificial trunks are so lifelike these days!), so if you're uncertain about going for a hybrid, you still have a great range to choose from. Look out for potted editions, to make brightening up your office or foyer even easier!
One of the many major advantages of artificial plants is that they don't always have to be on display all the time. You can easily change the look and feel of a space by swapping the plants around occasionally. You can pack the more decorative plants and flowers away, and get them out again for special occasions.
If you're decorating for a wedding reception or other celebratory occasion, have a look at our bright selection of trailing floral plants, such as beautiful bougainvilleas. Available in a whole spectrum of shades, you'll easily find one that complements your color scheme. We also have fire retardant garlands, which make perfect decorations draped around a hall or marquee. These also work really well in shop window displays. Ivy is also great for decorations, and we have a lovely collection of incredibly realistic ivy. These rich, dark leaves form the basis of many a festive display.
You like color, but know that flowers won't work with your style. Have a look at our artificial grasses, which come in a rage of rich reds as well as many gorgeous shades of green. There are also brightly-colored bushes – look out for vivid guzmania or croton bushes. These really brighten up a reception desk or lobby, and smaller plants make lovely little desk companions! (Browse these home office suggestions to get an idea of how a well-placed plant can liven up even a modest size workplace. There's a vase or pot in nearly every shot!)
We also have a selection of artificial mats, made from various different textures and shades of leaf, including the popular boxwood. These mats have all sorts of uses, from adding extra green to a balcony to creating theater sets. As they can't be exposed to UV for a long period, we suggest keeping these artificial mats for indoor use only, or in very shaded areas. Because artificial mats are so often used for work purposes (such as shop window displays) choosing the fire retardant option is a wise move.
We've talked about the workplace or event space a lot so far, probably because if you're shopping for a fire retardant plant, it's likely to be because of office rules or public building regulations. However don't forget that these plants look equally amazing in your home too. You could create a fabulous patio display with potted grasses, or have trailing ivy delicately draped on your shelves or mantelpiece. Yes, many of our artificial plants are of the "hotel lobby" scale; however, we have many neat, smaller varieties which are perfect for domestic settings. With of course, the added bonus that your house plants meet strict fire safety regulations; and not everyone can say that!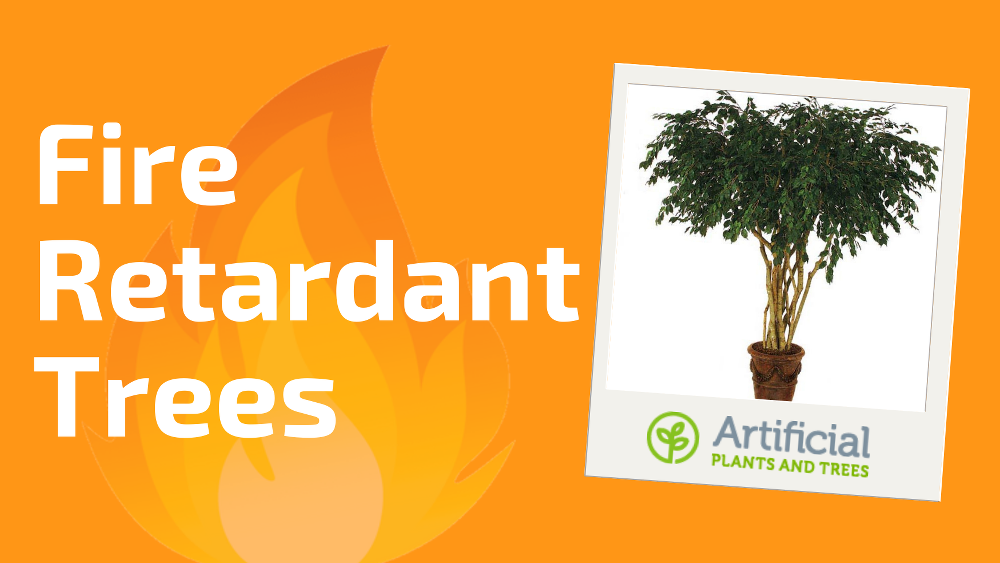 An elegant hotel lobby or high-end shop doorway always looks marvelous flanked by a pair of potted trees. Make sure you keep both this graceful look and the state fire marshal's regulations by introducing our realistic fire retardant trees.
Whether you like the look of artificial topiary, or prefer the laid-back feel of a few palm trees, there's a tree here to suit your style. You may want a neat little tree to stand on a counter or bar – or maybe you're after a palm that's ten feet tall plus to give some drama to an outdoor restaurant or terrace. There's a fantastic range of heights to choose from. Have a look through our collection of fire retardant trees, and find the one that calls out to you!
The first big question while selecting your fire retardant tree is whether you're happy with a hybrid or set on synthetic. Some of our trees have what we term "natural trunks". The leaves are synthetic, and they are attached to a preserved wooden trunk or branch. We do this because it looks amazing! Many of our customers like the look of a hybrid tree, as they simply seem so realistic. If your company rules permit a non-fire-retardant element to your artificial tree, then go for it. And as we mentioned earlier, fire marshals often classify wooden trunks as furniture. However, if for reasons of safety you'd prefer 100% fire resistance, look out for synthetic trunks. We always clearly state in our product descriptions if an artificial plant has a natural trunk.
If you are going with a hybrid there are lots of stunning trees to consider. Where are you going to display your tree (or trees)? There are lovely potted palms in a range of heights, which always look superb on a porch or outside dining area. If you want trees to flank a driveway, embrace the Florida vibe and invest in some spectacular Phoenix palms. For delicate screening, a row of elegant oriental style bamboos always looks beautiful, and they cast such pretty dappled shadows.
For indoor use, a ficus always looks appealing, or you may like something more surprising – look out for small oak trees or a miniature willow. As we've said already, these don't have to be in the workplace! These potted trees would look amazing in your living room or garden room, and you can create a truly stunning indoor-outdoor porch space with some well-positioned palms. It may sound weird recommending fire retardant plants for the garden; however, just think of all the potential sources of ignition on your average porch or patio. Barbecues, fire pits, torches, candles, lanterns… We don't want to let go of these fun and attractive items, so maybe it's time to compromise on other areas. Fire retardant artificial trees make your patio a safer place without spoiling the look.
The potted palms also come in 100% artificial varieties, and these are always a popular choice for a modern and airy lobby or reception. It's harder to find really tall trees with artificial trunks, so you may need to compromise here, and go for bushiness over height. Don't confuse height with impression – many of the plants in these lovely lobbies are of modest heights, yet still have impact.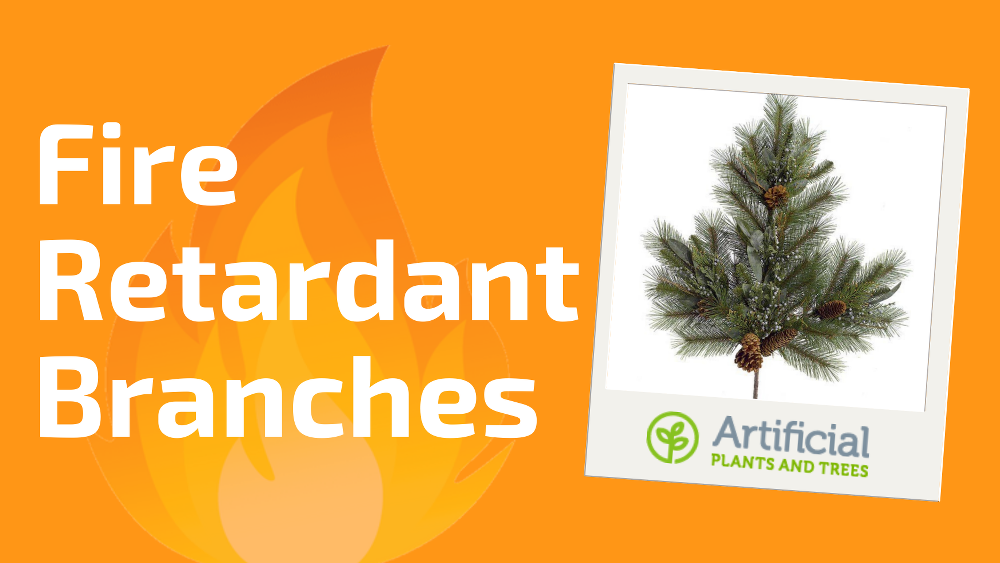 Our final collection of fire retardant plants is our artificial branches. This incredibly realistic looking greenery is designed to help you create beautiful displays, while maintaining peace of mind. We now have a large selection of fire retardant artificial branches, available in a variety of species, sizes, and shades.
Why use artificial branches? Surely it's easier to just buy the whole plant! Well, yes, that's the case; however if you want to create an original display, or simply add a bit more depth or a new texture to an artificial plant, these attractive and realistic branches are the answer. Get creative with a few extra sprigs of foliage in your planter or window box. Look out for delicate fronds or olive leaves to add a subtle bit of texture, or go wild with some large palm leaves! All our fake branches are incredibly realistic; however unlike natural branches, they are far easier to weave into your designs!
Artificial branches are great for shop displays. A few of those lovely big palm leaves helps you recreate a tropical beach scene, or weave leaves around canes or trellis to create arbors and hedges. For festive displays, you can't beat a few branches of pine, and we have some gorgeous deep green pine needle sprays and branches. An instant winter scene!
Of course, the pine branches really come into their own at Christmas, when they're a great way of trimming your home or workplace for the festive celebrations. They're also great for stores and hotel lobbies, where you don't want real needles trampled around everywhere. The holiday season sees an increase in the use of candles and lanterns, so we all need to be extra fire aware during this period. Having some fire retardant elements in your decorations shouldn't make anyone complacent or cut safety corners; however it's a relief to know that should one of your dinner guests knock a candle into your table display, the leaves won't go up like a firework.
If you are in charge of the decorations for a wedding or similar celebration, use fire retardant garlands and branches to create superb and super-safe displays. Don't forget that as some venues require fire safety certificates for everything you're bringing in, going for IFR plants straight off will save you the time and expense of replacing non-retardant plants. Trailing ivy is always popular, mixed with blooms from our artificial flower selection. There's a type of branch here to suit any style of wedding, including some in stunning colors.
We referred to this as "greenery" earlier, but that's not strictly accurate! Our artificial branches are available in many luscious shades of red, gold, and pink. We love the selection of many-colored maple and pin oak branches, which are perfect for Thanksgiving decorative schemes. You can go full-on New England in the Fall and choose a range of autumnal shades: lovely for store displays at this time of year.
Another effective way to use artificial branches is to bring an old tree back to life. Attach artificial fronds to an old palm trunk to create a new top head. Choose the leaves that you the best proportions. We love repurposing old plants; and these quality fake branches will last a lifetime.
Choosing The Right Fire Retardant Artificial Plant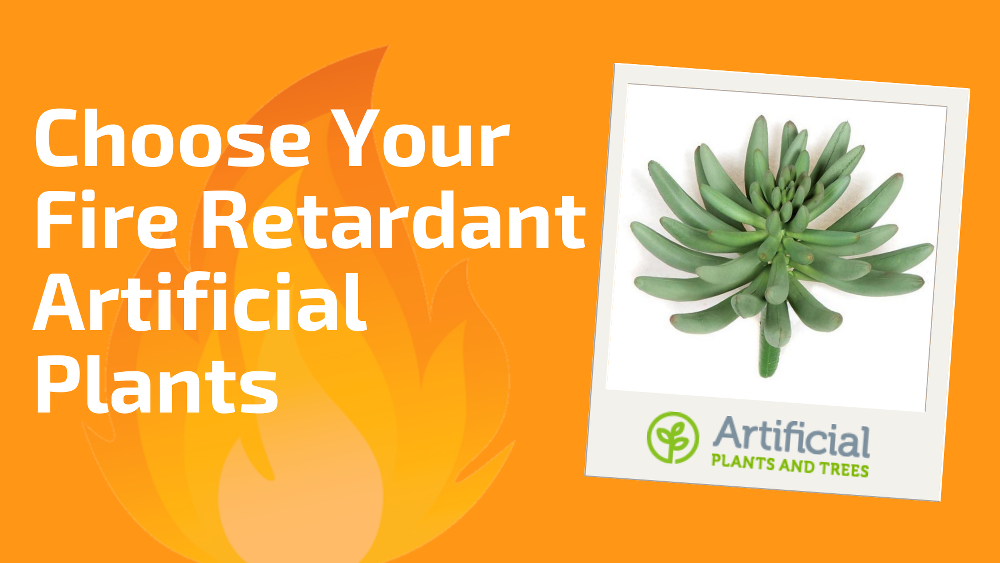 You've seen our beautiful and varied selection of fire retardant fake plants. Now it's time to choose which one is right for you! As we always say, choose the plant that speaks to you. There's always a few that really leap out, so follow your instinct and go with those.
If you're buying for work, you'll have a budget to work with. Just remember that artificial plants and flowers never need replacing, so any outlay soon pays for itself. Have a look through our collection and see which varieties best suit your décor. There may even be some plants in your corporate colors! Before you buy, work out where the plant or tree is going to go, and then work with the size of space you have. There is such a great choice that you're sure to find one of the right proportions.
And we can't say this enough. Every state and city has different fire regulations. Please check what yours are before you start decorating a public space or adding plants to your foyer.
Thanks for reading our ultimate guide to fire retardant artificial plants, trees and branches.

If you'd like some advice about fire retardant plants, please click here to contact us – or call now on 1.888.532.0232. We're here to help you with any artificial plant-related query.