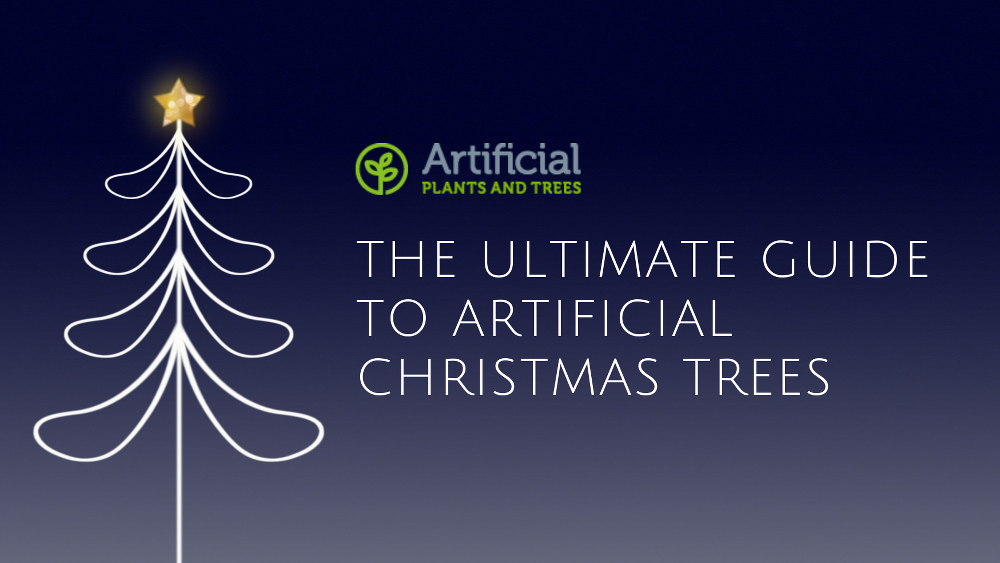 The Christmas tree is one of the best things about the holidays. It can also be one of the trickiest things to get right: finding a good source of trees, choosing the right one, trimming it without creating bald patches, the constant battle against falling needles…
But don't worry – we've got this. An artificial Christmas tree gives you all the beauty of a real fir (and the option of colors and textures not found in nature!) without any of these drawbacks.
Why Choose An Artificial Christmas Tree?
You want your Christmas tree to be the focal point of your room over the holidays – so it needs to look just right. Here are some of the reasons why artificial Christmas trees are such winners.
They look fabulous
An artificial tree has no gaps or bare patches, is perfectly symmetrical, and won't lose any of its needles. Designed to be perfect, you won't have to compromise on shape, size, shade, density or symmetry, and you can choose one that fits the bill exactly. Find a tree that fits with your decorative scheme – even down to color!
They don't shed pine needles
This is one of the main complaints about real trees. They all shed needles, resulting in daily vacuuming and bald branches. Some trees shed less than others, but they all lose needles to some extent. This really is one of the main advantages of a fake tree – no needles around the house, and no worries that the tree will be bare by Christmas Day.
You don't have to look after them
Many people forget that although a real Christmas tree has been chopped down, like cut flowers it still requires water. If you live in a warm house or climate, your tree will need daily watering. If you go away for a few days over the holidays, you may return to a drooping, brown tree and a carpet of needles. An artificial tree may look pretty; however it's tough and durable.
They can do things real trees can't do
Be pink. Be glittery. Be snowy. They can be any amazing look or style that you want. The flat-backed trees are designed to fit in with certain design schemes, and it would be really tricky to achieve the same look with a real tree. If you want a statement tree, an artificial one is a much better bet. Plus, they're not just for Christmas… OK, you wouldn't have the full-on festive tree out all year; however some of the LED trees would work wonderfully well as party or wedding decorations, whatever the season.
It doesn't matter where you live
We don't all live down the road from Alaskan pine farms; and the further you get from the forests, the less choice you have. No matter what State you live in, you can have a natural-looking, high-quality fake tree.
They're perfect for the workplace
Firstly, they will cope with any climate, so however ferocious your air con or heating, the tree will be fine. They don't need looking after, and they won't shed over your shop display or reception counter. You may even find one in your corporate colors! If you're creating a display for a shop window or hotel dining room, you can style something truly amazing with artificial Christmas trees.
They won't attract your pets
Pets love a real tree, especially cats. Climbing up that trunk is irresistible to kitties – and they really don't understand why they shouldn't, as they climb trees outdoors all the time! However realistic an artificial tree may be, it won't fool your pet, who wants to get their claws into real bark. The result: a tree that won't have its trimmings trashed by a climbing cat. Plus, busy paws won't be trailing dropped needles all around your home.
You don't have to dispose of them
Every year, you have the problem of disposing of your tree, which sheds needles lavishly as you drag it to the trash. Do you bin it, burn it, shred it, take it to the dump? An artificial Christmas tree simply gets put back in its box and stored in your attic or basement until next Christmas. No mess, no stress, and no kids wailing that their beloved tree is being mulched.
You buy them only once

Buying an artificial Christmas tree is a one-off expense, not an annual one. Yes, you will pay more for a good-quality fake tree than you would for a natural one; however, as you get it out Christmas after Christmas, you'll realize what a good buy your durable tree was. A good real tree doesn't come cheap if you want it to be sustainably grown, non-shedding, and a perfect shape. An artificial tree is all those things and more – for one, single purchase.
Choosing The Right Artificial Christmas Tree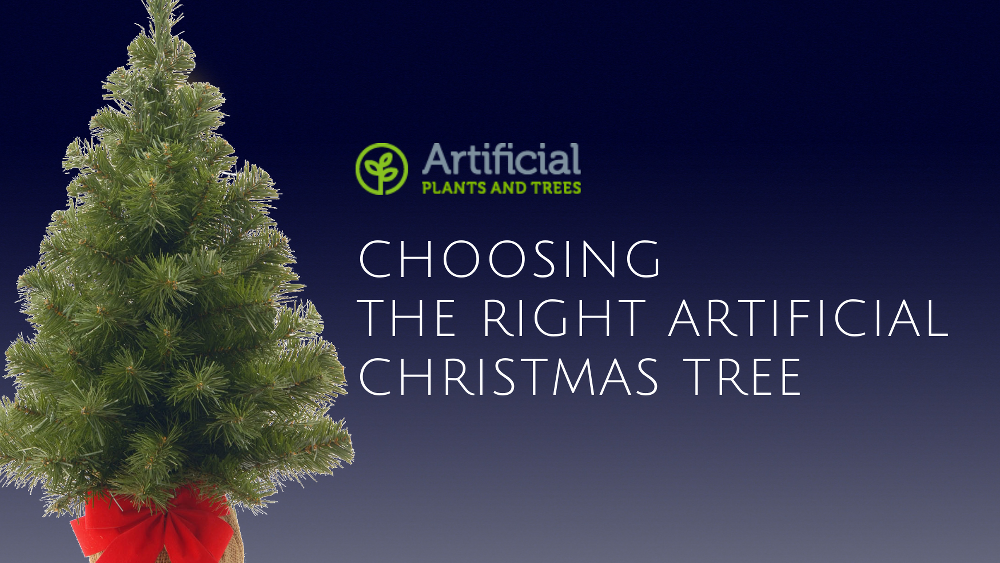 You've decided to go for an artificial Christmas tree – and it's a decision you won't regret! Now, which fake tree do you choose? There are tall trees, small trees, lit trees, snowy trees, pink trees, gold trees, even upside down trees – take your pick. Do you want a naturalistic tree that looks like it's just been brought home by a woodsman, or are you after something more showbizzy?
From table toppers to show stoppers, here's a look at the fantastic range of beautiful artificial Christmas trees.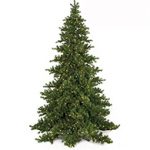 The full Christmas tree is the traditional festive centerpiece. If you love the heart warming, traditional-style family Christmas, these classic trees are just what you're after. We all have a favorite spot to display our trees, and this range of full Christmas trees covers every size of space. Our trees start at cute little dolls house size (perfect for table or mantel displays) and go right up to spectacular 12' show stoppers for double-height spaces and feature staircases.
You can choose from pines, furs, and spruces, all of them incredibly realistic. Some come already lit (to save you that frustrating job of untangling and testing last year's lights!) or sprinkled with fake snow, where others are completely unadorned, as if they've come straight from the forest.
Slim And Pencil Christmas Trees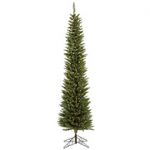 If you have a narrow space or a corner to decorate, a slim or pencil style Christmas tree is ideal. Just because space is tight, it doesn't mean you can't have a full-on, festive tree. These slim-line trees fit beautifully into smaller rooms without compromising on realistic detail or quality.
They have a small footprint but they're not tiny, with some of the pencil trees going up to twelve feet tall. Slim artificial trees are also ideal for busy workplaces such as stores or restaurants, where you want to look festive but don't want to eat into your floor space. A tall yet slim tree will give you lots of impact without taking up lots of space.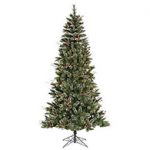 Everybody's favorite festive tree, the pine tree simply says "holidays" to many of us. However, we're all less fond of those pesky pine needles! A fake pine tree gives you that classic Christmas look without coating your home in shedded needles.
Our artificial trees are astonishingly real looking. They are even available in a variety of green shades, so you can choose between deep green, bluey green or silvery green, just like you would with a selection of natural trees. The artificial pine trees also come in a range of shapes and sizes. Go for a plump little potted tree, or try the elegance of a pencil pine tree. Some are frosted with artificial snow, while others come ready lit to save you the hassle of sorting out the lights.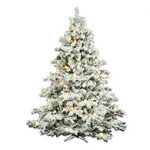 Dreaming of a white Christmas? These flocked trees will make your dreams come true, year after year. Our artificial frosted Christmas trees are designed to look like they've just had a fresh dusting of snow. Equally beautiful at home or in the workplace, these frosted trees bring a touch of picture-perfect festive cheer to any climate, even those that will never see snow or ice!
There's a range of styles, including some that already have white or colored lights attached. You can also be sure that there's a size to suit your space, from mini pine trees that make perfect centerpieces, to towering trees of nine feet and over. Whatever you go for, all the flocked fake trees give that extra bit of traditional winter charm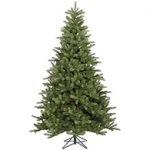 The spruce is often regarded as the king of Christmas trees, and these artificial versions are certainly regal! Grown in colder climates, the spruce has densely packed foliage, and its needles are often a slightly blue-green color. This makes them the perfect background for lights and other brightly colored or shiny decorations. If you want a truly traditional tree, the fake spruce is a great option.
Some of our artificial spruce trees are impressively low-maintenance, displayed in urns or burlap sacks and bows, and already fitted with lights. Well, you're busy enough around Christmas, and these off-the-peg complete trees are ideal for decorating the workplace. The smaller ones even make lovely pre-Christmas gifts. Again, the spruces are available in a range of shapes and sizes.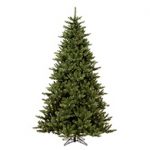 Fake fir is the festive season's must-have! The fir tree is the classic winter wonderland tree, elegantly shaped and rich green in color. It's many people's tree of choice, which is why we have such a great collection of artificial fir trees. It's impossible not to get a sense of Christmas cheer when you're looking at one of these beautiful specimens.
As with real fir trees, you can choose the height and width of tree that suits you and your space. You may want a table top size potted tree to stand on your reception counter or a great big twelve footer for the family to gather round. Once you've selected the right height, you can then decide whether you want a sprinkle of fake snow, white lights, colored lights, LEDs, stands…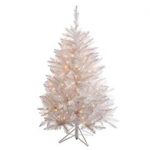 These stunning white Christmas trees have such a magical feel to them. Already spectacular, you can choose a lit version or add lights to give a really captivating, frosty glow. A white tree is a great contemporary choice if you want a tree but don't want the typical traditional look.
The artificial white trees are equally at home in a modern apartment or providing high-end store or hotel decoration. And they are such a joy to decorate! You can either choose an LED tree and leave it at that for a stunning minimalist effect, or trim with baubles in contrasting shades: dark colors for a dramatic result, or silvers and golds for a more delicate, ethereal look. Here are a few more style suggestions for your enchanting new tree.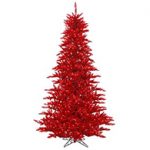 Alternatively, throw away the minimalist design handbook, and have fun with the tinsel this Christmas. Celebrate this lively, happy time of year with a gorgeous tinsel tree. Don't feel that you have to choose an artificial tree that's as close to nature as possible – here's your chance to go all-out with a fabulous piece of festive bling!
Tinsel trees come in all sorts of shimmering colors. There are red, blue, purple and pink trees, among others – and if you must go green, at least pick lime… The gold and champagne colors are actually really classy, and look incredibly glamorous when lit. If you have the space, a tall tinsel tree makes a spectacular centerpiece. If you want a tinsel tree as an additional decoration, there's a great selection of table top sizes to match any décor.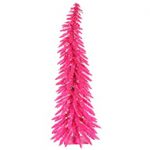 Or forget the other shades, and go for one of today's favorite tree colors – pink. Once mainly the choice of younger girls (and yes, many little kids will still go for them as their bedroom tree), chic pink trees are now becoming popular as the main family Christmas tree, and look absolutely brilliant in stores, restaurants and hotels. Have a look at these gorgeous and grown-up pink tree ideas.
There are so many shades to choose from. The pale raspberry color makes for a really sophisticated looking tree – or you could go all out with neon or tinsel. As ever, you can opt for a ready-lit tree, and lights really do look spectacular glowing through the pink branches… Ranging from two feet right up to nine, there's a lot of choice.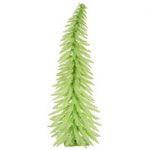 One of the many advantages of artificial trees is that you aren't constrained by nature's intentions. If you want a bright blue tree to match your design scheme, go for it! If you're aiming to create a color-based theme, you're bound to find the right shade here. The colorful artificial trees go right through the spectrum from bright red to deep purple, and everything in between. There are also glimmering golds and shimmering silvers for a sophisticated celebratory touch, and black for a really dramatic effect.
Fun and modern in the home, colorful trees are also a great option for the workplace. You can color-match your corporate colors, instantly creating the perfect display. Choose a lit version to really make those colors leap into life.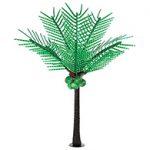 Now we're really moving away from the traditional tree… These incredible LED trees are gorgeous, glowing decorations which are guaranteed to draw the eye. They are modelled on real trees, such as the maple and the palm, and then wired with quality LEDs.
Complete decorations, all you have to do is decide where to put them and plug them in! For this reason, they make particularly useful party decorations. Create whole avenues of twinkling trees for night time events, or have a run of outdoor LED trees going up your driveway to guide guests to your home. Although these are beautiful alternatives to classic Christmas trees, we love these LED trees all year round. They add magic and romance to wedding decor, and they're great for teen parties.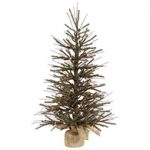 Modern and understated, the artificial twig trees offer an alternative to the bushier full Christmas trees. They still have the classic Christmas tree shape; however their sparser branch and needle arrangement give a really different look and feel to their denser counterparts.
The natural-colored twig trees are superb trimmed with wooden decorations, with a touch of gold or maybe some lights. If you like the rustic or driftwoody coastal style, this look will work really well for you. The twig range also includes more Oriental-inspired trees that come in a variety of bright and festive colors. These small trees make eye-catching table decorations, or look lovely and inviting placed in your window.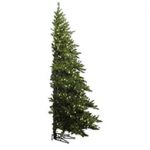 Here's another advantage of artificial trees – you can buy them in all sorts of designs without having to get the chainsaw out and shape them yourself. These flat back Christmas trees, also called wall trees, enable you to fit a tree into a narrow and restricted space. A modest space doesn't mean you have to pick a Bonsai-sized tree. Like a theater set, you see only the front of these trees, but you don't have to compromise on height or fullness.
This design of artificial tree is especially useful for busy stores, offices or eating places, where you want to look festive but don't want to take up too much room. Position it right up next to the wall, and enjoy the look of a traditional tree without tripping over it all the time.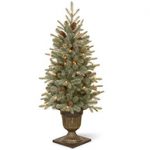 Potted Christmas trees are the perfect, off-the-peg holiday decoration. Already displayed in a pot or urn, these attractive trees are ready to go – simply choose where to place them! There are potted trees with lights or LEDs, and look out for ready-trimmed varieties for the ultimate in low-maintenance Christmas decorating.
The fake potted trees go up to six feet tall, so can easily become your main tree. However, many some in neat smaller sizes which can be used as additional smaller trees, perhaps in bedrooms, hallways, or the kitchen. If you don't have much space but still want a traditional style tree, these perfect little potted trees are ideal. They also make fabulous gifts.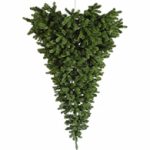 No, the image isn't the wrong way up – upside down trees are now firmly established as a Thing. These trees really do turn traditional festive trimming on its head, and you're guaranteed to have a talking-point if you go for this option! They're cheerful and quirky, and add fun to the festivities.
On a more practical decorative note, they're great to work with: if you have a few, you can get really creative and fashion archways, or canopies of hanging foliage. They make absolutely incredible centerpieces for large lobbies or grand stairways, where you can suspend them like leafy chandeliers. Have a look at this festive dining area, which combines fun with some serious style. They're available in a wide range of sizes, and in unlit and lit editions; and you can choose from traditional green and a variety of bright and shiny shades.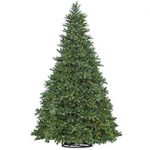 Festive cheer doesn't stop at the doorstep! Liven up your porch, garden, or workplace entrance with a spectacular outdoor fake Christmas tree. These trees are designed to withstand wet, windy or dry weather, and some are UV resistant. Look out for varieties with outdoor-safe lights. The outdoor trees are incredibly realistic, so they'll blend in with your other planting should you wish them to: add a bit of bling to them during the holidays, and then they're simply garden evergreens for the rest of the year.
The larger outdoor trees are ideal for commercial use. They're a great, low-maintenance option for schools and colleges, the lobbies of large hotels or offices, or even in shared community spaces. Enjoy them, then store them away ready for next year: minimum hassle, and a tree that should last you for years.
Artificial Christmas Trees Are A Fantastic Option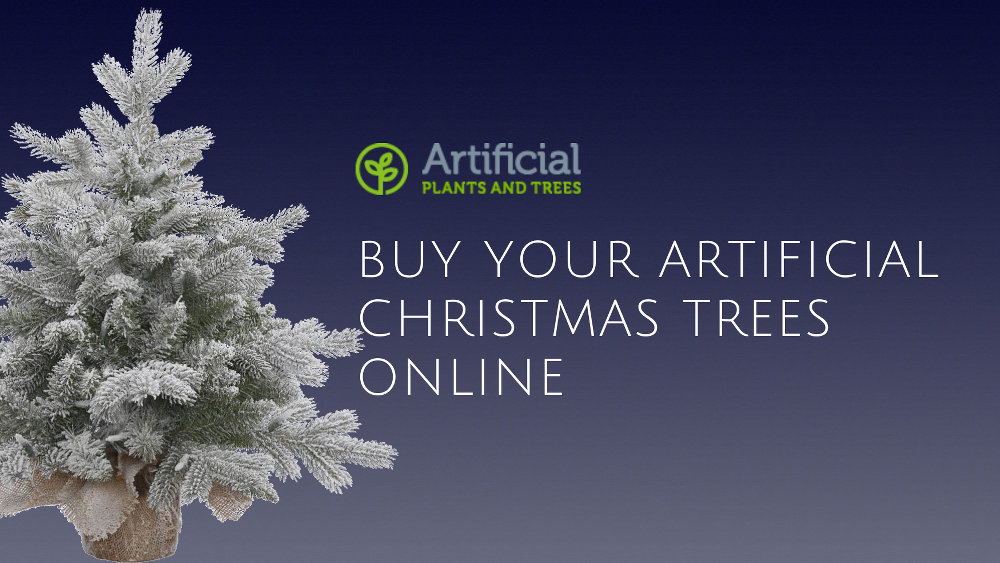 So, let's summarize. Artificial Christmas trees look great, and they come in so many varieties. You can go for incredible realism or fabulously crazy colors, and you can even add snow or lights. There's no mess, no watering, and your pets won't trash the trunk.
You pay for it only once, then in January, you can simply box it up and store it away until next year. What could possibly be easier?
We're Here To Help
We hope you enjoyed our epic roundup of the best artificial Christmas trees available in our secure online store. Order now for the festive season to avoid disappointment.
If you'd like to find out more about artificial Christmas trees, please click here to contact us – or call now on 1.888.532.0232. We'd love to help you create your festive display, and we can answer all your queries from LED lighting through to shipping in time for Christmas.