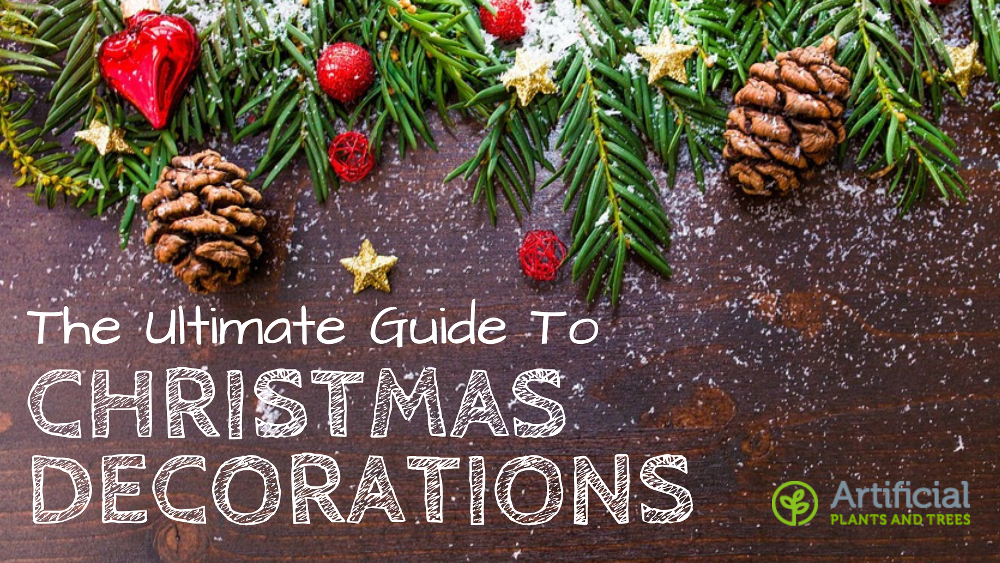 You've chosen your artificial Christmas tree, and it's a real showstopper. But, the tree is only the start: you have the whole house to decorate! You may want to go all-out and make your home fabulously festive from basement to attic, or perhaps you'd simply like a few richly-colored poinsettias to warm up your windowsills. Whatever your seasonal style, you're sure to find something here that's just right for your holiday home décor.
Decorating our homes for the festivities is one of the most enjoyable parts of the holiday season. It marks the start of that lovely time of anticipation, so is especially wonderful for families with young children. Households without small kids, on the other hand, can really embrace this time to add some tasteful decorative touches to their homes (it's hard to do a minimalist Christmas with excited children about!) and make it look truly special.
Clearly, the tree is the focal point in most homes. However, almost without you knowing it, the Christmas decorations begin to entwine and drape their sparkly way all around the house, until what you end up with is a gorgeously vibrant welcoming home, ready to celebrate the festive season.
This feeling of Christmas cheer starts even before you enter the house, with the welcoming traditional wreath on the front door. There may even be a reindeer or two on the roof, or other lit-up animals grazing in the garden! Trees in the garden or driveway are transformed into a magical winter wonderland at night, thanks to a sprinkling of outdoor Christmas lights.
Once inside, the hallway needs to grab guests' attention. Perhaps there's a garland draped around the banisters, or pretty foliage swags festooning the windows and doors. If you have a double-height hallway, this is a great place to site your spectacular artificial tree. Then, it's through to the living room, where mantels or shelves glimmer with soft candles or hold beautiful, deep red poinsettias. Again, this could be the home of the tree, dazzling with colored or warm white lights which reflect in an array of shining baubles. Sheer festive bliss.
Of course, this may not be your style at all. There's no rule book that says you must switch from contemporary to traditional decorative looks during the holidays (indeed, sprigs of holly and garlands of ribbon would look out of place in a loft-style apartment). Go neon, with a mix of acid-bright colors, and replace classic leafy garlands with vibrant bauble and tinsel based ones. Or, go for a calm, almost beachy style with pale twigs and hints of ice and berries. If you live in warmer climes, how about a pre-lit palm tree or a twinkly cactus for a fun take on traditional trees?
The holidays are a great opportunity to add extra character to your home, so keep it true to your own style. So, what festive decorative details are out there?
I've got the tree – what other Christmas decorations do I need?
A home with just a token tree really looks like you haven't made the effort, even if the tree itself is lovely. So, think about what other festive touches you can add to your home.
As you can probably tell, we believe in whole-house Christmas decoration, from the garden to the bedrooms. An artificial poinsettia actually looks great on the bathroom windowsill, and means that wherever you go in your home, there'll be a bit of Christmas spirit to bring a smile to your face. Decorated hallways are so inviting, and kids and guests will love to have table top trees or a few baubles in their bedrooms.
Don't forget your garden, balcony, or porch. You don't need to go all National Lampoon with the outdoor decorations; however check out our selection of outside lights which will add some magical sparkle to your garden.
Here's a guide to our collection of Christmas decorations, from pretty plants to Christmas tree stands. How will you choose to decorate your home these holidays?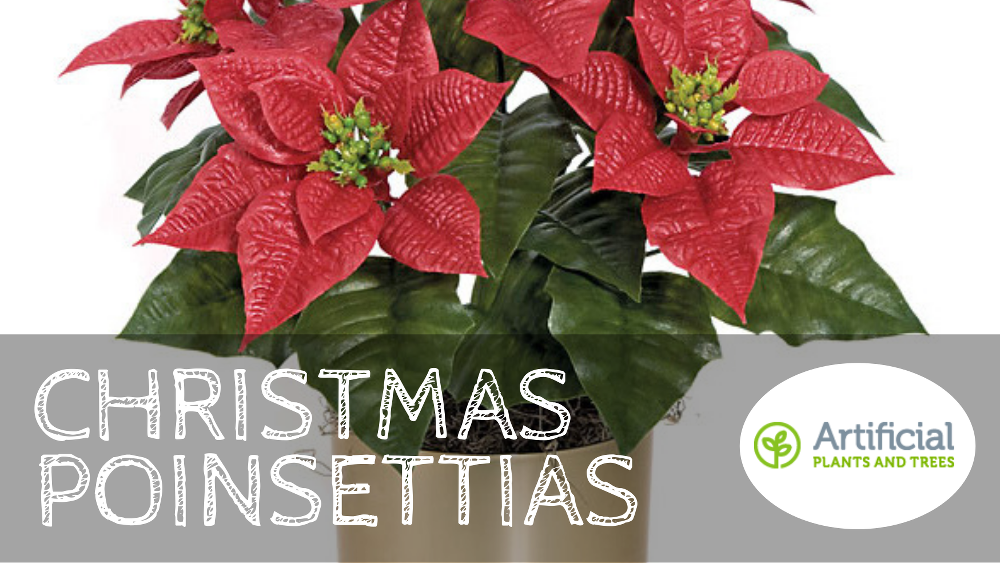 Timeless and elegant, artificial poinsettia plants are a wonderful way to add some festive color to your home or workplace. Potted poinsettias look gorgeous on windowsills, shelves, on top of pianos, or as attractive centerpieces on dining tables.
Their distinctive bracts (the colored leaves that resemble flowers) often come in warm, cheerful shades; however natural varieties will fade, and they're fussy about food and environment. An artificial poinsettia will retain that lovely glow, and can be unpacked and out on show every Christmas.
As well as the classic potted poinsettia, we also have a gorgeous array of individual artificial poinsettia stems, in both natural and fashion colors. Some are even glittery, perfect for adding a bit of sparkle to a festive arrangement. Individual poinsettia picks are also excellent for decorating presents, or adding splashes of color to a holiday table setting. Weave them into your artificial wreath or garland to create a bespoke display. Choose between incredibly realistic plants, or go for all-out festive fun with brightly-colored velvet and sequined sprays.
The potted poinsettia remains a holiday favorite. The classic variety is a rich, deep scarlet, giving you those glorious Christmassy shades of red and green. However, graceful white poinsettias are also popular, and look marvelous in modern homes. Because they don't shout "Christmas!" like the red varieties do, you can keep these as attractive houseplants all year.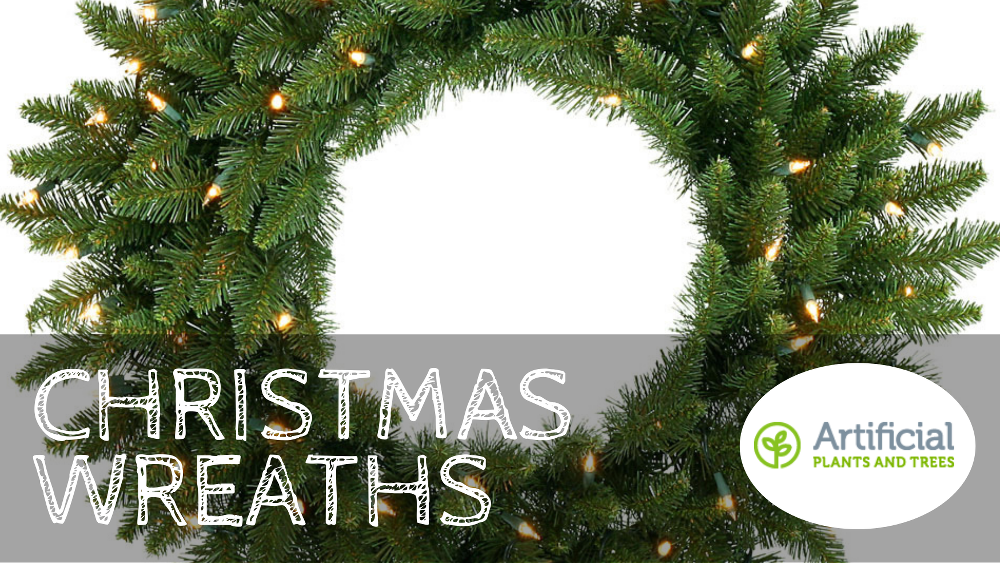 The welcoming feeling of Christmas cheer starts right on your doorstep. A Christmas wreath on a front door is like something from a classic Christmas card. Imagine rosy-cheeked carol singers gathered around it, as the snow gently settles around them, holding up their lanterns and waiting for you to hand out the steaming, roasted chestnuts… You get the idea! A Christmas wreath is a real part of traditional holiday decoration, and we love the sense of good old-fashioned warmth that they bring.
If you want to go for this look, choose an artificial wreath made from realistic-looking leaves, in fir, pine, or spruce – you can pick a style that complements your tree or garlands. Some have berries or flowers to add a pop of festive color. These classic wreaths are wonderfully heart-warming, and perfect for a classic Christmas theme.
However, you don't have to go with the traditional green foliage designs. Our wreaths come in a range of fabulous colors and materials. How about a vibrant tinsel wreath, or one made up entirely from gleaming baubles? Twigs and berries give a natural and contemporary look, as do wreaths woven from poinsettia bracts or magnolia blooms. Some wreaths come with battery-operated lights, giving your door an inviting twinkle. There are sizes to suit all doors and budgets, from neat little six inch wreaths, right up to spectacular sixty inch designs to display on large walls.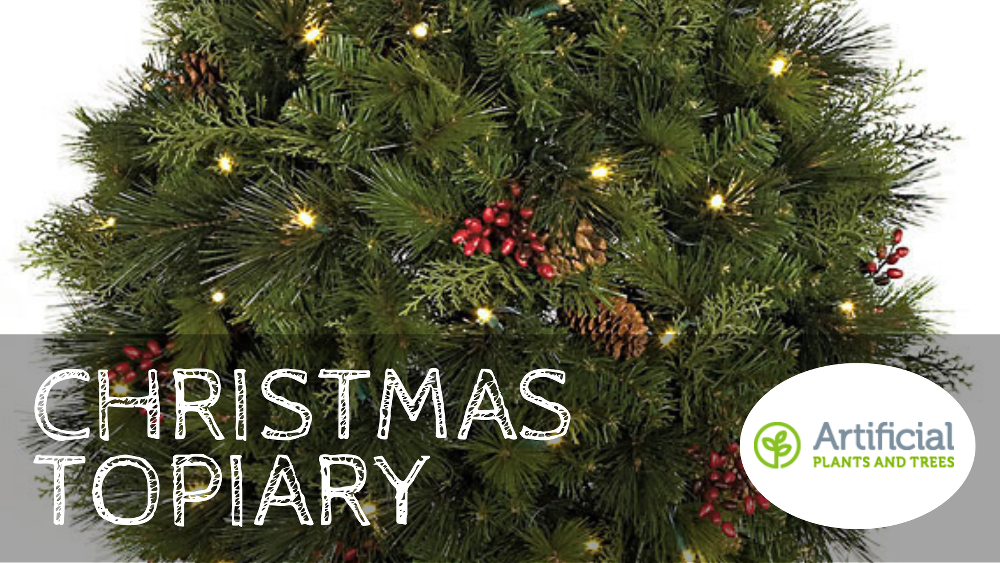 We love topiary, those intricate shapes and structures created from trees and shrubs. At Christmas, you can really have a lot of fun with these lovely alternatives to the traditional tree. A pair of cone trees in pots, flanking a doorway or the foot of a staircase, makes an exceptionally elegant Christmas display.
Real topiary is a genuine art form, and we salute those who shape and trim natural shrubs. Most of us don't have the time or skills to practice topiary; however we can capture the fun or elegant designs with a selection of realistic artificial plants. A natural topiary houseplant can be a delicate creation – and you certainly wouldn't want to risk losing a branch by decorating it for the holidays! Many of our artificial Christmas topiaries come pre-lit with festive lights, and they look absolutely fabulous.
You can choose a pair of plants like we mentioned earlier, which gives you a gracious, classic look; or you can add some real holiday glamour with a helter-skelter style spiral topiary Christmas tree. For a real sense of fun, look out for cactus or ball designs. There are also smaller plants which make excellent table top decorations for family feasts.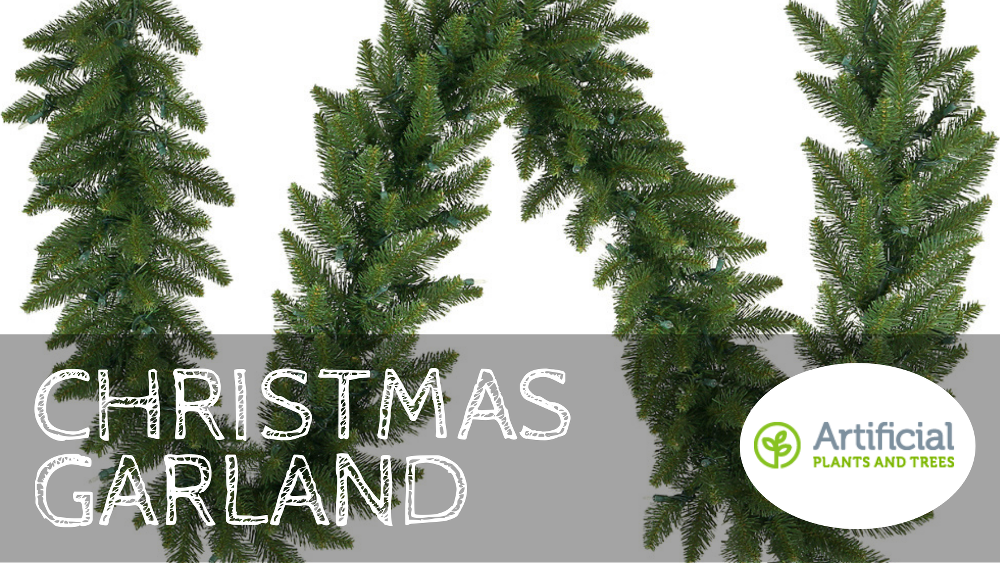 If you really want to deck the halls this Christmas, what better way than by festooning your home with gorgeous garlands? Staircases, doorways, windows, and mantelpieces all look wonderful draped in spectacular garlands; have a look at these fabulous staircase ideas. Also look out for outdoor garlands which can be used to create arbors and archways in your garden.
Like the Christmas wreath, the garland can be made from traditional festive foliage such as fir or pine. Choose a variety that complements your artificial Christmas tree to complete your holiday decorative scheme. Some have berries, pine cones and even snow for a real woodland feel. These realistic garlands won't scatter needles all over your carpets, or start to wither or droop with time. They'll stay looking fantastic until it's time to store them away ready for next year.
Of course, you don't have to go for the natural look. Try neon colors, tinsel, gold and silvers, or garlands made entirely from baubles. Go for a garland with pre-decorated lights for that extra festive feel. The artificial garlands are available in a range of lengths, making them a really versatile decorative option. As well as making your home look extra special, garlands are a great way to decorate your store, lobby, restaurant or offices – great impact, with very little effort.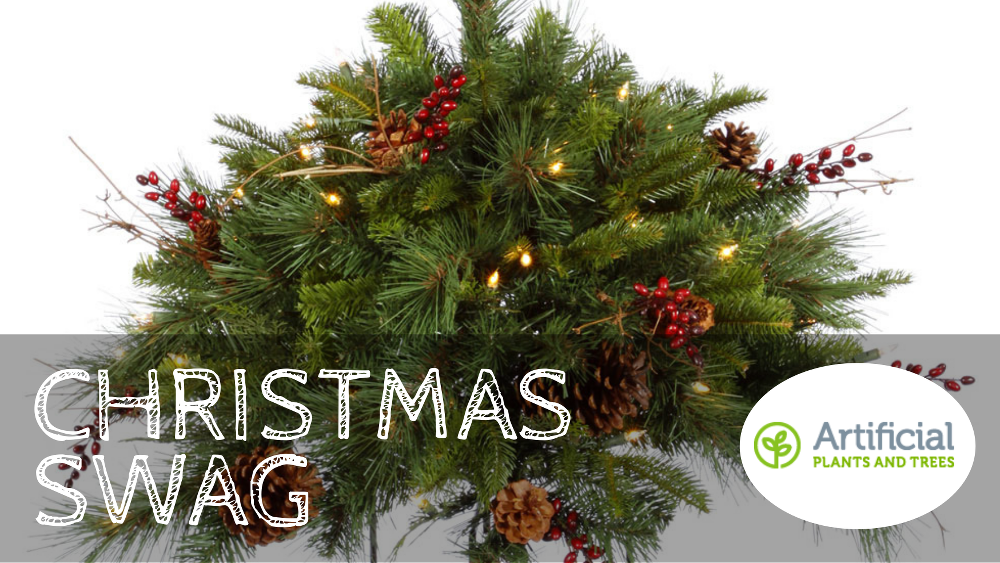 It's lovely to add a touch of greenery here and there at Christmas, and we have a lovely selection of artificial Christmas swags to help you get the decorative detail just right. If you really like to make sure your holiday décor is perfect, swags can give the final finishing touch.
We've seen them on mantels, above doors and windows, woven into chair frames, and draped over pictures and mirrors. If you like to trim your whole house, these are superb for nightstands and dressing tables – have a look here for some festive bedroom decor ideas. Outdoors is important too, and we even have garlands that fit over your mail box! Essentially, if you have any small space you'd like to fill with festive cheer, this is a lovely way to achieve this.
There is a choice of shape and size, from gracefully draped teardrop designs to pretty candle-holding centerpieces. Hanging basket swags look wonderful next to your front door or in your garden room. Again, you can choose a realistic swag, based on actual foliage. That way, you can match your swags to your pine, fir, or spruce Christmas tree. Some have faux snow, and others have charming little berries or pine cones peeping through the needles. Look for styles that come pre-lit with battery-powered lights – truly magical. Of course, never feel you have to be too traditional: there are some lovely tinsel-based designs which would give your holiday decor a fantastic accent shade.
If the classic décor isn't your thing, why not add some tropical glamour to your home this holiday season? Step away from the traditional tree and rock around the Christmas palm tree instead! We love these lively artificial palm trees, some of which have literally thousands of LED lights, giving a truly spectacular effect.
The twelve foot trees (complete with hundreds of twinkling lights and glowing coconuts) are superb statement pieces for lobbies and stores, and they'd make great decorations for resorts over the Christmas season. If you're creating a Nativity scene, an artificial palm tree is an excellent prop.
But, don't assume that these beautiful palm trees are just for commercial spaces. We think that these are great in the home too: if Christmas is party time in your house, one of these fun and exotic palm trees is the way to go. There are palm trees of just four foot and under, which look wonderful in smaller spaces. Kids and teens love them, and they're much in demand for parties. If you want something more in-keeping with your warm climate than the typical winter woodland look, or you'd like to give a warming hint of tropical magic to one of our snowier states, these are a great, fun choice.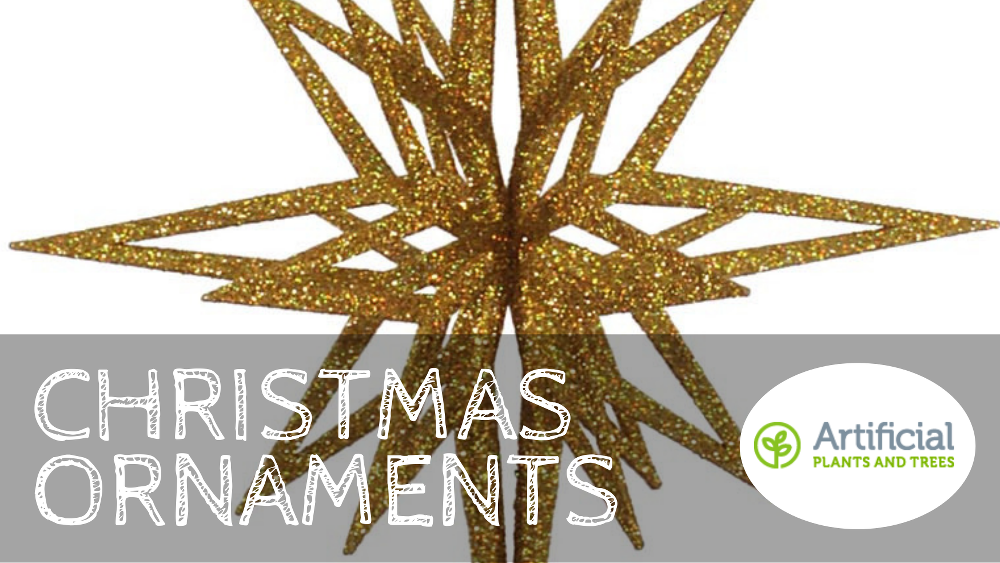 Where do we start with this one? We have thousands of awesome ornaments to choose from, in every color, shape, and style you can possibly imagine. Now you've chosen your perfect artificial Christmas tree, the next stage is to decide how to trim it. Mix and match a selection of individual baubles for a look that's unique to you, or make sure your color scheme is perfect with a ready-made box of balls.
If you're trimming a large tree for a double-height space or a massive commercial tree, there's a danger that normal-sized decorations will get lost in its mighty boughs. A big tree needs equally imposing decorations, so check out our range of large Christmas ornaments. Some of our ornaments are also made extra-robust or UV resistant for outdoor use.
Baubles, snowflakes, pine cones, icicles and so on don't have to be reserved for the tree. Add them to your swags or garland, or create your own display by looping them through ribbons. Have a look at some of these beautiful suggestions from Houzz. The gorgeous array of colors, from Christmassy red to elegant champagne, means that whatever theme you're going for, you'll find the perfect Christmas ornaments that make it work. Mix up matte, glittery, gleaming, and patterned designs in complementing or contrasting colors for stunningly rich results.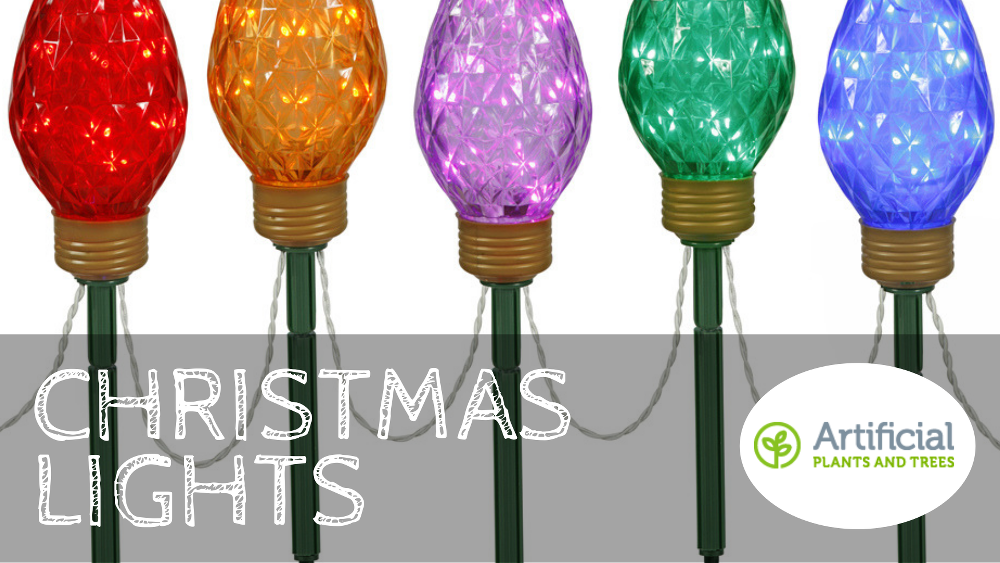 "We don't need twinkly lights at Christmas", said no one ever! It's not the holidays without that extra sparkle, and many of us really go to town, lighting up not only our Christmas trees but our ceilings, staircases, gardens, even external walls and eaves. It's impossible to feel remotely bah-humbug when the Christmas lights come on.
Many of our trees come pre-lit, saving time and effort. However if you prefer to add your own lights after the tree's in place, we have a range of strands in many lengths and light colors. Everyone has pretty definite ideas of what tone their Christmas lights should have: clear, white, warm white, cool blue, holly berry red, multi-colored… They're all here, so take your pick! Lights don't always come in strands: try an LED net to light up a ceiling or climb up a wall.
And speaking of wall decorations, browse our selection of wire silhouette lights, which add fun and humor to the outside of your home. Look out for holiday favorites such as snowflakes, candles, and angels, and pictures the kids will love like Santa and snowmen. It's only once a year – go for it.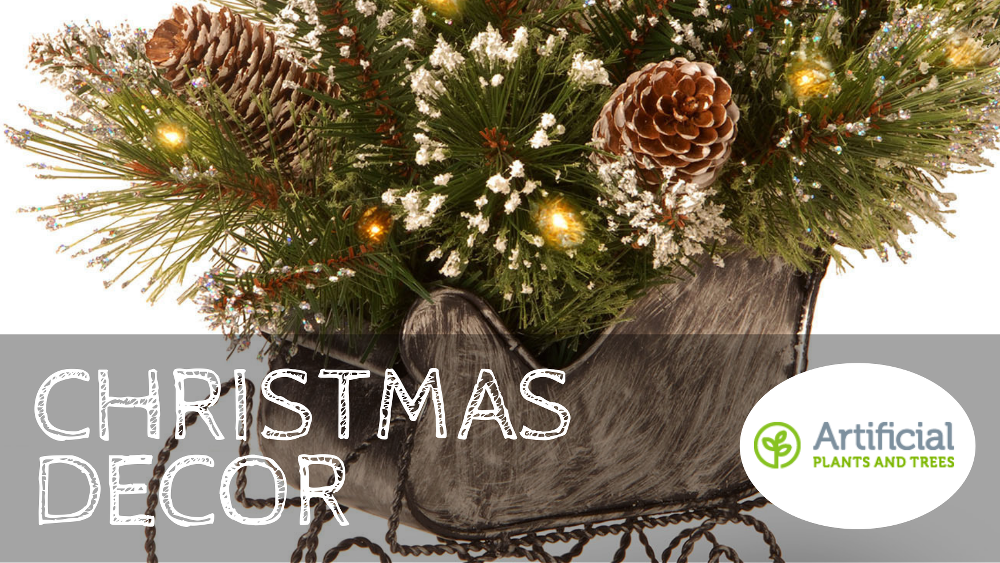 The tree might be the Christmas centerpiece; however it's the little details that enhance the magic. The way the table is set for celebratory feasts. The candles in the window. The beautiful arrangement of flowers and foliage above the fireplace. Neat little toy-sized trees that the children will adore. All these extra touches add up to something really special.
So, when you're getting ready for the holidays, think of how your Christmas decor can transform the whole house. Is there a corner of the living room that needs brightening up a bit? Think about adding some sparkly sprays. Don't neglect the bedrooms: add neat little tabletop trees to the kids' nightstands, or weave swags and ribbons around your bed. You can even create a display of poinsettia picks in the bathroom!
And it's about fun, as well as interior design. From animated Santas to penguins with twinkly lights, the Christmas figures will soon become family favorites that will be excitedly unwrapped, rediscovered, and displayed every single year.
Whether you want your home to be party-ready, or simply to look pretty over the holidays, there is so much to choose from. Have a lovely time finding your perfect Christmas decor!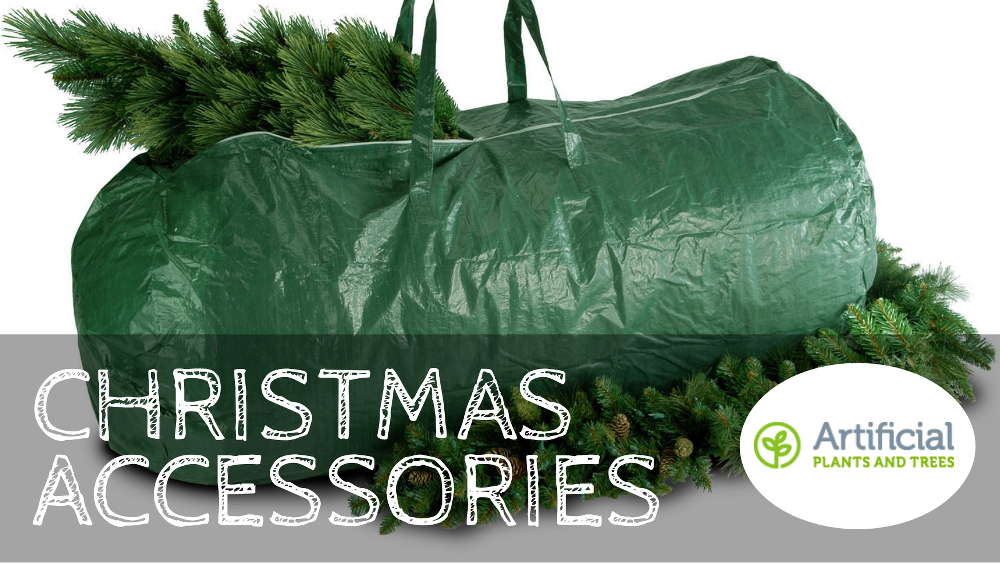 OK, we admit: this is not the most glamorous or glitzy section of this guide. It's a bit low on the glitter. But, don't skim through these paragraphs – you'll thank us later when your tree is still standing!
Some artificial Christmas trees come with stands or in attractive pots, and others don't. If your tree doesn't come with a stand, you'll need to get one, as there is no real effective alternative to a well-fitting Christmas tree stand, and your tree simply won't stay upright. Some Christmas tree stands roll or rotate for easy decorating and locating. Stands come in green, gray, black or white, so you can pick the most discreet option. If you know the size of your tree, you'll easily be able to find a stand that fits.
Thanks to its stand, your tree stood proudly upright all Christmas. That's great, but now it's time to stick it back in the loft or basement for fifty weeks or so, when you want it to emerge looking as good as new. A proper artificial tree storage bag is made from wicking material, which keeps water, mildew and dust away from your tree. Even though our trees are built to last, they still need to be protected while they're in storage, and a tree that's been carefully packed away should have a good, long life. An artificial Christmas tree is an investment and you want to make sure it's in tip-top condition ready for the next holidays. We also supply smaller bags for wreaths, which ensure that they keep their distinctive shape and don't end up looking squashed.
Buy Your Christmas Decorations Securely Online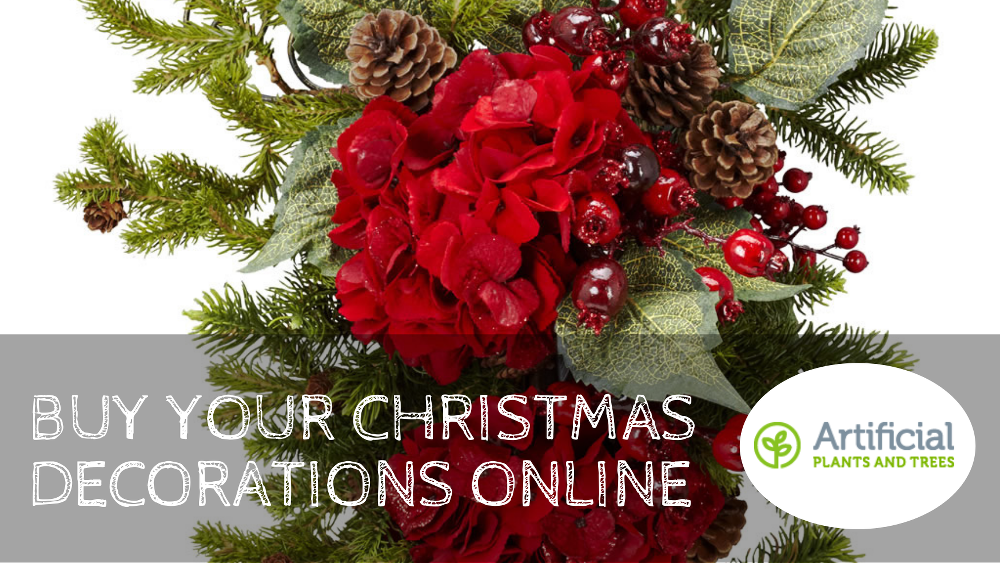 Just Like Santa's Elves, We're Here To Help…
If you'd like to find out more about our Christmas decorations, please contact us. We can advise you on everything from the best types of lights to use to how to attach your wreaths and garlands. We want your house to be picture-perfect in time for Christmas, so please get in touch soon on 1.888.532.0232 and we'll make sure everything's shipped and ready in plenty of time for the holidays.