The first time I saw an upside-down Christmas tree was in a restaurant in Gettysburg, Pennsylvania. The Colonial Era building had a huge real tree hanging from rafters in every dining room. In keeping with their period décor, the Christmas decorations used in this restaurant represented the way German Colonials would have decorated their homes. Today this trend has been resurrected for several practical reasons. Turn your holiday decorations on their head when you decorate your space with an upside-down tree.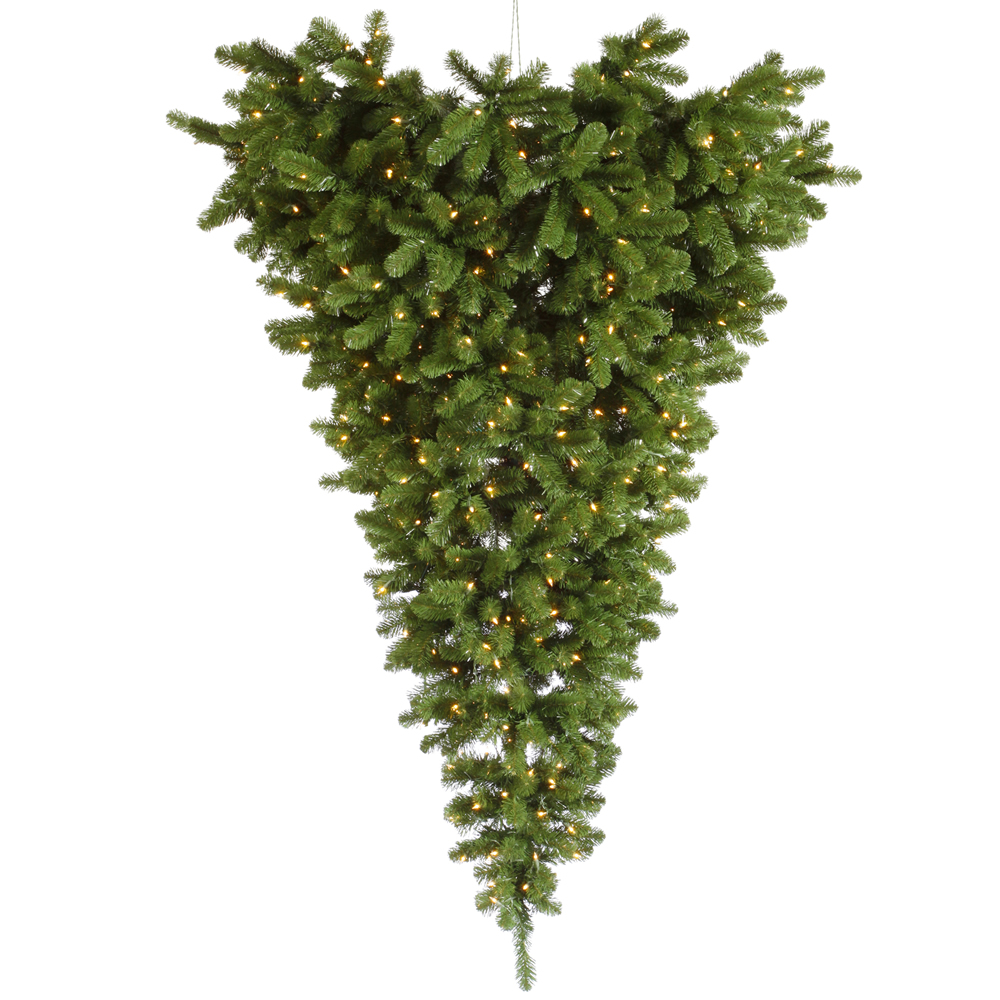 Benefits of An Upside-Down Christmas Tree
In order to stand out from the crowd, you must do something different. What better way to make a statement than with an upside-down Christmas tree? These trees are non-traditional and can make quite a conversation starter. Imagine your guests' reactions when they see a fully decorated upside-down tree in your living room.
They Take Up Less Floor Space
Upside-down Christmas trees also take up a lot less floor space, especially those that attach to the ceiling. Unlike a traditional tree with its widest part at the bottom, these trees have the smallest part at the bottom. This leaves a lot of room to either put things under the tree or move around it. The half wall mounted upside-down trees are even more of a space saver.
Ornaments Are The Star
With a traditional Christmas tree, the ornaments sometimes nestle in the pine needles and get lost. With an upside-down Christmas tree, the ornaments hang down away from the branches. Each ornament stands out and is more easily noticed.
Contemporary Look
For the true Christmas lover, a new trend is decorating multiple rooms in your house. Why not mix things up. Consider a traditional tree in one room, a pencil tree in another, and a showstopper upside-down tree in a special room of your house.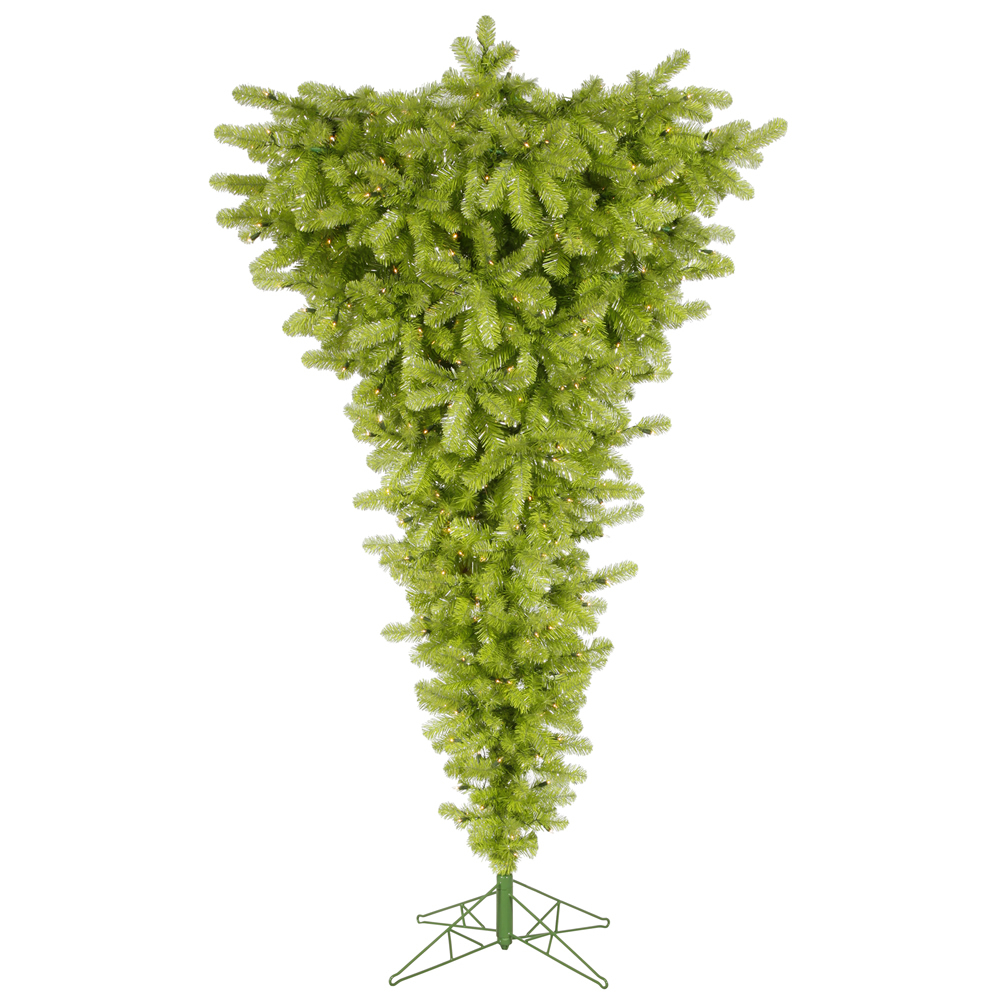 Types of Upside-Down Artificial Trees
Artificial upside-down Christmas trees are either hung from the ceiling, come with a stand or are mounted to a wall. With so many mounting options to choose from, it is easy to find a design that will fit within your space. Let's take a closer look at the benefits to each one.
Upside Down Trees with Stands
Upside down trees with stands come in many heights, colors and styles. This versatile style fits virtually any place a traditional Christmas tree would work.
Hanging from the Ceiling
For even more floor space, consider an upside-down tree that can be hung from the ceiling. Carefully measure the height of the ceiling and determine where you want the tip of the tree to land when deciding which size to order.  With these trees there is no stand to cover at the bottom.
Wall-Mounted Trees
When you have a compact space, try a wall-mounted half tree. These upside down trees can be mounted at whatever height suits your space. The slim design makes this tree perfect for smaller apartments.
Pre-lit Upside Down Trees
Artificial upside-down trees also come pre-lit for your convenience. They can be purchased in champagne, white and, of course, green. There is a size to suit any space.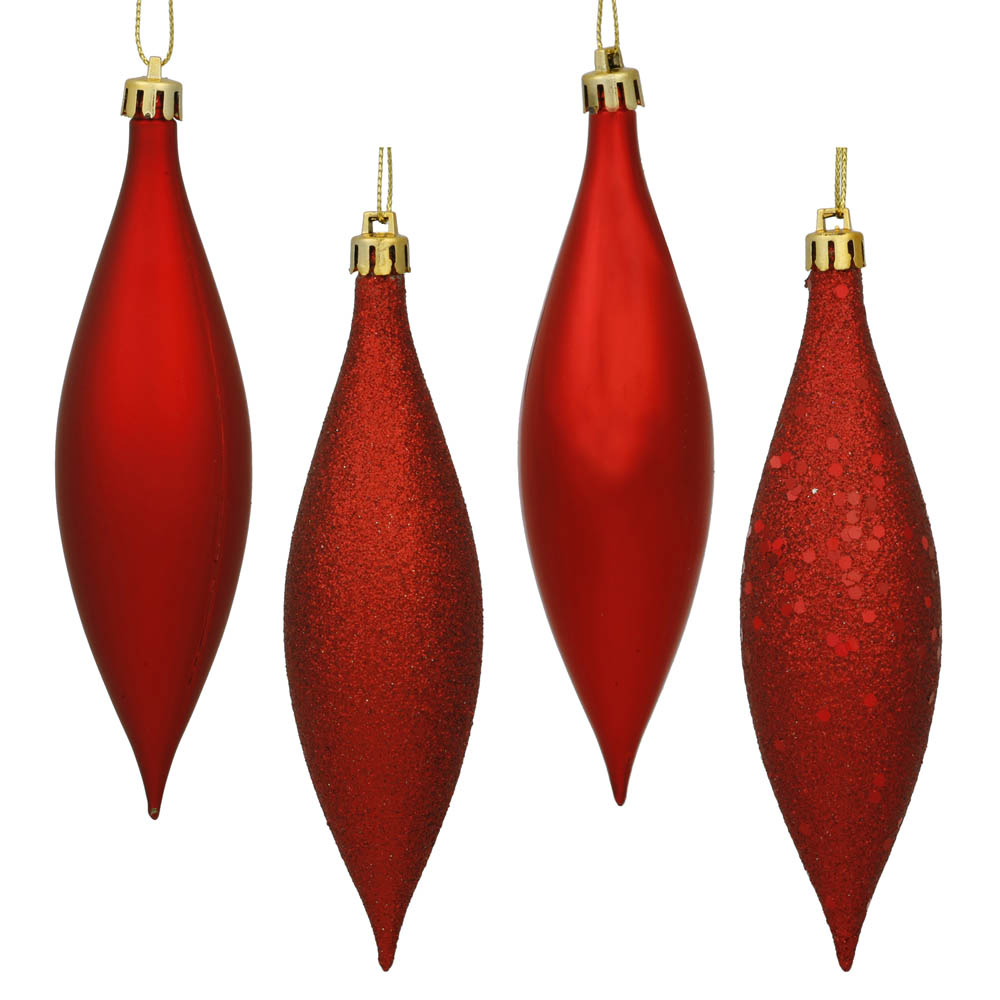 Decorating An Upside-Down Christmas Tree
Upside-down Christmas trees are easy to decorate and our pre-lit versions make it a snap. Because the ornaments hang away from the branches, each one makes a statement. This is a wonderful time to showcase some special ornaments.
Spruce it Up with Garland
Upside down trees are perfect to decorate with garland. The garland will swag away from the tree and really stand out. Picture a small ball garland on a white-flocked tree. As with a traditional tree, start at the top and drape the garland over the branches as you work your way down.
Add Ornaments
If your tree is hanging from the ceiling, first consider the height of the tree when selecting ornaments. If the tree is high over your guests' heads, large colorful ornaments will make them look up in wonder. A large, bold finial ornament would be quite dramatic, especially on a flocked tree. The higher the tree, the bolder you can get with the ornaments.
If you are using an upside-down tree with a stand, traditional ornaments work beautifully. Decorate it as you would a traditional tree. Because ornaments hang away from the branches, you may find you need fewer ornaments because they stand out more.
Top it Off With Tinsel
An upside-down tree is a wonderful backdrop for anything that hangs down. Imagine shiny tinsel hanging from the branches of your upside-down tree. Make a dramatic statement with icicle ornaments.  Again, if your tree is high above your guests' heads, the bigger the better!
Colonial Tree Decorations
For a real departure from the traditional Christmas tree, consider decorating your upside-down tree like it would have been decorated by German colonials. String popcorn and cranberries for an authentic garland. These early trees were decorated simply with fruit and small packages. Consider wrapping small boxes in simple paper and hanging them from the branches. Instead of glass ornaments, use small apples. Fill little paper cones with nuts, tie with a simple ribbon and hang from the branches. Complete the look with small dolls and toys made out of natural materials.
The Finishing Star
Some traditional tree toppers won't work with an upside-down Christmas tree because the top is on the bottom. While an angel tree topper won't work, a beautiful star Christmas tree topper is perfect for this non-traditional tree. If your tree is hanging from the ceiling, consider one dramatic ornament hanging from the "top" of the tree.  Because it is overhead, you can use an oversized star for a dramatic effect.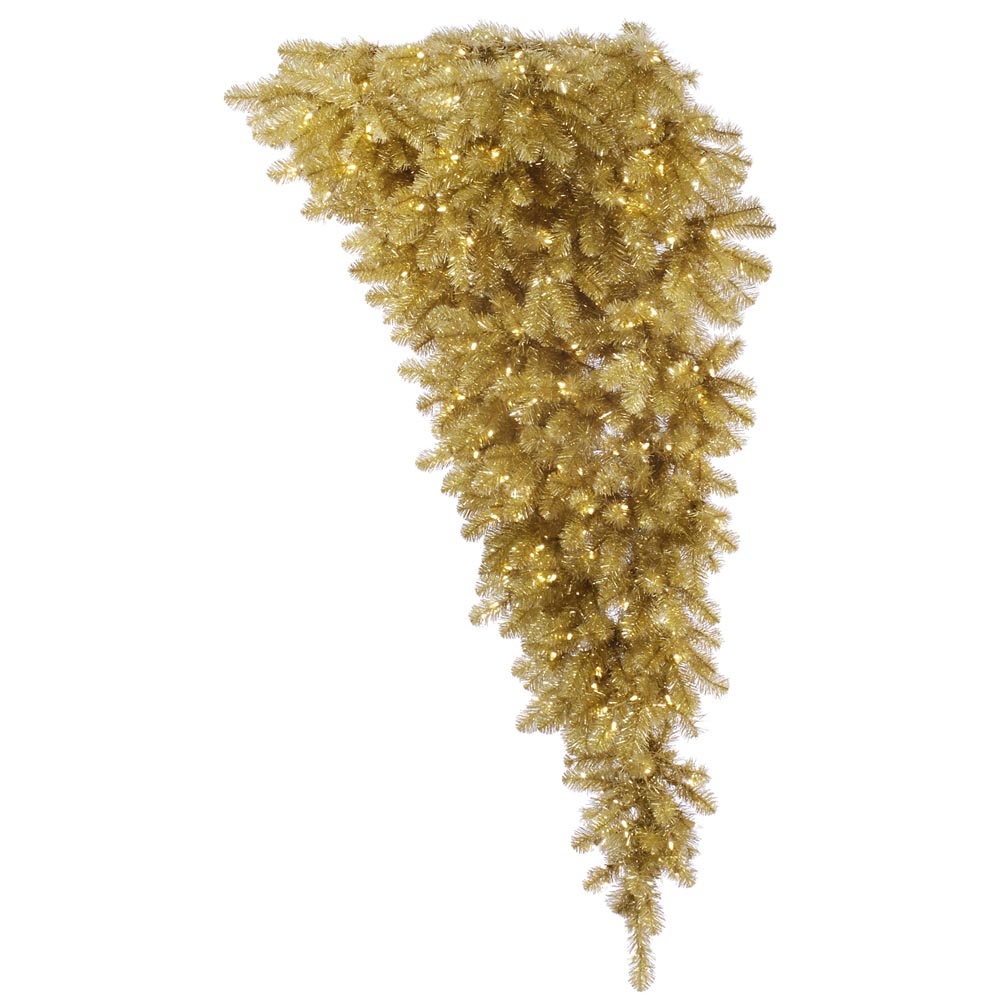 Decorating Under An Upside-Down Christmas Tree
The biggest benefit of using an upside-down tree is the floor space you gain, especially if it is hanging from the ceiling. My grandmother used to have a platform with a train under her tree. A small village complete with streetlights, buildings, lichen trees and ice skaters on a mirror for a frozen pond completed the look. A hanging upside-down tree would be perfect for this type of tableau.
Traditional Trains
If a train platform is a little ambitious, the space under the tree is a perfect place to stack beautifully wrapped Christmas presents. With the increased space under the tree, the presents will take up less floor space than with a traditional tree.
Additional Seating
If seating is at a premium, the shape of the tree makes room for a couple of extra chairs. Flank the tree with a couple of side chairs for your guests' comfort.
Covering the Tree Stand
To cover the base of an upside-down Christmas tree with a stand, treat the stand like that of a traditional tree. It can be covered with a tree skirt, wrapped with a piece of burlap or fabric or covered up with festively wrapped packages. Make a bold statement this holiday season with one of our dramatic upside-down Christmas trees.