With only about six weeks until the start of spring, it is time to start thinking about changing your floral decorations. Replace your mum and evergreen arrangements with light, airy spring blossoms. Brighten your home with beautiful flowers and blooming branches that remind us of spring. Today, we share the best flowers to use for your spring floral arrangement, including blooming branches, the first blooms of the season, and more.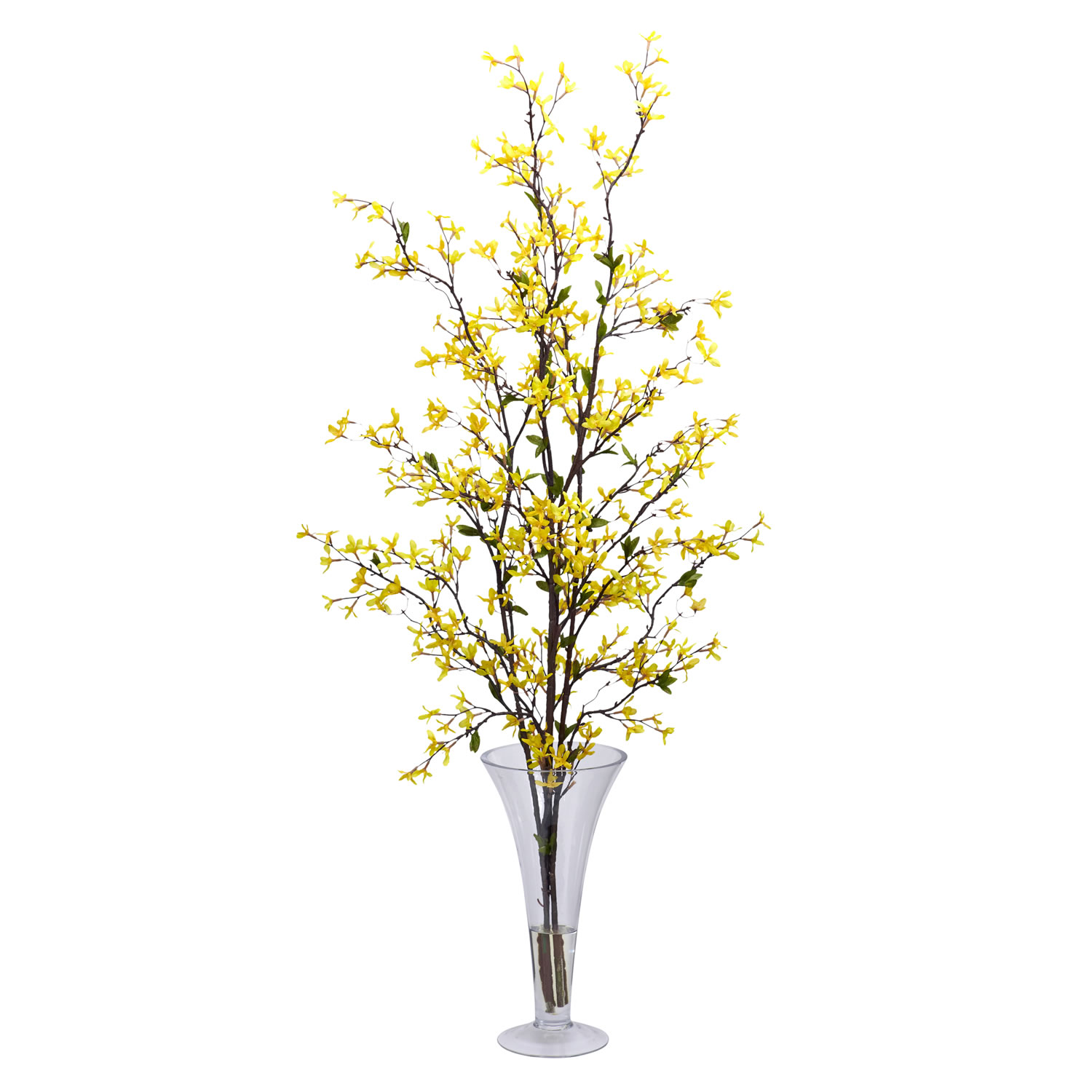 Flowering Branches
Forsythia
Every year, long before the last frost, my grandmother would cut forsythia twigs from her yard. She would place them in water and the warmth of the house would trick them into blooming. I will always associate these beautiful yellow branches with the approach of spring. If you don't have a hedgerow of forsythia in your back yard, consider an artificial version. Whether standing alone in a vase or combined with other spring flowers, forsythia branches are a nice addition to a spring arrangement. The bright yellow flowers combine well with just about any other blooms and the branches add dramatic height.
Dogwood Branches
For a beautiful white accent, consider a stately dogwood branch. The simple flowers and green leaves are a nice backdrop to any spring flower arrangement. Cherry blossom branches and wisteria can also come with white flowers. When combining flowering branches to your vase, position them first to define the shape of your arrangement. Then fill in with other flowers and greens to complete the look.
Flowering Branch Arrangements
If you are designing a spring floral arrangement with shades of pink, choose from a variety of beautiful bougainvillea, pink dogwood, cherry blossom and wisteria branches. Let the wisteria branches cascade over the side of the vase for a dramatic look. Wisteria and lilac are good choices if you want to add purple accents to your spring arrangement. Both of these flowering branches drape nicely and are good additions to our floral design. Combine different shades of purple for a monochromatic look or combine with white and yellow for a bolder color palette.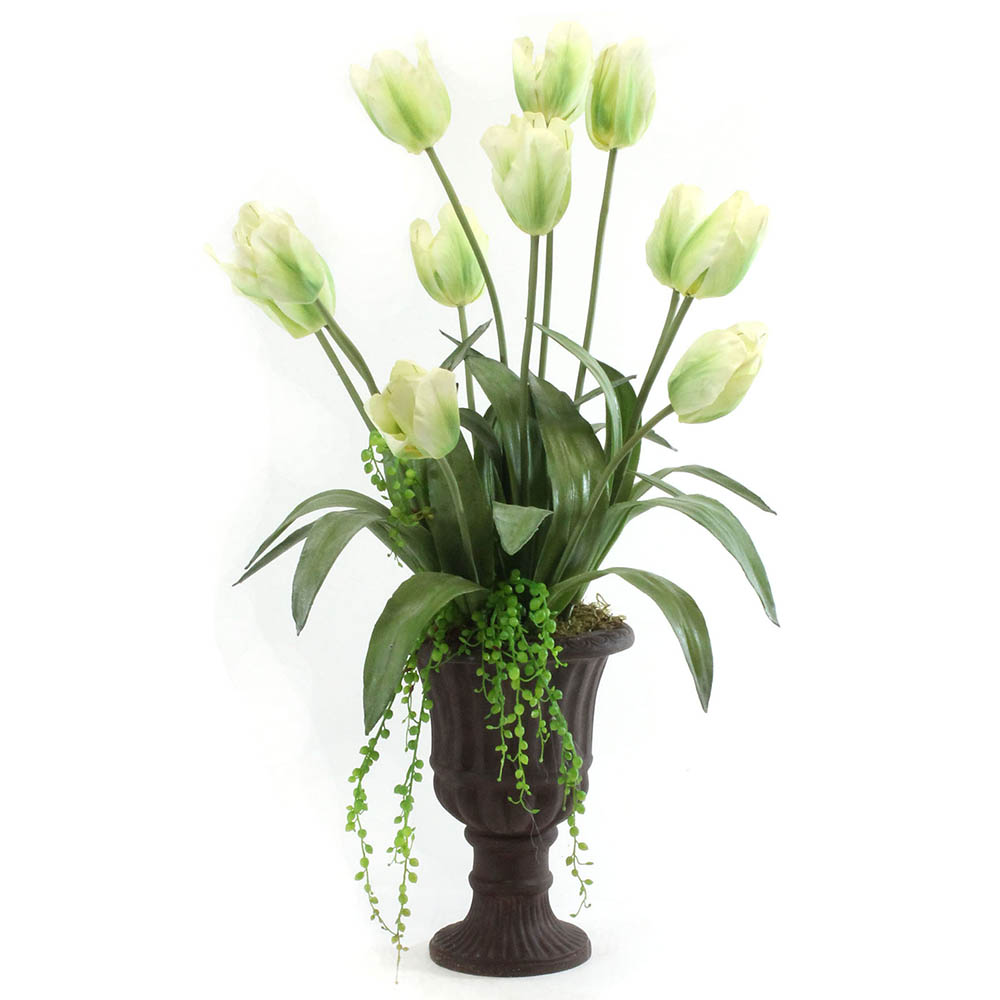 Flowering Bulbs
Crocuses
One of the first harbingers of spring is the crocus. These tenacious small flowers poke through snow to give us a taste of what is to come. Planted in whole beds by Victorian gardeners, these flowering bulbs are still popular today.   Use crocus blooms to add a pop of purple and yellow to your spring arrangement. These small flowers are beautiful alone in small vases or make a nice accent to your spring arrangement.
Tulips
Another popular spring flower is the tulip. Tulips come in many colors and petal shapes. Parrot hybrids have curly, twisted petals that are often variegated with bold colors. Fringed tulips have a traditional shape with frayed edges and also come in many shades. The graceful stems and elegant blooms make tulips a perfect choice to stand alone in a simple arrangement, or combine them with other spring flowers for a dramatic display. Because tulips come in many colors and shapes, there is a perfect tulip for any spring flower arrangement.
Daffodils
Daffodils are such popular flowers, several organizations, including the American Cancer Society, have chosen this bloom as a fundraising symbol. They are a great addition to your spring arrangement because they come in various shades of yellow and white, have distinctive blossoms and can stand alone or be combined with other flowers. Use several varieties in one vase for a monochromatic look or combine with bold purple flowers for added drama.
Hyacinth
Popular for their blooming stalks and bold fragrance, the hyacinth is another flowering bulb. Since they come in a wide variety of colors, there is a perfect shade to complement any spring arrangement. Use a potted hyacinth alone, place stems in water or combine with other flowers for a beautiful centerpiece.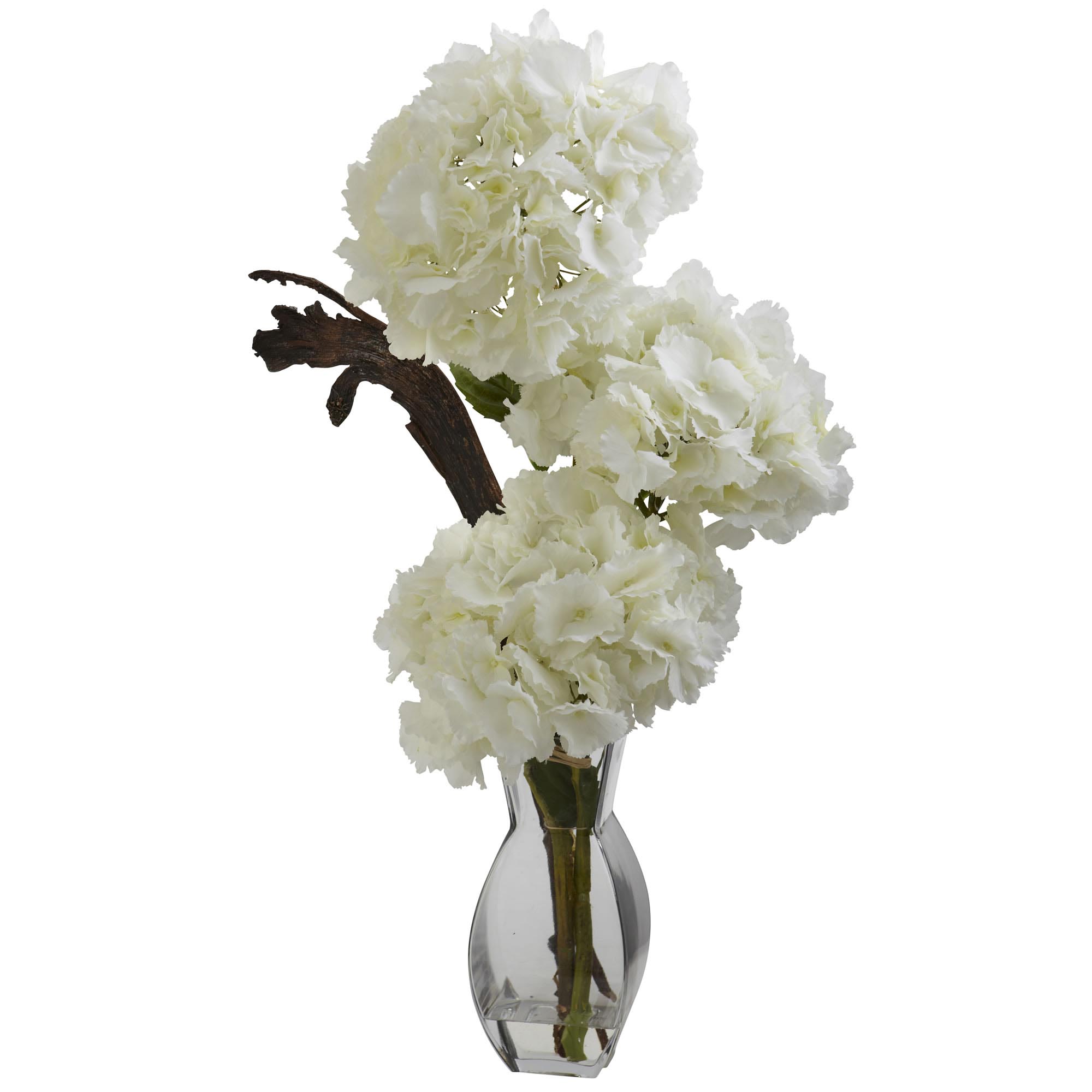 Heirloom Flowers
Hydrangea
Many of the flowers that were popular in the early 20th century are once again drawing the attention of florists. One of the most commonly used is the hydrangea.  Because these large, but delicate flowers don't last long when cut, artificial hydrangeas are a practical choice. Place several large hydrangea blooms in a glass vase and add acrylic water for a simple, elegant look, or combine blooms with greens and baby's breath for a more substantial arrangement. Today, hydrangeas are especially popular for use in weddings because the blossoms come in a variety of sizes and colors.
Peony
Another old-fashioned flower that is making a comeback is the peony. This is another flower I remember from my grandmother's garden. She used to cut a single peony blossom and float it in a shallow bowl of water. Because this is another flower that doesn't last long once cut, artificial peonies are much easier to use. Add peonies to a glass vase and finish with acrylic water, stones or glass marbles for a simple, yet elegant look. Combine peonies with hydrangeas, ferns, lilacs or roses for a Victorian-inspired spring flower arrangement.
Other Heirloom Flowers
Other popular heirloom flowers include dahlias, iris and gladiolas. Add any of these colorful blooms to your spring floral arrangement.
Whether you like the simplicity of a few blossoming branches in water or the Victorian appeal of lilacs and hydrangeas, there is a wide variety of flowers from which to choose when designing your spring floral arrangement. Chase away the winter doldrums with a light, airy spring floral arrangement of your own.