Succulents are water storage plants that usually have thick, fleshy leaves that retain water. Because they require little moisture, they thrive in dry climates. Leaf colors range from pale green to deep red making them a dramatic addition to any decor. Whether decorating with real succulents or artificial ones, there is a perfect choice for your home. Here are our top 10 ideas for decorating with artificial succulent plants.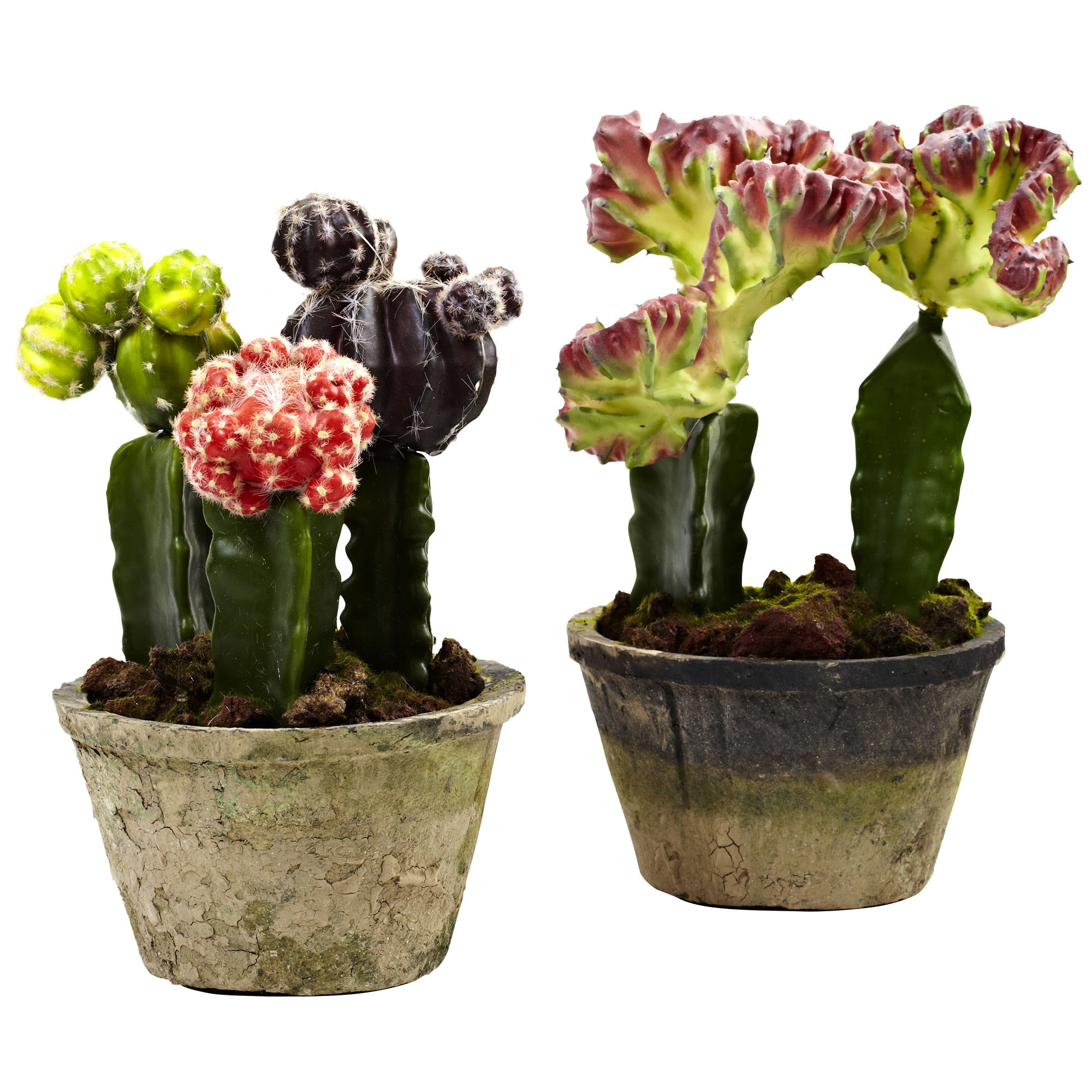 1. Simple Accents
Add a touch of green to your home with a small potted succulent.  Because of their compact size, these potted plants are the perfect accent virtually anywhere. Place one on a bathroom vanity, place several with some votive candles for an interesting display or group an odd number together on your fireplace mantel. Picture a row of beautiful Echeveria running down the center of your dining room table or place one at each place setting to welcome your dinner guests.
2. Succulent Wreath
Adorn your front door with a spectacular succulents wreath. The perfect accent for any window, door or wall, the succulents add a different look to a classic shape. Place a wreath flat on a table and position a pillar candle in the center for a Aeonium centerpiece. Combine with flowers or leave the succulents make a statement on their own.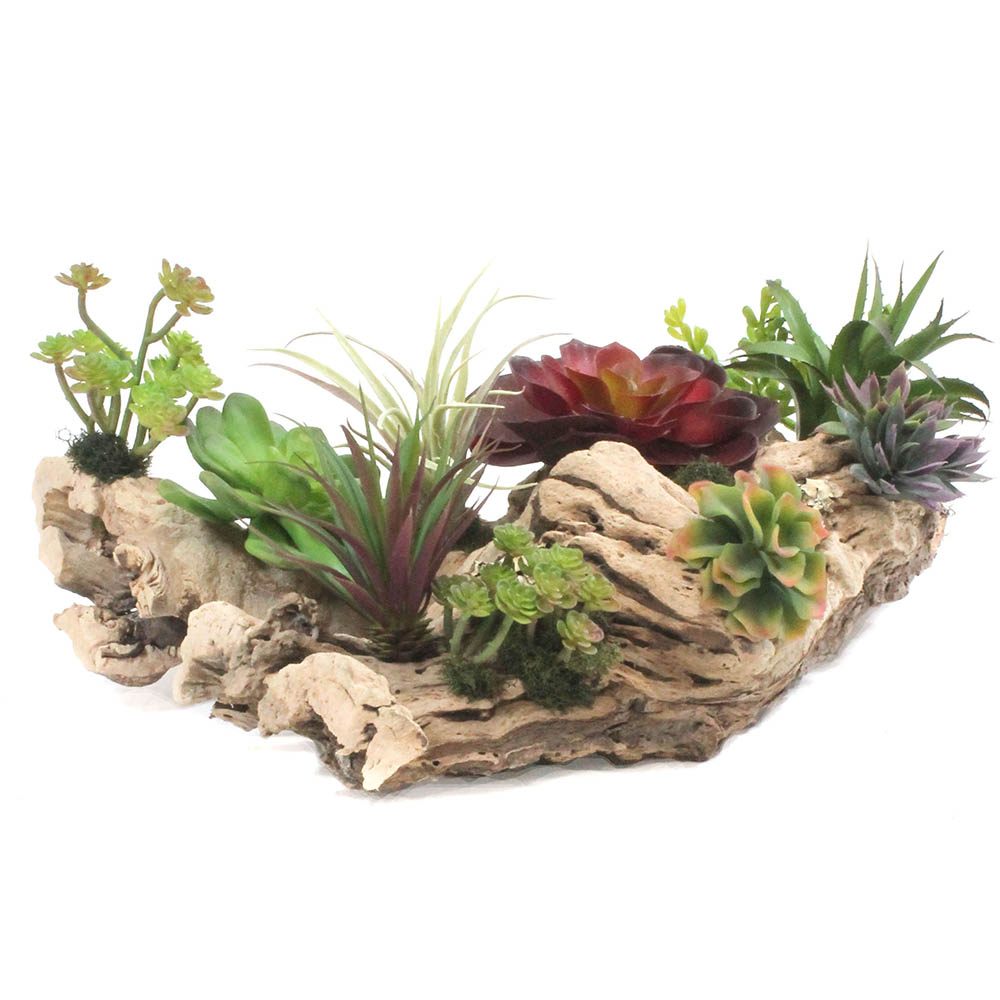 3. Succulent Centerpiece
For an unusual centerpiece, consider a mix of these little gems. Create a dramatic display by combining various colors, sizes and leaf shapes in one container. Because of their compact size and simple shapes, they are especially effective on small tables. Use a larger display for an entryway table or large dining room table. Add blooming cactus for a pop of color. From glass bowls to terra cotta pots, any container is suitable for a delectable centerpiece.
4. Uncommon Vessel
For an unusual conversation piece, place an assortment of mini cacti in an unconventional container. Picture a decorative birdcage filled with moss and small Escheveria. Tea cups, sugar bowls and gravy boats filled with plants are perfect decorations for your dining room table, or place hen and chick stems on tall candlesticks for added height. Fill large sea shells with small plants to make an interesting combination of land and sea. The smooth, thick leaves of the plants add interest to any basket, container or decorative piece.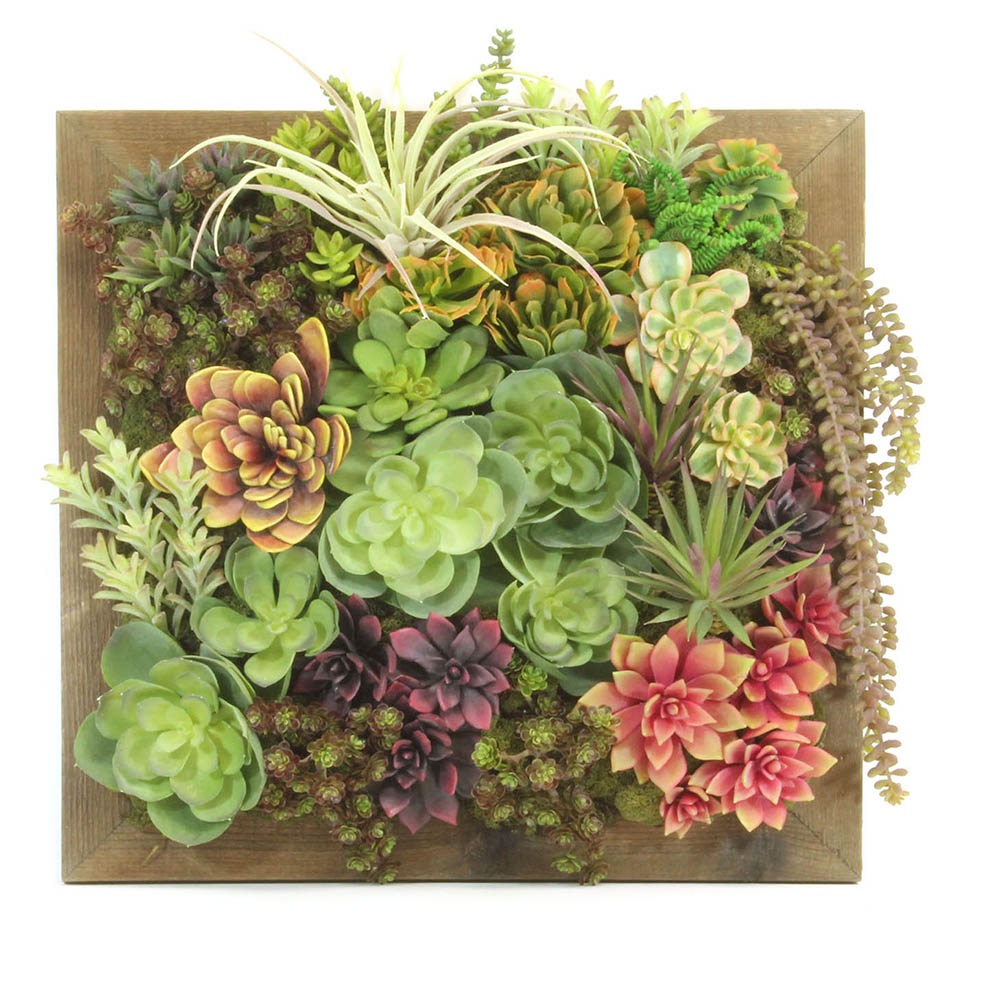 5. Create Wall Art
A combination of succulents in different colors, shapes and textures makes a unique wall art that is a perfect focal point for any space in your home. Hang one alone or combine with photographs and mirrors for an interesting arrangement. Consider a grouping on a patio or porch for a touch of nature in your outdoor space. This unusual wall art would also be a perfect addition to an apartment balcony.
6. DIY Topiary
Use a variety of agave, hen and chick, echeveria and more to make a topiary for a modern take on a centuries-old art form. A selection of small plants is perfect for a tabletop topiary while larger plants can be combined to make a topiary suitable for your porch or entryway. Choose the shape that complements your decor.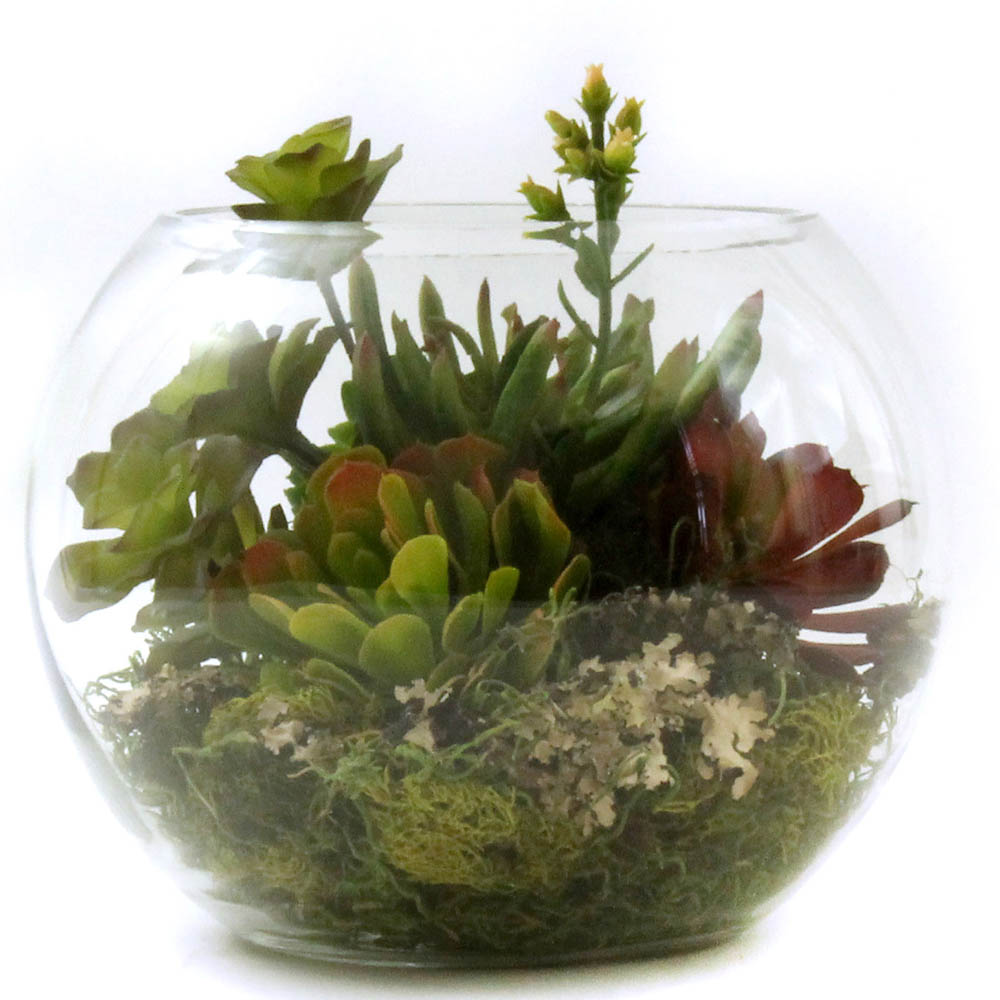 7. Build a Terrarium
Succulents are the perfect choice for any terrarium. Because they require little water, real succulents are very low-maintenance.  Add drama to a closed container with a combination of plants in different colors, sizes and shapes. Combine with moss, stones, shells and other natural elements for a beautiful display suitable for any table or shelf.
8. Create a Floor Plant
Make a bold statement with a potted yucca.  Because these little guys come in many shades of green and red, there is the perfect choice for any decor. Choose a small yucca for a tabletop display or flank your front door with a pair of five-foot potted yuccas. The bold stems and spiked leaves make an eye-catching addition to any room in your home. Whether you are filling an empty corner or flanking an antique buffet, potted yuccas are a dramatic option.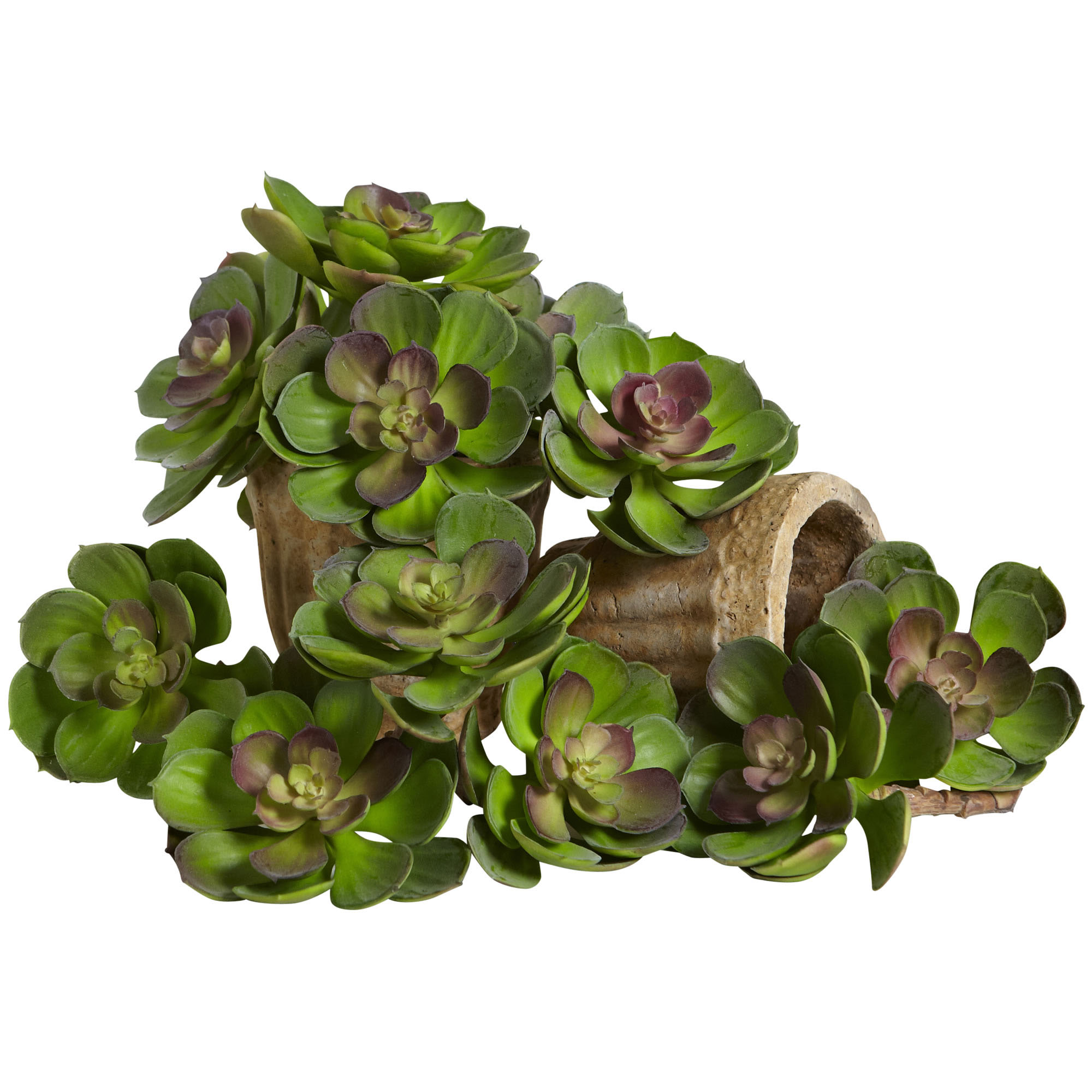 9. Individual Succulent Stems
Add interest to any potted plant with miniature stems. From the blooming leaves of an echeveria to the spiky leaves of a yucca, there is a perfect shape for any container. Mix them together in different shades of green for a monochromatic look or combine greens and burgundies for added contrast. Position our outdoor stems in flower beds to bring the desert to your garden.
10. Design a Hanging Plant
Add height to your space with a hanging succulent plant. Place plants in a basket and hang from a hook in the ceiling or decorate your front porch with a collection of draping designs. Use small balls to decorate any bookcase or display shelves. Indoors or out, these products re a unique change from a traditional hanging plant.
Because of increased environmental awareness, these little hearty planting option have become very popular. These low-maintenance plants are the perfect addition to your home's interior decor or outdoor landscape design. The wide variety of colors, shapes and sizes ensures that there is a perfect succulent for any use you can imagine.