This is the time of year when it feels like winter will go on forever. If you live in a cold climate and are tired of the dreary weather, add a touch of the tropics to your décor. Creating a tropical paradise is as easy as decorating your home with artificial tropical plants.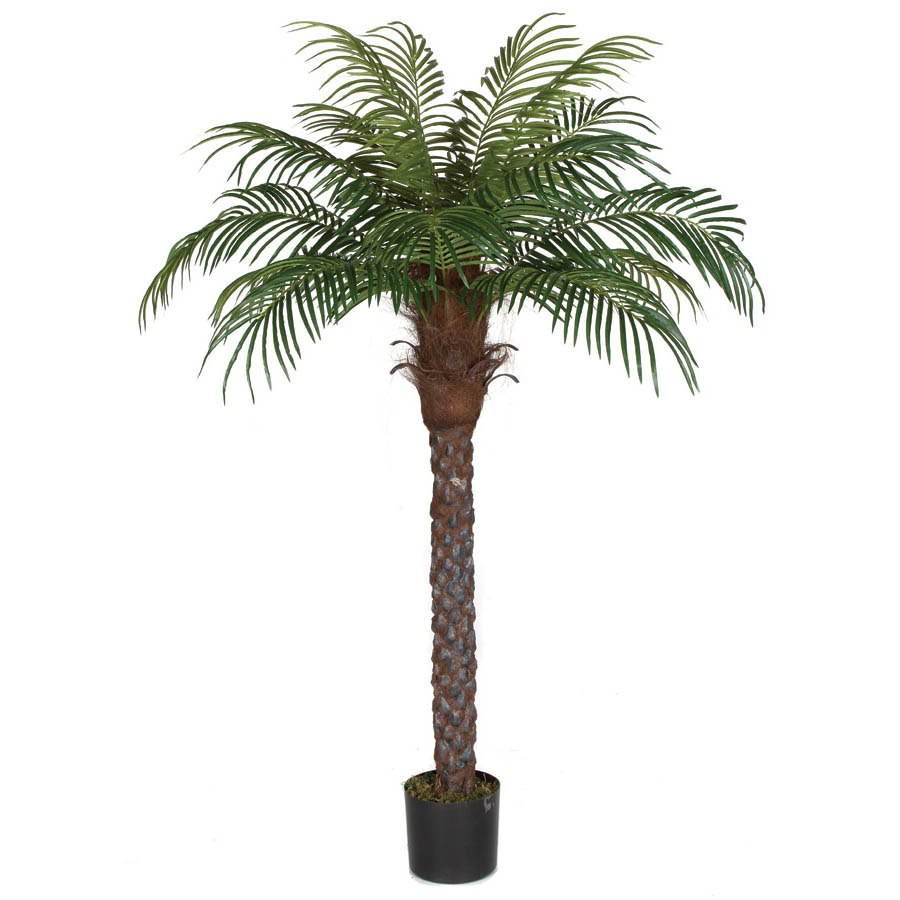 Large Statement Plants
Select a large potted tree like a date palm to brighten a corner of your room. This majestic tree would be a great focal point in your space without taking up too much floor space. Let the trunk and cascading fronds remind you of a wonderful tropical vacation. With the many sizes available, there is the perfect palm for you.
For a fuller look, consider a potted Robellini palm or Areca palm. These potted palms have more branches and provide a fuller look. Warm up your room with a pair of them flanking a fireplace or sofa.
Another tropical potted tree to consider is bamboo. The yellow-green foliage of these artificial tropical plants will provide a nice contrast to the wintery landscape outside. The height and shape of these plants will add a nice touch of nature to your living room, dining room or entryway.
Tropical Flowers in Planters
Once you have selected some statement trees as focal points, fill in with some potted tropical flowers. Use one of these beautiful bird of paradise potted plants to add drama to your home. The artificial tropical plants are reminiscent of a tropical locale. Available in several sizes, there is one that is perfect for your space.
For a tropical centerpiece for your dining room table or entryway, consider a dramatic potted orchid. Whether you select a potted phalaenopsis with its stately flower stems or a cymbidium with its bright colors, a potted orchid would be a great addition to any table or mantle.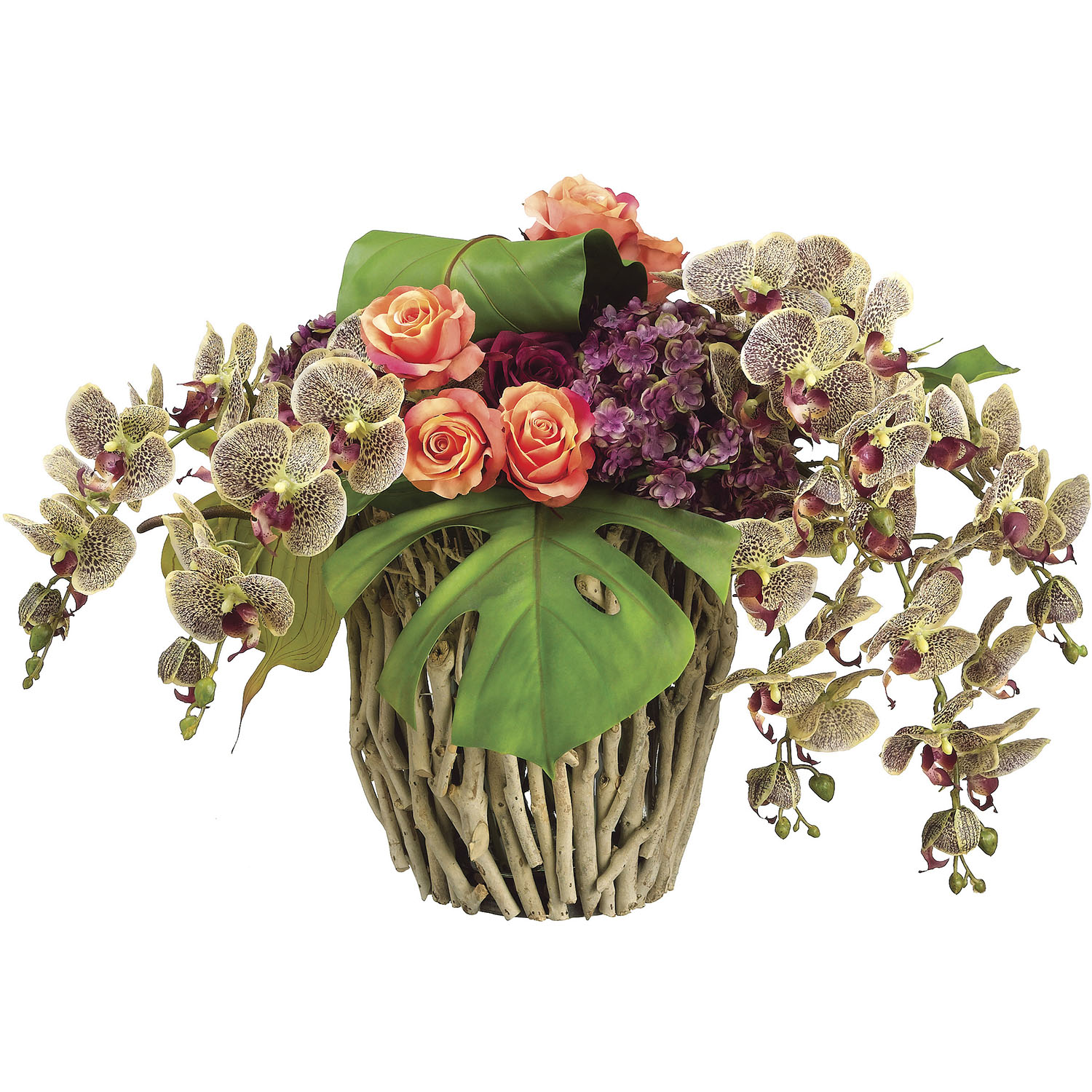 Flowers in Glass Vases
If you prefer the appearance of a flower stem in a glass vase, add a hint of the tropics with a beautiful orchid. Anchored with acrylic water, these orchids hint of warm tropical climates. For a special touch on a mantle or sofa table, select a set of three vases with mini phalaenopsis stems. With all of the options available, there is a size and color to suit your décor.
If orchids are not your favorite tropical flower, consider a beautiful magnolia, bird of paradise or lily. These warm-weather flowers will brighten your room and remind you of a wonderful summer vacation.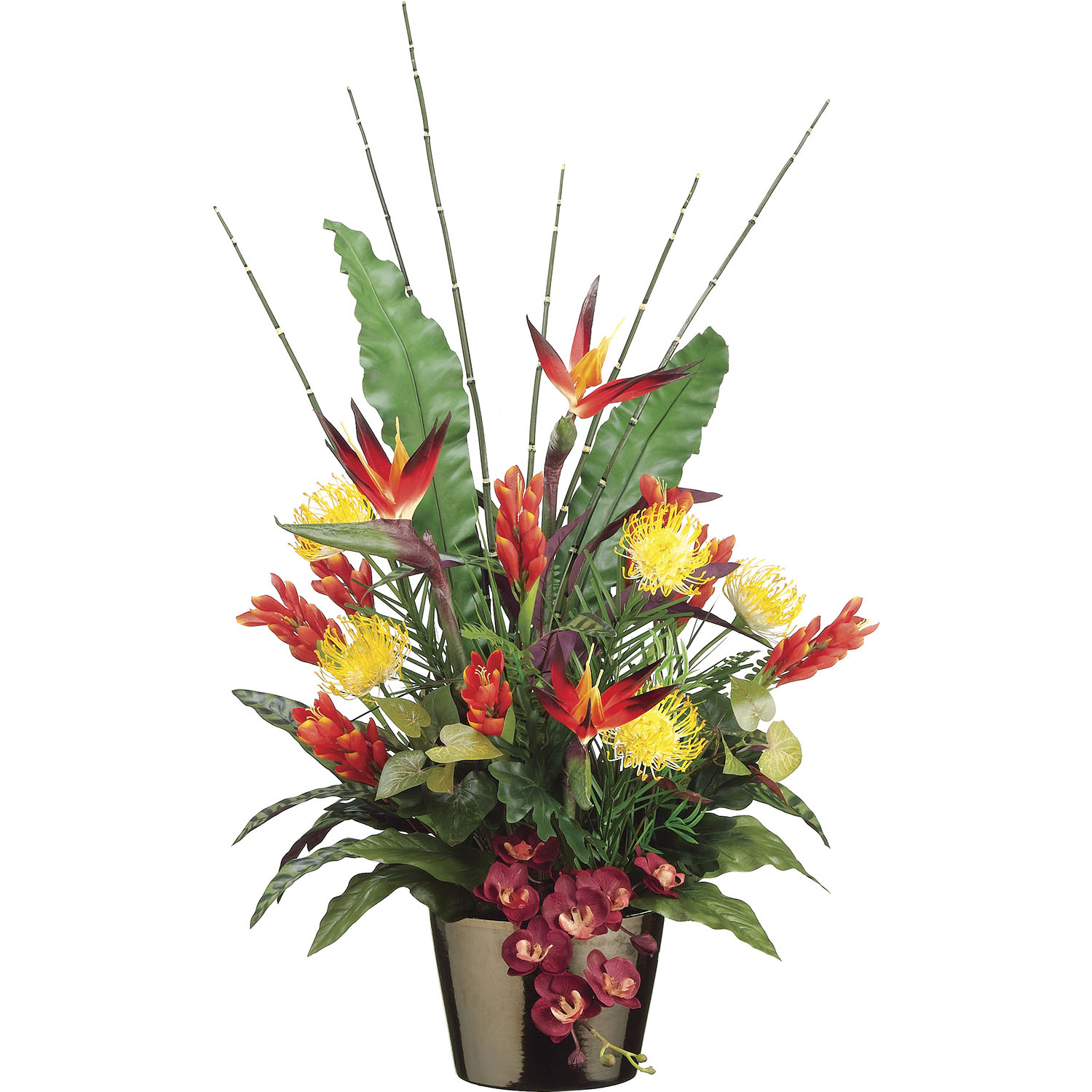 Mixed Flower Arrangement
For maximum dramatic impact, consider a colorful arrangement of bird of paradise, protea and ginger flower stems. Welcome your guests to the tropics with this stately 40-inch arrangement. A perfect addition to an entryway table, the bold blooms and colorful stems are a great way to bring a touch of the tropics to a gloomy winter day.
If you like the simple beauty of calla lily blooms, an arrangement of callas, bamboo shoots, and grass is a sophisticated choice. At 18 inches tall, this arrangement would be perfect as a dining table centerpiece, sofa table accent or entryway decoration. The acrylic water and stones in the base of the vase give it a realistic look.
Outdoor Tropical Plants
When making your home a tropical paradise, don't forget the outside of your house. There are many artificial plants suitable for use outside from which to choose. When choosing your outdoor plants, start with the larger, focal plants. Consider a stately palm tree to remind you of a tropical oasis. From the 9-foot cycas palm to the 4-foot potted variety, there is a palm tree to suit any space.
If a palm tree is not what you had in mind, consider a row of potted bamboo plants. Perfect as a hedgerow or along a fence or walkway, these trees will provide green year-round for a tropical feel. When spring arrives, simply plant perennials at the base for an easy landscape design.
Once your background plants are in place, position smaller tropical plants in front and at the base. Add drama with a split leaf philodendron plant. Standing alone or grouped with other plants, the large leaves of this plant stand out. The base of one of these beautiful plants is the perfect place for an artificial yucca or agave plant. Picture one of these tropical plants against a snowy landscape.
To add a tropical flair to your entry, consider flanking your front door with a pair of potted tropical plants. This is a great place for a potted artificial plumeria tree. Whether you are focusing on your home's interior, exterior or both, the inclusion of artificial tropical plants in the middle of winter is a nice touch.