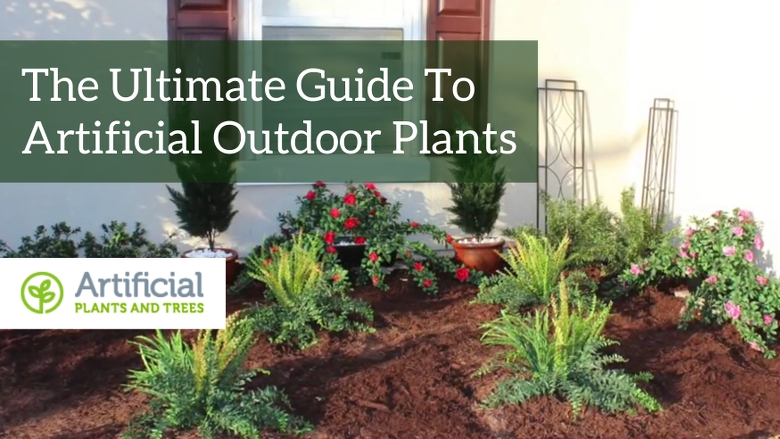 If you love the look of a lush, well-stocked garden, but prefer to keep things low-maintenance, artificial outdoor plants and trees are the perfect solution.
Great for busy people who like to relax on the deck on their days off rather than digging in the dirt, outdoor artificial plants give you an instant garden which needs very little attention. Fake plants are also ideal for businesses as well as homeowners – you have enough to think about at work, without having to feed the azaleas!
Live landscaping can take up a lot of time, and individual varieties have their own care needs. Watering gets especially tricky when you have a mixed flower bed, with each plant having different feeding requirements to its neighbors. On the porch or deck, potted plants need daily watering – which can feel like a real bind if you're busy or travel a lot.
You may need to carefully dust a faux potted plant from time to time – but that's a lot simpler than getting out the watering can every day or researching how to treat plant diseases. We find that commercial customers really appreciate artificial flowers, simply so they can return to work on a Monday to healthy-looking plants.
Fake Outside Plants With UV Protection
Ironically, the sun that plants need so badly to grow can also be their downfall. Too hot, and the leaves will start to brown and the flowers fade. Not so with fake outdoor plants and flowers, which will keep their glossy leaves and vibrant colors even in the harshest sunlight. Our designs have been treated with UV protection, keeping fading to a minimum (however please check the specification of each plant, as some still need to be kept out of direct sunlight).
And of course, you're not limited by your climate. Wherever you live, whether it's arid or cool, our entire range of outdoor plants is available to you. If you want a palm tree, you can go ahead and have a palm tree, even if your garden is under snow for part of the year! Likewise, if you live in a dry region, there's nothing to stop you having pretty and delicate flowers in your garden. And unlike real plants, these arrive at the required size, and stay that way. Your imagination is not limited by climate or care considerations…
For many people, the most important thing is that the our products look realistic. With the attention to detail and natural colors, our designs are hard to distinguish from the real thing. A high-quality artificial grass or fern sharing a bed with natural plants will blend in beautifully. So, what outdoor plants are available, and what are the benefits of particular varieties?
---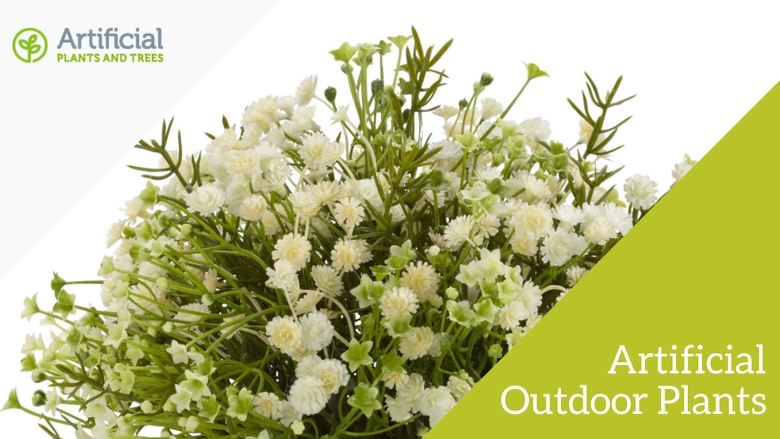 Sometimes, nature just needs a helping hand: even the keenest gardener will admit that there are always some places in the yard where plants never take. Simply add a good quality Azalea to your flower bed, and problem solved! A hard-working boxwood can fill gaps, provide cover, and give your planting scheme year-round interest and color.
We have a range of super-realistic designs that would look fabulous in your garden or on your porch, or even in the entrance to your office or store.
Green and leafy Boxwood is a popular choice as an entrance planter. A real boxwood plant is slow-growing, and rather picky about its water intake. An artificial boxwood plant gives you the attractive dense leaf cover – immediately.
If you need to fill a gap in a flower bed, there are many outdoor bushes to choose from. Add a hint of color with a rich red Burgundy Eucalyptus Bush, which is marvelous against green foliage, or trail a fronded Sprengerii bush down a rockery or low wall. Artificial outdoor grasses are a fabulous way of adding a new look to your planting. Dot them around your flower beds to contrast with softer blooms, or use them to create volume in a patio planter display. Throw a totally different texture into the mix by placing a few tropical plants here and there, such as an Agave.
Outdoor ferns are a much-loved option, either spaced around in a mixed bed or displayed in a planter. Ferns look fabulous in hanging baskets; and as these are notoriously difficult to water, an artificial option makes life much easier. Look out for our ready-planted ferns in decorative hanging baskets.
Fake Outdoor Plants That Look Completely Real
From architectural bromeliads like this spectacular orange specimen, to delicate daisies, there is a huge range of realistic fake flowers to choose from. There's a glorious spectrum of colors available – and the great thing is that they will stay vibrant all year. Garland your porch or patio with gorgeous azaleas and bougainvilleas that won't fade, wilt, or drop. If you have a second-storey – or higher – window box which is tricky to care for, artificial outdoor flowers are the answer: no more hanging out the window with a watering can!
Flowers are great for giving a garden color; and one of the most simple but effective ways to add brightness to your walls or fences is with an outdoor garland. There are Italian mosses in some incredible contemporary colors – this funky blue garland is a real statement piece. For something more classic, there are floral garlands in a range of beautiful shades. If you like the idea of using artificial plants to decorate your walls, try the traditional look with this incredibly realistic ivy.
There's a lot more to fake outside plants than their decorative function however; they can also be used to create privacy. Outdoor mats and privacy fencing can be used to both disguise and add extra density to fences, creating a natural-looking boundary. If you have a look at this article from Decoist about green screens for garden boundaries, most of these looks can be replicated using artificial plants.
---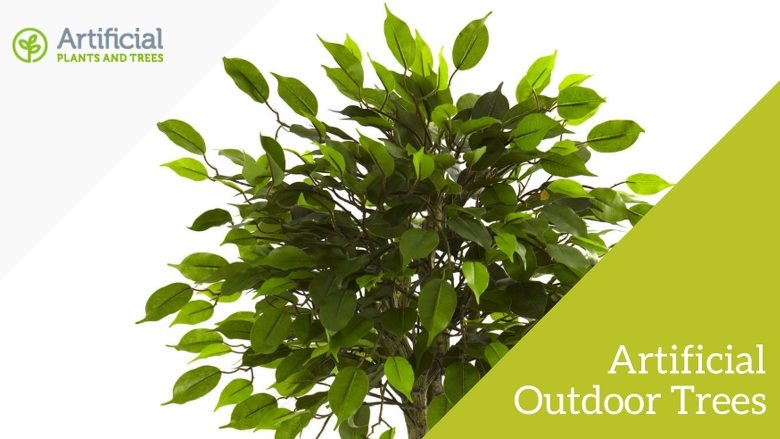 A well-placed tree can have real impact to the look of a planting scheme, porch, or driveway. From tall cedars to wispy-leaved maples, there's a place for a tree in any outdoor space. However, many types of tree can be high-maintenance, especially if you have to keep them pruned to a specific size and shape. Unless you have a large budget, it's also likely that you'll have to wait a few years for the tree to reach the desired height. An artificial tree gives you the impact you need, without the time effort.
We have a great variety of designs in our collection: which tree is right for the look you're going for?
If you're searching for a tree that adds real interest to a patio, terrace, or balcony, search out a Tropical plant. An Elephant Ear Plant is a superb addition, with a distinctive dark trunk that looks great in contemporary style surroundings. Recreate that cool 1920s look with an elegant Areca Palm Tree – imagine an Eastern-style veranda with smart wicker furniture and these palms to either side of the doors. For real drama, create this look with a pair of Banana Palms. These spectacular plants are 7 feet tall, and are definitely distinctive! Another good veranda or porch plant is this lively Yucca with its variegated leaves.
Delicate maples can be notoriously difficult to grow outdoors. One breezy day, and all that nurturing will go to waste as the fragile leaves suffer from wind-burn. An artificial maple tree is the perfect solution if you want a calm, Japanese style garden but worry that your site is maybe a bit exposed. Add a splash of color with this gorgeously-bright burgundy variety. Arrange your maples with some bamboo plants and maybe a gently curving Pittosporum tree for a real zen-like feel.
Fake Outdoor Trees For The Home & Office
Another outdoor tree that can be tricky to look after is the ancient Mediterranean olive tree. They're fussy about soil and drainage, and pruning them is a real skill to master. You can capture the look and feel of an olive grove, without the hard work, with an arrangement of these realistic artificial trees.
One of our most popular artificial trees for outdoor use is the cedar tree. These versatile favorites are perfect for driveways and porches. The taller varieties, such as this 12' cedar pine tree can also be used to create a layered effect in a mixed bed. A Cypress tree would create the same effect. For driveways and to flank an entrance door or steps, the Podocarpus bush has a similar look to the potted cedars. For something a bit different on your front porch, the fronded Liriope tree is a lovely option, and it's available in a range of heights to suit different spaces.
An artificial tree that will always give a touch of elegance is the dainty-leaved ficus. Available potted or ready to add directly to a bed, this is a popular choice for all manner of gardens. Choose between 38" varieties for smaller beds or patios, or look out for elegant 7 or 8 foot trees. The variegated leaves of the ficus add different shades to your planting scheme; however, to add a real splash of color, we'd recommend this attractive Plumeria tree with its vivid pink flowers. A real advantage of an artificial tree is that the blooms stay fresh and pink all year round!
We love the timeless beauty of this Ming Aralia tree. This pretty Indian tree has lovely, feathery leaves (reminiscent of parsley!) and looks wonderful indoors in a conservatory or garden room, as well as on the porch or flower bed. If you're looking for just one signature tree to be an eye-catching feature, the Ming Aralia is an excellent choice, as is the emerald-leaved Birds Nest Tree. A Pine tree is a similarly good stand-alone tree – with the advantage that you can trim it with colored lights for the holidays!
---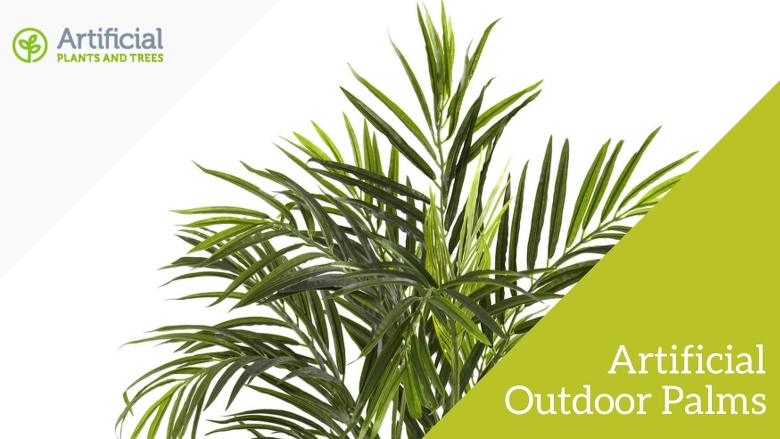 Palms look spectacular outside hotels, stores, and restaurants. However, don't assume that these impressive trees are only suitable for shopping malls or hotel lobbies; we have them in a range of shapes and sizes that are also suitable for domestic use. In fact, many of our perfect palms go to homes as well as commercial premises. Our customers fall in love with these gorgeous exotic trees while on holiday, but can't grow them in their native climate. An artificial palm tree is the ideal solution.
It's easy to bring a tropical air to your yard, wherever you live, with an artificial palm tree or two. Weatherproof and UV resistant, they'll survive in all sorts of US climates when a real palm tree would seriously struggle. It also takes a young palm a few years to mature into an imposing tree; so if you need to have a large tree, quickly, a fake palm tree is a great option even in a warmer climate. This makes them particularly useful for commercial premises, where you need the outdoor space to look great immediately.
If you're looking for a palm that looks great in a pot, one of our Areco palm trees is a superb choice. Both full and fronded, they cast beautiful, dappled shadows across the deck, and when the breeze blows through them, they make a gently relaxing rustle. In the garden itself, the 7.5' variety would provide excellent cover in a mixed hedge as well as adding some height to a bed.
Effective Screening With Fake Outdoor Palm Trees
If you like the pretty shade created by the Areca palm, how about trying a bamboo tree rated for outside? These also sway gently in the wind, adding their own music to your garden or porch. Like the Areca, they are equally at home in a pot on the patio or deck, or forming part of an attractive screen. A row of bamboo plants is a superb way of creating a boundary, and their copious leaves give you privacy from the neighbors. Real bamboo can easily become unruly and take over, so a tame replica is a great alternative.
If you prefer a bit of drama to gently waving leaves, a Cycas palm is a must-have addition to your plant collection. A Cycus palm tree is robust, yet still has an attractive fan of delicate fronds. Look out for varieties with natural trunks for that extra touch of realism. Our Cycus range varies greatly depending on how many fronds you go for. A pair of plants with 36 fronds each looks incredible in decorative planters flanking your front door; and if you want to add architectural elegance and height to a planting scheme, try something like this 18 frond variety.
And finally, for the classic Palm Beach look, you need a Phoenix palm. This 12' beauty is the classic design: tall, graceful, and distinctly exotic. We also have more modest Phoenix palms, ranging from 6' to 8.5', which are perfect for decks, driveways, and lobbies. A Phoenix palm cluster in a decorative planter is an excellent ornament for a hotel or office entrance.
---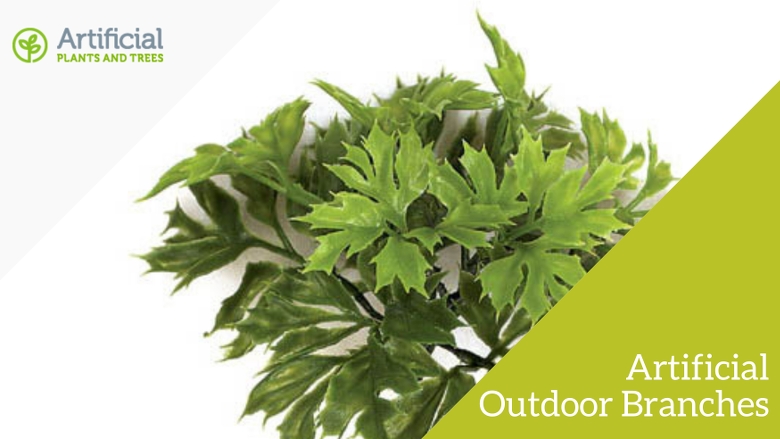 Thinking of branching out? You can get really creative with your garden scheme with the help of a few well-placed artificial branches. You can use them to add texture and color to planters: the delicate ficus branches, for example, would make a wonderful foil for some bright blooms in a window box. Or, you can use some leafy boxwood to transform a boring fence into a something more decorative: you could even create an arbor!
Fake Outdoor Branches With A Range Of Uses
An effective use of fronds is to bring an old tree back to life. Artificial fronds can be attached to a palm trunk that's seen better days, creating a new top head. We stock a wide selection of fronds, so you can choose the type that gives you the best proportions. A few palm fronds can also form part of a planter arrangement: they look fantastic teamed with bright, exotic flowers such as bromeliads.
If you want something more classically leafy, have a look at these varied outdoor branches. In so many shades of lush green, they are astonishingly realistic; however unlike real branches, they are far easier to persuade into shape to suit your designs! Add to patio planters, or weave them into fences or trellis.
Outdoor Boxwood is a favorite for providing cover and privacy. Its small leaves grow densely together, giving a full appearance while retaining its attractive delicacy. It's wonderful to weave into hedges or arbors, if you fancy a real creative garden design project, or simply add a few boxwood picks to a window box or planter display.
---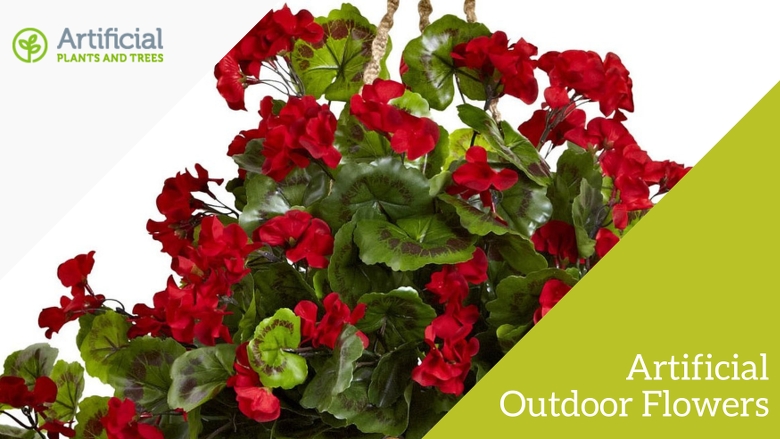 Last, but most definitely not least, we come to outdoor artificial flowers – and this is where fake plants really come into their own. Imagine a garden where the blooms never fade or fall; and whatever the season or climate, you open the blinds each day to a riot of color in your yard or porch. There's no concern that a painstakingly-nurtured plant will fail to blossom – and best of all, you don't have to worry about feeding and watering them. This is why our designs are so popular for window boxes and hanging baskets, which can be so tricky to reach.
They're also a good choice for commercial premises that are closed on the weekend, or for people that regularly go away on business or on vacation. The beauty of blossom with no maintenance, except a little light dusting on occasion – perfect for today's busy lifestyles.
What sorts of fake outdoor flowers can you buy? There's a great variety, and what you go for depends on your own personal taste and style. You can search for blooms by color, making sure you find the right flowers for your garden design scheme.
Low Maintenance Fake Outdoor Flowers
For a contemporary deck, a few bright bromeliads in planters give a colorful and exotic edge. If you're going for something more traditional, choose a gardenia or geranium, either potted up or scattered around a flower bed. Bougainvillea is marvelous climbing up trellis on the balcony or porch. To create a pretty and delicate effect, our Azalea topiary collection is perfect, and can be custom-made in a variety of appealing shades.
Using faux flowers made of plastic places no limits on your imagination, and you can create some really stunning looks using outdoor garlands. At 9.5' long, these generously-sized swags can transform a porch or patio. Let your creativity run wild, and festoon your outdoor spaces with vibrant colors and rich green foliage! These are great for store fronts and restaurant courtyards as well as homes.
If you need to create a screen between you and the neighbors, or want to delineate separate areas of your garden, a floral mat is a stylish way of doing this. With the Azalea blossoms in full bloom all year, your boundary hedge will be an attractive feature rather than a utilitarian essential. And that's the real beauty of fake flowers – they look amazing, yet are so practical.
---
There's A Type Of Artificial Plant To Suit Every Outside Space
However much or little space you have, or whereabouts in the States you live, there's a realistic outdoor plant or tree to suit your garden, porch or balcony. Choose your perfect plants by color, size, or cover; and whether your personal taste is dainty or architectural, you can go with it, unconstrained by climate or soil type. Creating a beautiful yard couldn't be easier.
Get In Touch To Discuss Your Designs
With no worries about watering, wind or sunburn, disease, or whether you'll lose valuable cover in the fall, these stunning pretend plants are here to make your life easier. And so are we! If you've seen some plants that catch your eye, or you'd like some advice, please shop our secure online store or call now on 1.888.532.0232. We're here to help you with any artificial plant-related query, from shipping inquiries to design advice.