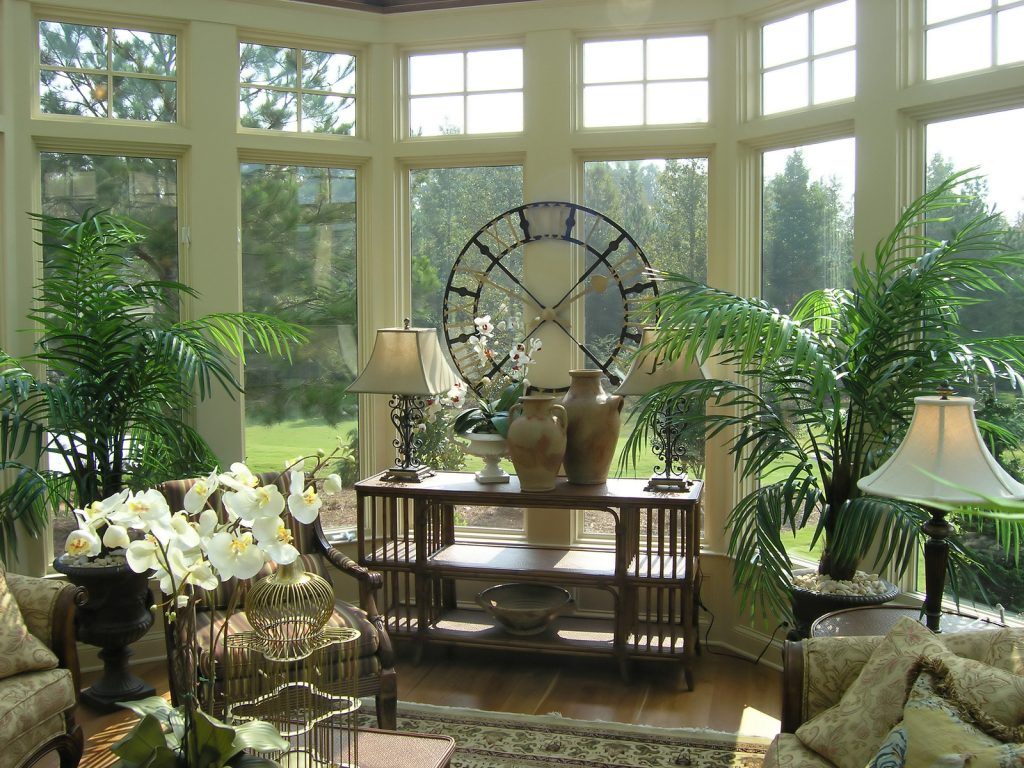 Once designed as homes for tender plants and unique botanical specimens, sunrooms have become a space for relaxation and simple enjoyment, providing for the perfect combination of indoor living comfort with the beauty and light of nature. Porches are similar to sunrooms but lack walls to expose fresh air and light.
If your sunroom and porch are looking a little outdated and could use some sprucing up, then all it may take are a few small changes and improvements to transform these spaces into your ideal look and atmosphere.
Lighten Up the Colors
One of the main purposes of the sunroom is to let in lots of uplifting natural sunlight. If the walls in the sunroom or the furniture pieces are dark toned, the whole room can feel smaller and darker. Paint the walls a light neutral color or update the furniture with new pieces or with white or cream slip covers to instantly brighten the space.
Update the Main Light Fixture
Lighting can either outdate a room or instantly freshen it up. Adding a single statement ceiling light fixture is a simple addition that can add beauty, elegance, and a touch of modern flair to your traditional sunroom or porch.
Add Artificial Plants and Flowers
A sunroom acts as the seamless transition between the indoors and the outdoors and one way to make it feel like a lush oasis is to add natural greenery. Look for different shapes and textures, and go for high-quality artificial plants that won't ever need to be trimmed, watered, or re-potted. Ferns and palms are lovely additions in the sunroom, and a few hanging flower baskets add color to a porch.
Add a Shelving Unit
An elegant yet functional furniture piece will add to the atmosphere and aesthetic of the sunroom and porch. Choose a shelving unit that can hold pots of herbs, succulents, and other plants, or turn a shelving unit into a chic bar area perfect for mixing up cocktails and lemonade. A corner shelf or one against a wall adds use without taking up too much space.
Hang a Few Privacy Curtains
When lounging on your open porch, you may feel like you are lacking in adequate privacy. You can add romance and style with a few fabric panels that draw close for privacy. Install a few curtains rods and look for simple, inexpensive fabric curtains.
Add or Replace a Rug
Using the same types of furniture and décor pieces in the outdoor living spaces are what really makes them feel as homey and comfortable as the indoors. For your porch, purchase a new rug to refresh the flooring and add color and a fun pattern.
Flank the Doorway with Topiaries
Topiaries have been used for decades to add elegance and sophistication. You can create a great entry for guests at your front door or make a back porch feel more luxurious by placing a couple artificial topiaries on either side of the entrance.
Add Light and Ambiance with Outdoor Lanterns
Add some extra lighting to your patio without ruining the romantic vibe with ambiance-boosting lanterns and solar candles. Place a lantern or two on a table and on the porch to create the ultimate outdoor lounge area for nice evenings.
It doesn't have to cost an arm and a leg or all of your free-time to update the look and feel of your sunroom and porch. Simply revamp and refresh with these easy suggestions and products from Artificial Plants and Trees.