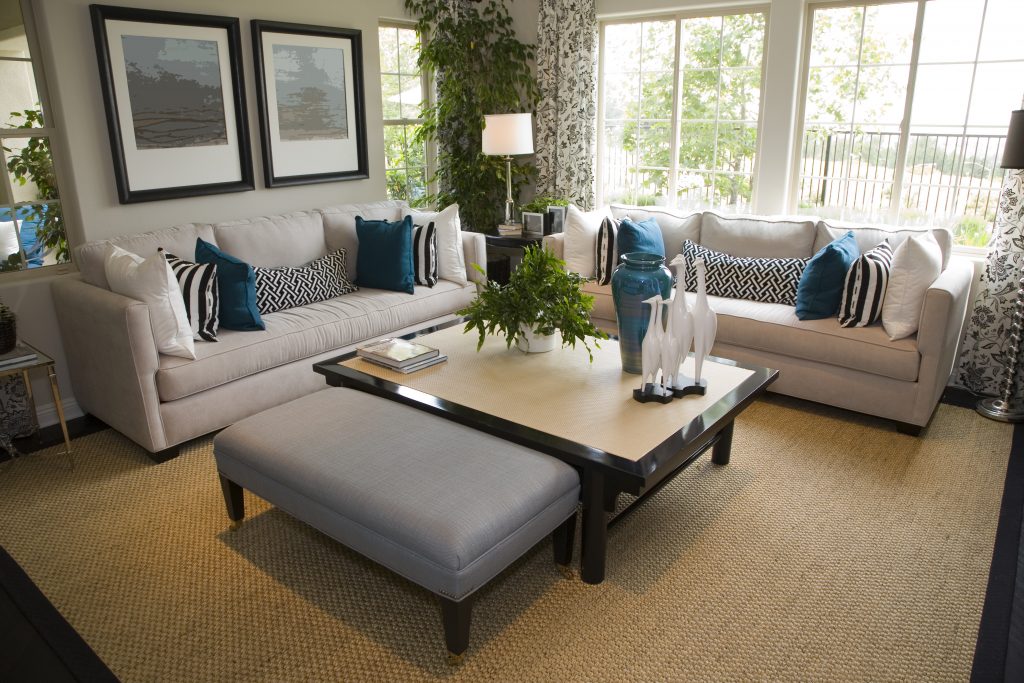 From movie nights, game day get-togethers, game nights, to holiday lounging with the whole family, the family room gets a lot of attention. With so much varied activity on a daily basis, it's easy to throw your hands up and accept that this space is one for messes and functionality versus elegance and style. But that doesn't mean the family room can't be a space you love to live in and look at.
We, at Artificial Plants and Trees, have some tips and ideas that can help you transform the family room into one you're excited about, all without spending the big bucks or precious spare time.
Add an Interesting Wall Shelving Unit
Shelving can turn a wall from blah to bravo! The extra storage and organization will make your space look more kept and put together, and provide a unique place to showcase photos and knick-knacks. We recommend Industrial-chic shelving units because they look beautiful against a wall, either as the main piece or on either side of a TV or fireplace.
Look for Stylish Extra Seating
As previously mentioned, the family room is a place for gathering. Extra seating is a must in this room for family and friends, but it should also be an opportunity to add some glam. One great idea is a couple of stylish ottomans in front of the TV or activity area.
Update the Coffee Table
Another great idea is to replace your old and plain coffee table.  A unique coffee table can become a statement piece and serve as an eye-catching focal point. Get a quality coffee table book and some flowers for magazine-like styling. Your family room will be instantly transformed!
Mix Patterns
Don't be afraid to mix different patterns in the family room to add some pizzazz. One of our favorite tricks is to pair a patterned couch with a rug, or patterned, non-matching pillows and a patterned rug.
Coordinate Colors in Surrounding Rooms
While you shouldn't be too match-y-match-y in a room, it is naturally pleasing to the eye to coordinate pops of color in other rooms for balance. For example, if you have a blue backsplash in the adjacent kitchen, add touches of that blue in the family room. Touches can be in the form of pillows, a vase with flowers, or a rug.
Add Plant Life
After all the gorgeous pillows, throws, and lighting, plants can be the fresh finishing touch a room needs. Natural greenery in the form of a floor plant or a vase of blooms can make your family room feel complete. Plus, the pretty planters and urns can provide another nice accent to your space. If you don't have the greenest of thumbs, artificial plants work just as well and require no upkeep.
Play Up the Walls with Art
One of the easiest ways to add style to a family room that you don't have to worry about getting dirty, stained, or constantly moved around is art on the walls. Create a gallery wall by hanging a variety of framed art and prints along the center line of a wall.
Add a Touch of Metallic
Metallic touches add just the right amount of style and glamour without overwhelming a room. Hang a metallic mirror on an empty wall, as the focal point of the gallery wall, or above the fireplace.
Your family room is no longer just a space for the kids or game day. With these easy ideas from the home décor professionals at Artificial Plants and Trees, your family room can be just as elegant as it is comfortable and functional.