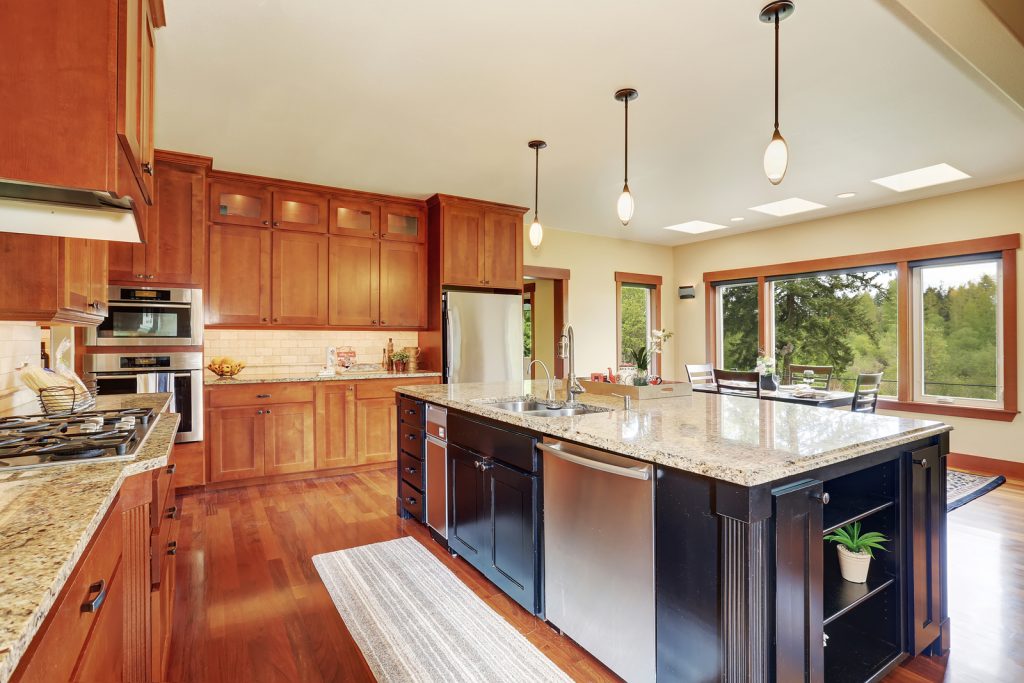 Interior designers and realtors alike will tell you that kitchens are king. On one end, they can single-handedly sell a home, and on the other can inspire more family time. We spend a lot of time in this room, and we want it to be just as beautiful as it is functional. If you've been wanting to spruce up your kitchen lately, but you don't have a big budget to spend, you can revamp your kitchen and add some major stylistic improvements without spending thousands of dollars or hours of your time.
The designers at Artificial Plants and Trees have put together this guide to inspire you with budget-friendly ideas you can start today.
Add Dramatic Lighting
The dining room is not the only elegant place in the house that deserves beautiful lighting. The space you prepare the meal can have the same glamour and style as the dining room where your guests await. Look for a dramatic ceiling fixture or chandelier to add major wow factor with a single change.
Put Wallpaper Behind Glass Cabinets or Open Shelves
One easy way to add an eye-catching feature in your kitchen is to insert patterned removable wallpaper or contact paper inside glass panel cabinets or behind open shelving. Keep the shelves uncluttered with minimal objects like vintage milk bottles or potted succulents to showcase the decorative paper.
Lay a Rug
A new rug in front of the sink or along the kitchen island is an easy way to add color and pattern where contrast may be lacking. A rug with a colorful design looks great against a clean, monotone backdrop of cabinets, backsplash, and countertops.
Replace the Faucet
The hardware in the kitchen is not only a functional component but is also an opportunity to add a bit of shine. Replace an outdated kitchen faucet with a new design for a straightforward upgrade to the kitchen.
Update the Hardware
To tie in the new faucet design, replace the handles and nobs on the cabinets for a subtle design that's repeated throughout for a noticeable effect. Simple metal handles in either silver or gold work well with most kitchen styles.
Hang a Shelf to Showcase Collectibles
A great way to save counter space, add visual interest, and showcase your favorite collectibles is to install shelving on top of your cabinets near the ceiling. The point of these isn't to hold the items you use on a daily basis but rather the lovely vases, bowls, artificial flower displays, and heirloom pieces that will add character to your kitchen without taking valuable real estate in your cabinets.
Paint or Conceal Outdated Cabinets
Painting the cabinets may not be your idea of an easy fix, but it's a change worth noting because freshly painted cabinets transform kitchens in a big way for only the cost of a can of paint. Choose a bright, fresh tone in white or cream and give yourself a brand new kitchen. If you simply hate painting, or you're renting and aren't allowed to paint, a trending décor idea is to apply removable wallpaper or vinyl decals to the front of the cabinets. Go with a solid tone or choose a fun pattern for an easy way to make your kitchen one-of-a-kind.
The kitchen is one of the most important rooms in the home to make beautiful and functional. While you can gut a kitchen and start fresh, you can alternatively add plenty of style and updates with simple ideas like these from Artificial Plants and Trees.