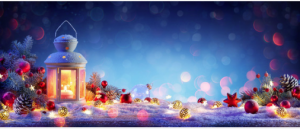 It can be challenging to decorate a Christmas tree so that it sparkles and wows from every angle.  There always seems to be room for one more ornament!  There are many ways you can fill in the branches and spaces of your Christmas tree, aside from the numerous glittery globes and family treasures that you have gathered from Christmases past.
Garlands are great for adding color, style and for filling in some of those gaps.  You can wind them around the tree in a diagonal pattern or layer them to wrap in neat horizontal rows, one on top of the other.  You can also gather a few at the top and let them flow down the sides of the tree in waterfalls of patterns.  Another way to fill in the space is to layer a garland with a wide wired ribbon.  They can be tucked into the same patterns throughout and create a look that will wow with design!
Picks are another great way to fill in the Christmas tree.  There are picks with ornaments, picks with glitter and picks with many colorful flowers and objects.  Try to select ones that match the color of your tree.  For instance, if you have a green tree,  you want picks that have green stems.  If you have a white tree, you want picks that have white stems.  Then all you see are the wonderful festive ends of them that add pizazz and pop!
Once the garland, ribbon, and picks are placed into the tree, fill all of the remaining spaces with ornaments!  It is much easier to fill in the space once these other decorations are added in first!  Now you can step back and enjoy.
Please visit Artificial Plants and Trees for more selections of ornaments and seasonal decor items.