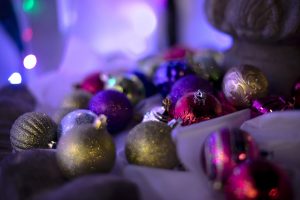 Ornaments are not just for the tree!  They add colorful additions to centerpieces, mantels, countertops and tables.  Today there are many color combinations.  Tired of red and green?  Try gemstone colors like purple, teal and emerald.  Bright pink, black and white are a fun combination.  You can match your current decor or go all bling with gold or silver.
A simple centerpiece is a large glass bowl or vase that you can fill with ornaments.  You can even add fairy lights and glitter!  If you have space above your kitchen cabinets, you can add colorful ornaments and lights in those areas.  You can also hang ornaments above a kitchen island or buffet table using colorful ribbons for a festive touch.
Another fun project is to write messages with markers on ornaments.  You can even use glitter markers.  You can date them, or put someone's name on them and tie them to gifts too!
Please visit Artificial Plants and Trees for more selections of ornaments and seasonal decor items.