Cedars and Ferns and Boxwoods, Oh My!
While it's easier than ever to buy live plants online, sometimes, despite our best intentions, those live plants become, well, dead plants. Artificial plants — fake plants, faux foliage, or whatever you want to call them — offer a simple solution. They'll never outgrow their pots, the leaves will never droop down and turn yellow, and there's no need to worry about watering or fertilizing. They're also pet-safe and child-safe.
Like any living plant, artificial plants can work wonders for any décor situation, and we doubt that anyone will know the difference once they're displayed on a nice plant stand. We offer a huge variety of Artificial Plants & Trees. No matter the size, an artificial plant can give you the look you're going for without all the fuss.
Here are some tips to help you along.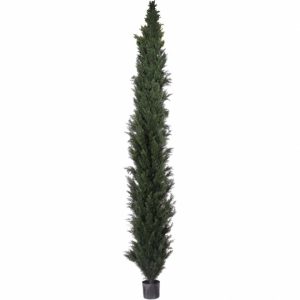 Add a touch of life to your entryway with this Slim Cedar Pine Tree. This 10 foot Cedar features around 6226 tips making it a full, beautiful option to decorate your home or office. This tree has a UV inhibitor that is designed to protect against UV rays and endure average wind and rain exposure.
There is a certain joy that plants bring when added to a porch. Make a slight change to a topiary plant and the area suddenly becomes magical. Complete your front porch with ornamental shapes of nature and create a pleasing spot where conversation flows easily. Topiaries are also a great way to add a welcoming touch to a foyer.
What is a topiary?
A topiary is a plant that has been specially clipped into decorative shapes. The art uses thickly leaved evergreen shrubs such as cypress and yew, but also rosemary and holly.
What are the most attractive topiary ideas?
Spiral Boxwood Topiary Potted Plant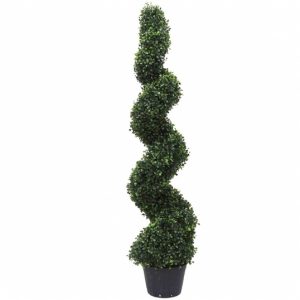 Add grace to your front porch with a 4-foot tall spiral boxwood that will never lose its natural green appeal. The faux plant comes complete in a sleek container, ready to set up and enjoy. No maintenance is needed with real-life leaves that stay green all year round. The spiral design will add an artful and welcoming appeal to family and friends.
Round Boxwood Topiaries for Front Porch

Deck out your front door with beautiful ball-shaped topiaries. Never needing trimming, they will add a pleasing touch of welcome to guests. Use them for your front porch sitting area, as well, to add a bit of color during fall and winter or bring inside to place beside a non-flammable fireplace. Set in weighted pots, there are no worries of your artistic plants being blown over.
Visit us for more ideas for your decor Artificial Plants & Trees.