The Spring is such a special time of the year. Many of you have endured long, bitterly cold winters. As the temperatures slowly start to rise and the irises poke their ways through the cold soil, now is the time to make some simple changes to your home that welcome the upcoming season. Changing out your mantel or the top of an entertainment center is a great way to start.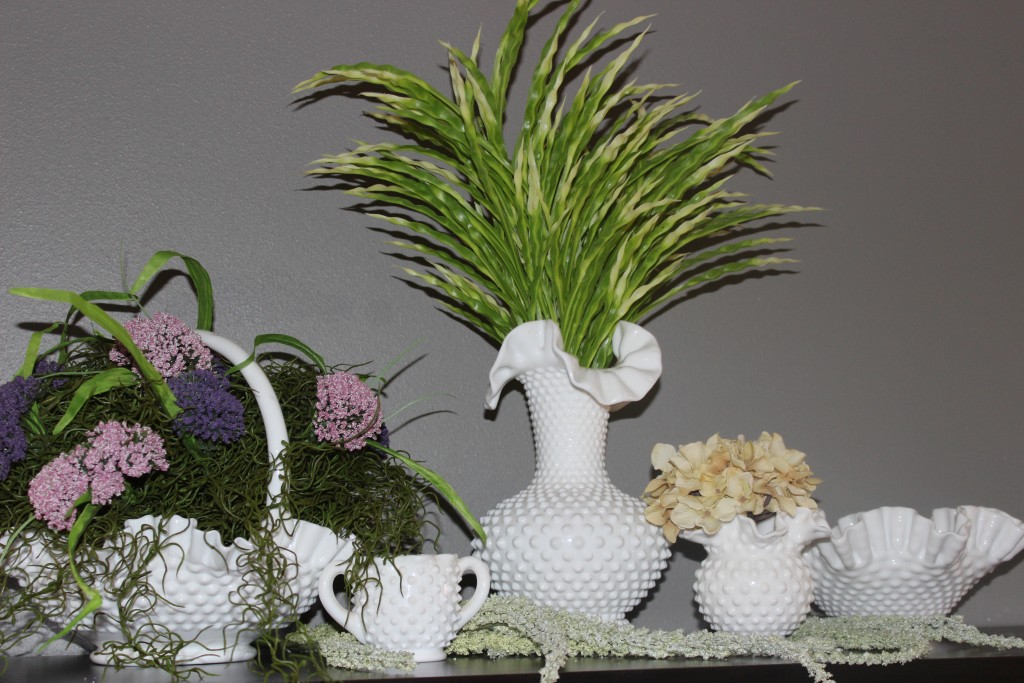 Step 1: Bright White Vases
We are in love with these retro milk glass vases and bowls. They have tons of texture, create a monotone foundation for our Spring mantel, and can easily be found in antique shops.  If you don't have a huge collection of milk glass, look for inexpensive white vases of various heights and sizes. They are great for all seasons but we especially love them in the Spring.
Step 2: Fill Your Containers
Once you have your collection of vases in front of you, start filling them with your favorite artificial flowers and plants. We will go one by one to show you what is in ours.
The basket on the far left has a long spanish moss garland rolled into a ball. With the moss in place we started adding individual stems of pink and purple flowers.
The tall vase could not have been easier to arrange. It is simply two stems of our artificial outdoor ribbon grass placed right in a vase. That is it!
The tiny bud vase on the right features a single artificial hydrangea in cream while the remaining two vessels are empty.
Step 3: Arrange Your Collection
Once you have all your plants and flowers in place, put them all on top of your mantel and start grouping and arranging them until you are happy with the total look.
Step 4: Add Some Extra Texture & Greenery
Break up the monotony of the white vases  by laying some artificial greenery in amongst them. We chose two of these textural stems.