There are few plants and flower as iconic to Spring as cherry blossoms. This beautiful and delicate flower emerges early in the spring and, for a short time, is a complete show-stopper. Some of the most well-known displays of natural cherry blossoms are in Branch Brook Park, West Potomac Park, and Sakura Park. Although cherry blossom flowers are truly spectacular in mass, they also bloom for a very short period of time. Fortunately, artificial versions of this flower and tree area available for home decor use. Check out our favorite artificial cherry blossom items and let them inspire you to decorate your home for Spring.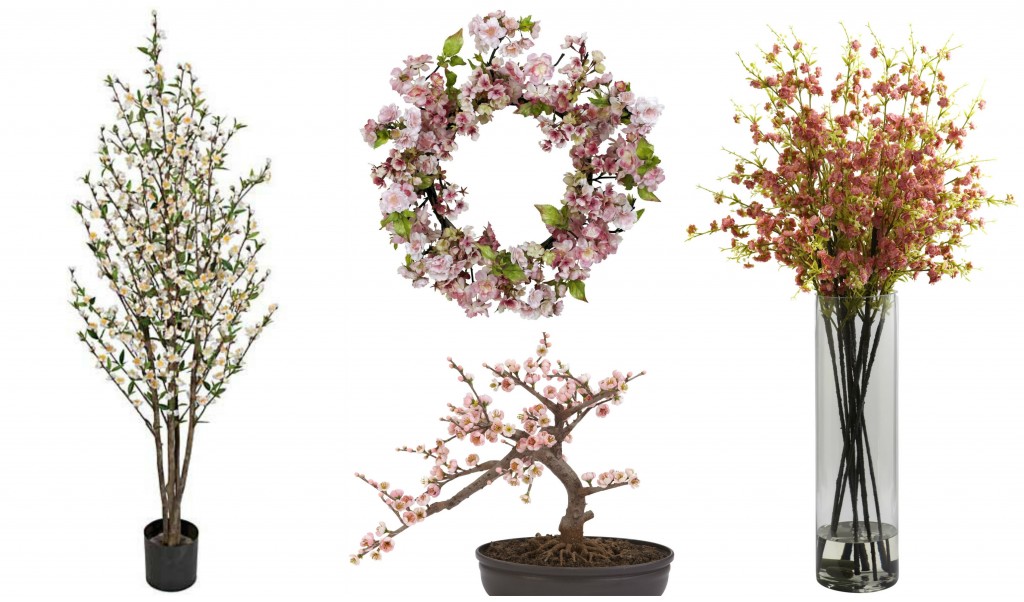 Decorate a Sunroom
Plants are a vital part to transition spaces in your home, such as foyers, sunrooms, and screened patios. Decorate your indoor transitional spaces with a single tall tree such as this artificial cherry blossom tree. It acts as a cheerful greeting every time you enter the space and requires little to no maintenance. The texture on the trunk and petals is so realistic that your guests will be reaching out to touch this cherry blossom tree.
Welcome Guests with a Gorgeous Front Door
Imagine a pair of these beautiful cherry blossom wreaths hanging on a grand double front door. This wreath would look lovely on a protected porch or hanging over a mantel. The soft pinks are indicative of the spring season and offer a soft and peaceful touch to any space. This would also be a perfect decoration for a baby girl's nursery.
Entry Table Decor
Almost every home features a small entry table in the foyer. This little vignette is the ideal place for you to display seasonal decorations such as this little cherry blossom bonsai tree. It comes in a decorative pot and is ready for instant use. This small floral display would also look lovely in a master bathroom or sitting on the dresser in a guest bedroom. Where will you display yours?
Easter Dining Room Display
Do you entertain the whole family on Easter Sunday? If so, this explosive cherry blossom floral arrangement would make the ideal table centerpiece. Use it in the center of the table itself or up on the buffet. A simple table runner beneath it is all you need to tie the whole thing together. Best of all, this arrangement can be used every Spring because when packed away carefully, this arrangement will last for many years to come.