Fall decorating doesn't mean that you have to be limited to showcasing pumpkins, pinecones, and gourds. This time of year, be inspired by the colors of fall and then scour your home for items that fall into that palette. As a busy mother of three, I don't always have the time or finances to purchase elaborate seasonal decorations. But it if it one thing that I have learned from my mother and grandmother, it is how to repurpose things that I already own.
The Colors of Fall
Burnt Orange
Sunflower Yellow
Burgundy
Olive Green
Copper
Bronze
Browns

This photo is a perfect example of how to take things that are already in your home and bringing them together to decorate a table for fall. The copper light is on this table all year long and the gorgeous multi-colored fabric that you see is actually a scarf out of my grandmother's closet. She haphazardly arranged it beneath a a basket out of her stockpile, added a wooden candelabra, and in transformed her living room end table in a matter of minutes.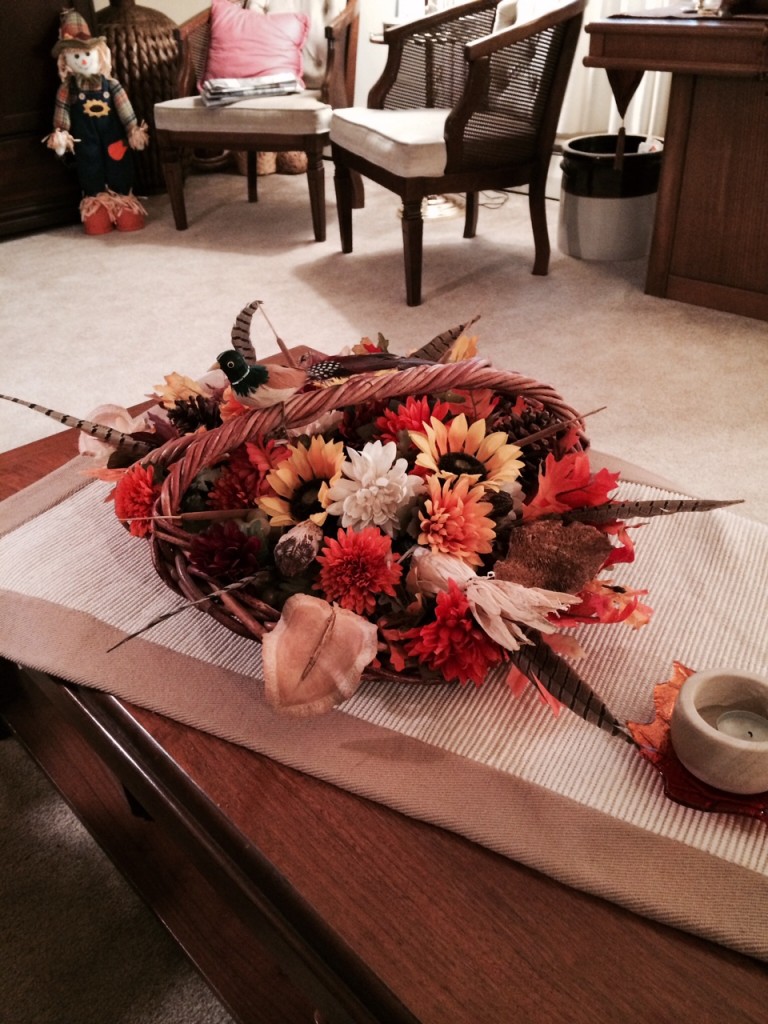 Our second photo was taken in the same living room, but this time it is of her coffee table. A simple ivory and tan table runner was placed at an angle to add visual interest and expose a bit of the beautiful wood tone of the table beneath. On top of that runner is a beautiful oblong basket that is filled with individual pics of artificial flowers in fall colors. The addition of half a dozen feathers makes this arrangement even more interesting.
Fall Decorations You May Already Own
Tablecloths
Table Runners
Scarves
Ribbons
Floral Stems
Potpourri
Baskets
Vases
Bowls
Candles
Hopefully, this inspires you to browse through your drawers and closets for long forgotten gems.