Indoor plants are essential to any home décor. They not only help to bring the outdoors in, but they can also serve a number of functions. When you are choosing artificial plants to use in your home, take into consideration plants that are native to your area. Using plants that appear naturally in your landscape will help make them look more realistic in your home.
If you don't have any artificial floor plants at home, you could make do something like you see here. In this example, a simple potted plant was placed on a plastic pillar and position beside a bar console table. Not only does it add some much-needed height and greenery to an otherwise forgotten corner, but it also hides the unsightly router and Internet wiring that has to be located there.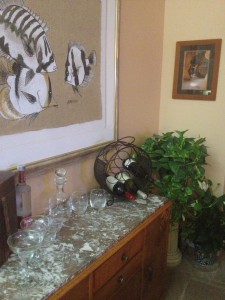 You could do much the same thing with artificial floor plants in a home office to hide Internet cords or in a living room to help hide cable wiring. Pair a tall floor plant with a lower version to add even more visual interest. Because you don't have to water them, you don't have to worry about them being too close to electrical wires.