Your front-facing windows are a fantastic opportunity to decorate both the inside and the outside of your home at one time. These Christmas decoration ideas for windows will help you create perfectly stunning window decorations. The window frames should act as just that, a frame work within which you will create your Christmas moment.
While the windowsill is a ideal place to start, don't forget to use the rest of the space as well, hanging things from the tops of the windowsills at varying heights. I have included three collections of christmas ornaments, depending upon what your personal decorating style may be. Each of them can be arranged in a window according to the three steps below.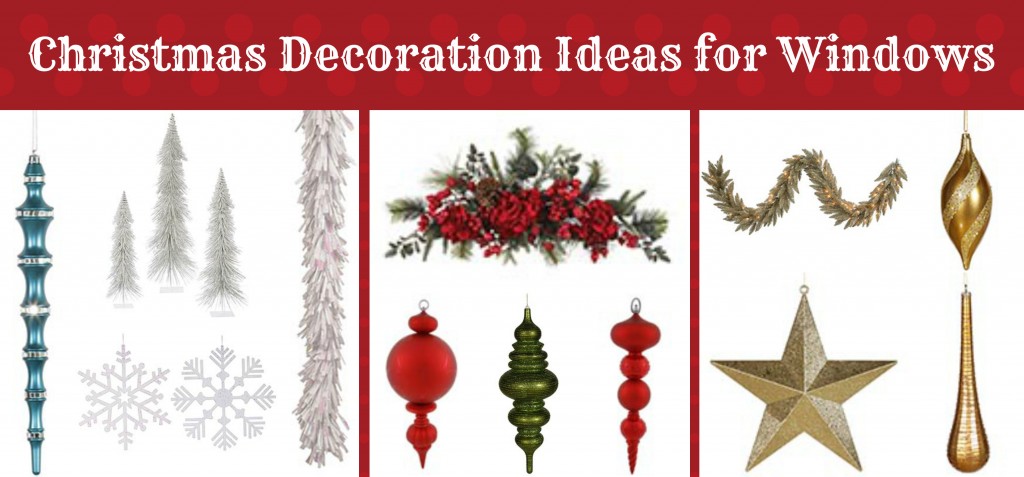 Supplies:
Decorations of Choice
Flat Thumb Tacks to Match Window Casing
Sticky Tack
Monofilament (Fishing Line) or Ribbon
Step 1: Start with the Windowsill
The windowsill acts like a little mini mantle. Measure the depth of your windowsill and purchase garlands, candlesticks, mini trees, and other decorations that fir within that depth. Arrange your favorite decorations on the windowsill, securing them with a bit of stick tack. Sticky tack will hold your items in place gently without damaging the wood or the decoration. When arranging your items, keep in mind that they will be viewed from both sides of the window.
Step 2: Decorate from the Top Down
With your windowsill decorations in place, you will have a good sense of how much vertical space you have from the top of the decorations up to the top of the window frame. Start filling in that negative space by hanging beautiful Christmas ornaments at varying heights. Snowflakes, stars, and finial ornaments are all a great options, just make sure they are large in scale so they can be seen at a distance.
I prefer ornaments that range from 10 inches to 2 feet in length. If you want them to just seem to suspend there in an invisible hover, hang them from varying lengths of monofilament, securing the ned of the monofilament with a thumb tack pressed directly into the top of the window casing. If you want a slightly more decorative look, hang the ornaments from ribbon in the same manner.
Step 3: Frame it Out
Now that you have ornaments hanging in the windows and deco ratings adorning the windowsills, complete the look by framing out the widow with swags or garlands. Not only will a well-placed garland hide the thumb tacks, but they are also a third opportunity to coordinate your decorations with the rest of the room.  Using pre-lit garlands or wrapping them with a strand of twinkling lights is a great way to finish off the look.