One of our favorite trends in decorating is using artificial fruit topiaries and accessories to decorate your home. These modern and trendy items are a great way to reinforce a theme and color scheme. Today, we will showcase a few of our favorite fruit trees and accessories. We have special ideas and inspirations on how to use each one of the items we introduce today.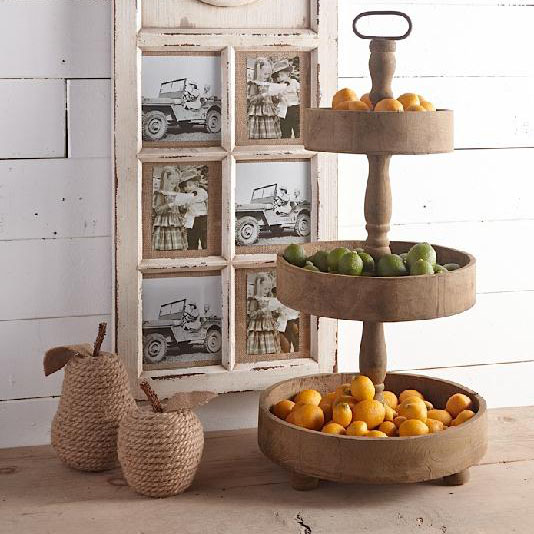 Artificial Fruit Topiaries & Accessories
Artificial fruit topiaries and accessories aren't just for kitchens anymore. Today, these fun and beautiful items are used throughout the home to add cheerful style. Tabletop topiaries are a little way to introduce these fun artificial fruits into your home. Each one has been carefully crafted to look just like the real thing. Each of the four topiaries below area fun, new addition to our product line and we would like to take a second to showcase each one's beauty.
Types of Artificial Fruit Topiaries
Tomato Topiary

Lush green leaves and red tomatoes in a range of sizes and colorations make this tabletop topiary a fun addition to your decor. Each tomato on this artificial tree is as unique as tomatoes in nature. Standing just a foot and a half tall, this potted topiary is ideal for the top of a table, kitchen island, or buffet. The tomato topiary is a beautiful addition to your Italian-themed space.

Lemon Topiary

A single ball of bright yellow lemons adds a touch of sophistication to this lovely tabletop topiary. A few leaves add rich contrast and lovely texture. The whole thing is finished off with a shabby chic pot which will blend in perfectly with your decor. This lemon topiary looks beautiful alone or in pairs. This topiary measures 19 inches tall, making it a great choice for a dining room buffet or architectural ledge.

Pomegranate Topiary

Pomegranate seeds have been a trendy addition to salads in recent years. Bring this fun and interesting fruit into your home with this chic topiary. A square pot supports a one and a half foot pomegranate topiary. Whether you want to add a bit of interest to a living room mantel or accessorize a bedroom, this artificial topiary is a beautiful choice.

Orange Topiary

Bring a little bit of tropical style into your home when you display this lovely artificial orange topiary. This realistic-looking topiary typically grows in tropical and sub-tropical climates but this artificial version allows you to enjoy the beauty of this topiary no matter where you live. A terra cotta pot reinforces the look of this little tree.
How to Decorate Using Fruit Topiaries, Trees and Accessories
Now that we have introduced four of our favorite tabletop topiaries, we would like to also show four ways we love to use fruit to decorate a space. Let these ideas be an inspiration to you. Whether you choose to place a single bowl of artificial citrus on your kitchen island or display a large pair of fruit trees on either side of your door, you are sure to love the feeling artificial fruit brings to your space.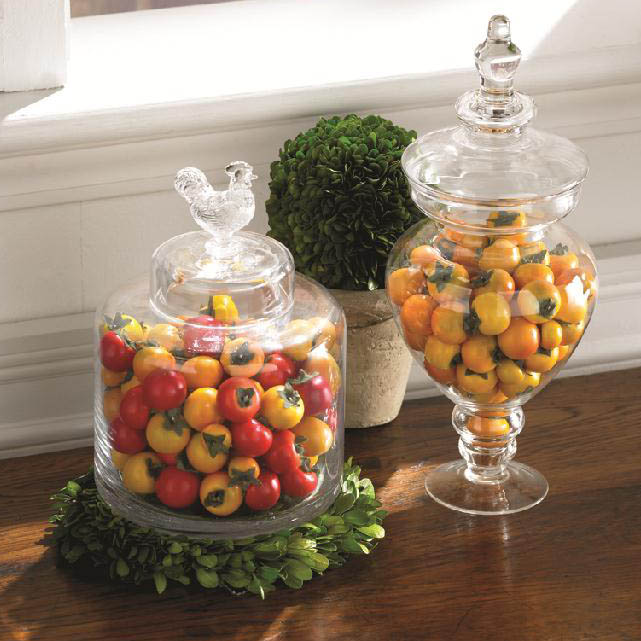 Flank a Doorway
A pair of tall fruit trees on either side of the door is a great way to dress up your space. The pop of color offered by the fruit will add a cheerful touch every time you walk in the door. Many of our fruit trees come already potted and ready to place beside your front door or french doors leading out to a deck or patio. This use of artificial trees helps create an easy transition from the inside of your home to the outdoors.
Create A Modern Entry
Your entryway is the first impression guests get of your home. Make it a memorable one by displaying a beautiful tabletop topiary on your entry table. Complete the look with a bowl of artificial mangoes or even some textural artichokes. Add a candle in a matching scent to help reinforce the natural look of these artificial fruit topiaries and trees.
Decorate A Dining Room
The dining room is one of the most logical places to display an fruit tree or topiary. The food theme will have your guests hungry for dinner while the natural look of the pieces brings a bit of the outdoors inside. A pair of these trees at either end of a buffet frames your decorative platters beautifully. If you don't have a dining room buffet, consider a tall fruit tree placed in the corner. It brightens up the area and adds added color and texture to the space.
Accessorize An Architectural Ledge
Many homes feature high architectural ledges. These spaces are a prime opportunity to add some visual interest but they often get forgotten. Trade out your tired artificial ivy for a bit of a fun take on decorating. Start with an artificial fruit topiary and finish the vignette with a lovely vase, basket, and other items.