The spring wedding season is on our doorstep. As temperatures start to rise, so do the frequency of outdoor weddings. Whether you are getting married on the beach, in a garden or in a field, a wedding arbor can be a great way to set the stage for your big day. These large wooden arbors are absolutely beautiful just as they came and act as a beautiful frame for the happy couple as they exchange their vows. But when you decorate them, a true transformation happens. Today, we are going to share our 5 favorite ways to decorate a wedding arbor.
5 Ways to Decorate a Wedding Arbor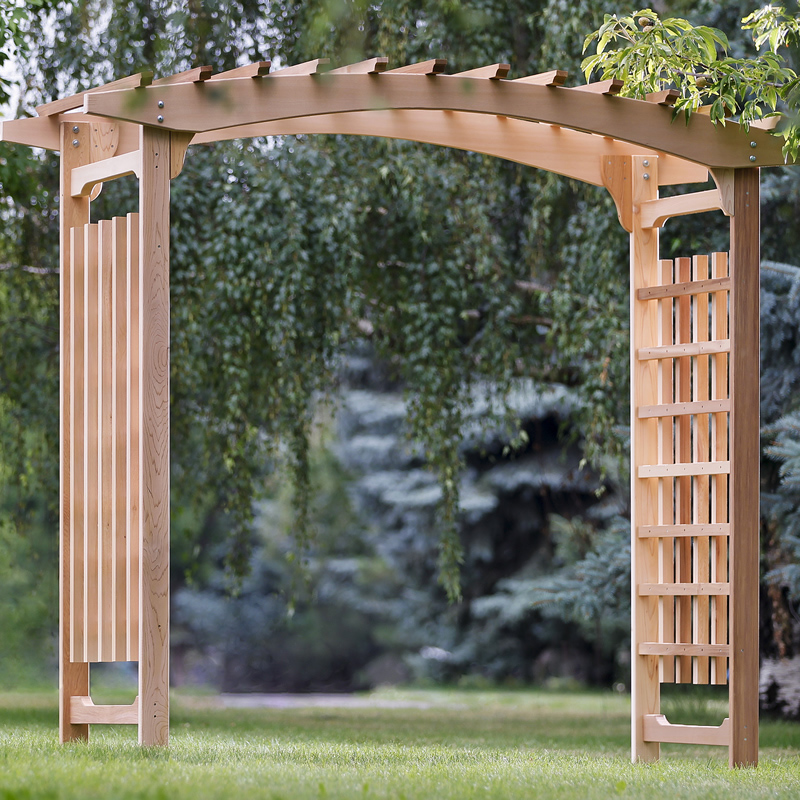 1. Drape Sheer Fabrics
Draping sheer fabrics over an arbor is a great opportunity to reinforce a color scheme. The tails of the fabric will blow softly in the breeze, adding a sense of effortless romance to the scene. Fabrics can be used alone or in tandem with some of the other wedding arbor decorations on this list.
2. Adorn with Artificial Hanging Plants
Artificial hanging plants can be used to create a show-stopping cascade of lovely foliage on your wedding arbor. Because they are artificial, you don't have to worry about watering or wilting. Once you decorate the arbor, it will stay looking great until your big day. You can select one hanging plant or mix and match a couple different varieties.
3. Add Cascading Lights
When you are planning a night wedding, lighting can be everything. Set the stage for a beautiful union by hanging cascading lights down the back of your wedding arbor. These twinkle lights will frame the two of you in beautiful sparkling light long into the night. There are many different varieties and colors of lights available.
4. Hang Grapevine Accents
When you want to add a rustic, outdoorsy touch to your wedding day, try hanging grapevines along the structure. Their brown color deepens the whole look and adds tons of texture. Use them alone or paired with beautiful artificial plants for a layered design.
5. Place Urns Overflowing with Flowers
A pair of beautiful urns placed in front of an arbor is a great way to ground the space. Consider filling the urns of your choice with the same flowers you use to drape the wedding arbor. Reinforcing those same colors and textures will draw the attention back to the beautiful couple standing between them.
Get More Inspiration
If you have always wanted a wedding arbor but still need some more design inspiration, check out our Pinterest page. We have a whole board dedicated to weddings. With the right inspiration and top-quality products, your big day is sure to be the wedding of your dreams.