Spring is here and we are finally headed back outside to enjoy the longer days and warmer weather. The question is, have you maximized the potential of your outdoor space? Backyards can be a place for our children to let their imagination run wild, a place to visit with our family, a place to host memorable parties, and so much more. Instead of mowing your yard once every two weeks and forgetting about it, treat your backyard like a true extension of your home.   Realtors say you should spend 10% of your home value on your outdoor space.  The next question is how do you maximize that investment?  The 1st step is establishing how you want to entertain?  Do you like to relax in big conversational outdoor patio furniture?  Or are you a big family that likes to sit around a big outdoor dinner table to eat dinner every night.  The next step is determining how big your outdoor entertainment space needs to be and then make the decision to go with a deck or patio to create the look you want.  After you've created your entertainment zone, budget out the rest of your yard based on your passions and need for privacy.  Hopefully this infographic will give a a few tidbits of information to help you make the decision on where to spend your money.  And the best advise my realtor told me is don't over upgrade, stick within the 10% to get your money back when you sell.  Have a great summer!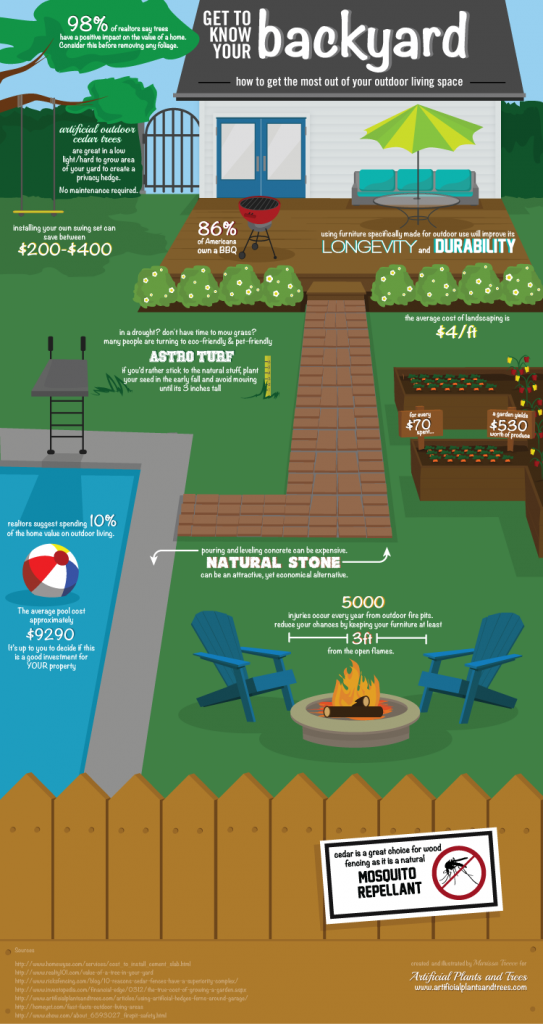 EMBED THIS INFOGRAPHIC ON YOUR SITE: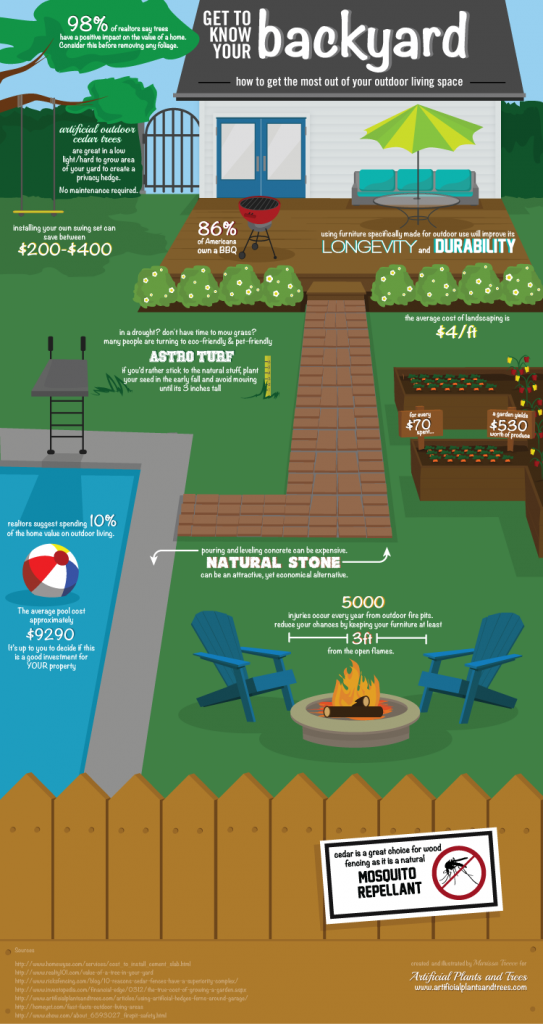 INFOGRAPHIC: Get the Most Out of Your Backyard – An infographic by the team at Artificial Plants and Trees
10 Steps to a Great Back Yard
1. Design Around Established Trees
We are too quick to remove an unwanted tree if we think it is standing in our way but those established trees have tremendous value. In fact, 98% of realtors agree that established trees increase the value of a property. Instead of making your plants work around your design, consider designing around your existing plants.
2. Invest in Outdoor Furniture
Take all your favorite parts of the inside outside by purchasing quality outdoor furniture such as dining sets, patio chairs, and conversation area. Furniture that is specifically made for the outdoors has been designed with the elements in mind and will stand up the the sun, rain, and even snow.
3. Create a Place to Play
Swing sets are a right of passage for children across the county. One you have selected the exact set that meets both your kids' needs and which fits into your space, it comes down to whether you should assemble it yourself or pay the professionals. If you know our way around a drill and a screwdriver, do it yourself. Assembling your own swing set will be a bonding experience between you and your kids and save you between $200 and $400 in labor costs.
4. Hedge Your Home
Enjoy having the best yard on the block when you establish the perimeter of your property with hedges. Not only do they provide you with some privacy and greenery, but they also enhance the curb appeal and visual interest of your home.
5. Go Faux
If you struggle keeping grass or flowers alive because of extreme drought conditions or a plain lack of time tend to them, you are in luck. You can get artificial versions of just about everything, including AstroTurf that looks just like grass, artificial bushes with UV protection, even synthetic hedges that can be used to hide an ugly air conditioning unit.
6. Plant a Veggie Garden
If you are interested in saving a ton of money and eating healthier than ever before, plant a veggie garden. For every $70 you spend on your vegetable garden, you will enjoy $530 worth of fresh, tasty produce. Not to mention the fact that you can control the chemicals used around your fruits and vegetables.
7. Get Cozy
If you live in an area with cool nights, warm them up by gathering around a beautiful fire pit. They are low enough to have a conversation over but cast just the right amount of heat to keep you and your family warm long into the evening. If you do decorate with a fire pit, make sure to keep all your other furniture at least 3 feet away from the fire pit for safety reasons.
8. Spend Where it Counts
Your decorating budget should not just be for your indoor space, a good portion of it should be spent outdoors as well. According to realtors, figure that you should spend 10% of the value of your home on your exterior. The exact amount on landscaping really depends upon how much outdoor space you have. On average, good landscaping runs about $4 per square foot.
9. Add Hardscaping to Your Landscaping
Make it easy to move around your outdoor space by adding patios and pathways. If you choose concrete, expect to shell out some money but if you are looking for a less expensive option, stone pavers are a fantastic choice. They are beautiful and a fraction of the cost of concrete.
10. Keep Pests Away
Who can enjoy their backyard when mosquitoes are flying around? Add natural repellants to your yard and keep these pests away. Citronella, lavender, and cedar wood are all natural repellants for these pesky biters.