We all have them laying around, those plan glass vases that come free with floral arrangements. In less than 2 hours and $20 in materials I was able to transform those throw-away vessels in to something that I would proudly display on my mantle. Here are the step by step instructions so that you can try this silver leaf project at home.
Step 1: Gather Your Supplies
A single trip to the craft supply store will give you everything you need to complete this project. Each of these items is essential, so check your list twice.
– Silver Leaf
– Silver Leaf Adhesive
– Silver Leaf Sealer
– Small Paintbrush
– Big Fluffy Paintbrush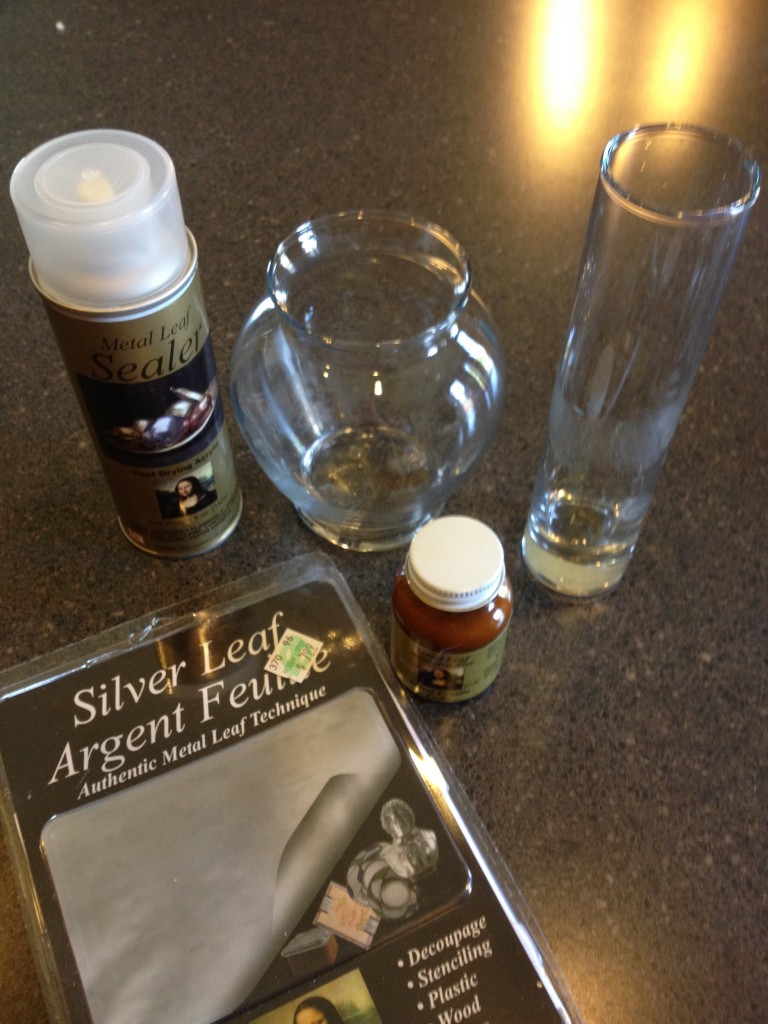 Step 2: Apply Adhesive
After washing and drying your vases, start to brush on the metal leaf adhesive with your small brush. Be sure to coat the entire surface. Adhesive can vary from brand to brand so make sure to follow the instructions carefully. Typically the adhesive will go on white and dry to clear. Make sure to smooth out any drips and allow the adhesive to dry just enough to become nice and tacky.
Step 3: Add Silver Leaf
Trade out that small brush for a dry fluffy brush. Silver leaf is very thin and delicate so it will come layered in between paper. A sheet at a time, gently place it down on the tacky surface and brush it down with the fluffy brush. Continue until the large parts of the surface are covered. If you have blank areas peeking out go ahead and tear some smaller pieces and fill them in. When you think you have everything covered give the whole thing one more brushing to knock loose any extra overhang. Don't worry if it crinkles while you are working with it, it all adds to the aged look.
Step 4: Coat with Sealer
Your fourth and final step is to seal it with an acrylic sealer. This will help to protect the silver finish when the vase is used later. Make sure to follow manufacture instructions and spray either outdoors or in a well ventilated area.
Be sure to send us pictures of your finished projects. This method doesn't just work on vases, you could also use it on boxes, old cookie tins, and even picture frames.