Low-maintenance design, nature-inspired features, and contemporary simplicity blend together this summer to form the season's top outdoor decorating trends.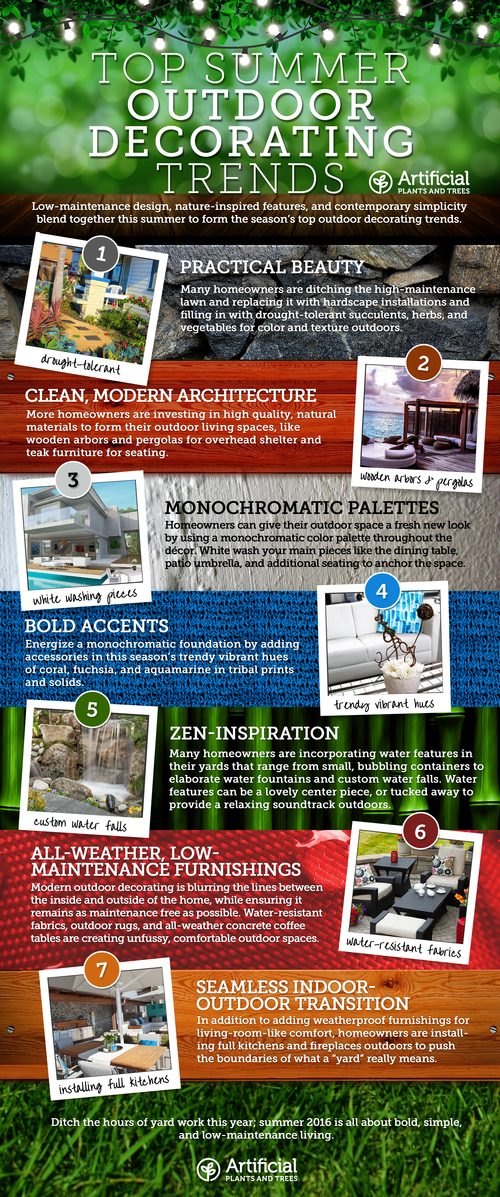 Share this Image On Your Site
Practical Beauty
Many homeowners are ditching the high-maintenance lawn and replacing it with hardscape installations and filling in with drought-tolerant succulents, herbs, and vegetables for color and texture outdoors.
Clean, Modern Architecture
More homeowners are investing in high quality, natural materials to form their outdoor living spaces, like wooden arbors and pergolas for overhead shelter and teak furniture for seating.
Monochromatic Palettes
Homeowners can give their outdoor space a fresh new look by using a monochromatic color palette throughout the décor. White wash your main pieces like the dining table, patio umbrella, and additional seating to anchor the space.
Bold Accents
Energize a monochromatic foundation by adding accessories in this season's trendy vibrant hues of coral, fuchsia, and aquamarine in tribal prints and solids.
Zen-Inspiration
Many homeowners are incorporating water features in their yards that range from small, bubbling containers to elaborate water fountains and custom water falls. Water features can be a lovely center piece, or tucked away to provide a relaxing soundtrack outdoors.
All-Weather, Low-Maintenance Furnishings
Modern outdoor decorating is blurring the lines between the inside and outside of the home, while ensuring it remains as maintenance free as possible. Water-resistant fabrics, outdoor rugs, and all-weather concrete coffee tables are creating unfussy, comfortable outdoor spaces.
Seamless Indoor-Outdoor Transition
In addition to adding weatherproof furnishings for living-room-like comfort, homeowners are installing full kitchens and fireplaces outdoors to push the boundaries of what a "yard" really means.
Ditch the hours of yard work this year; summer 2016 is all about bold, simple, and low-maintenance living.