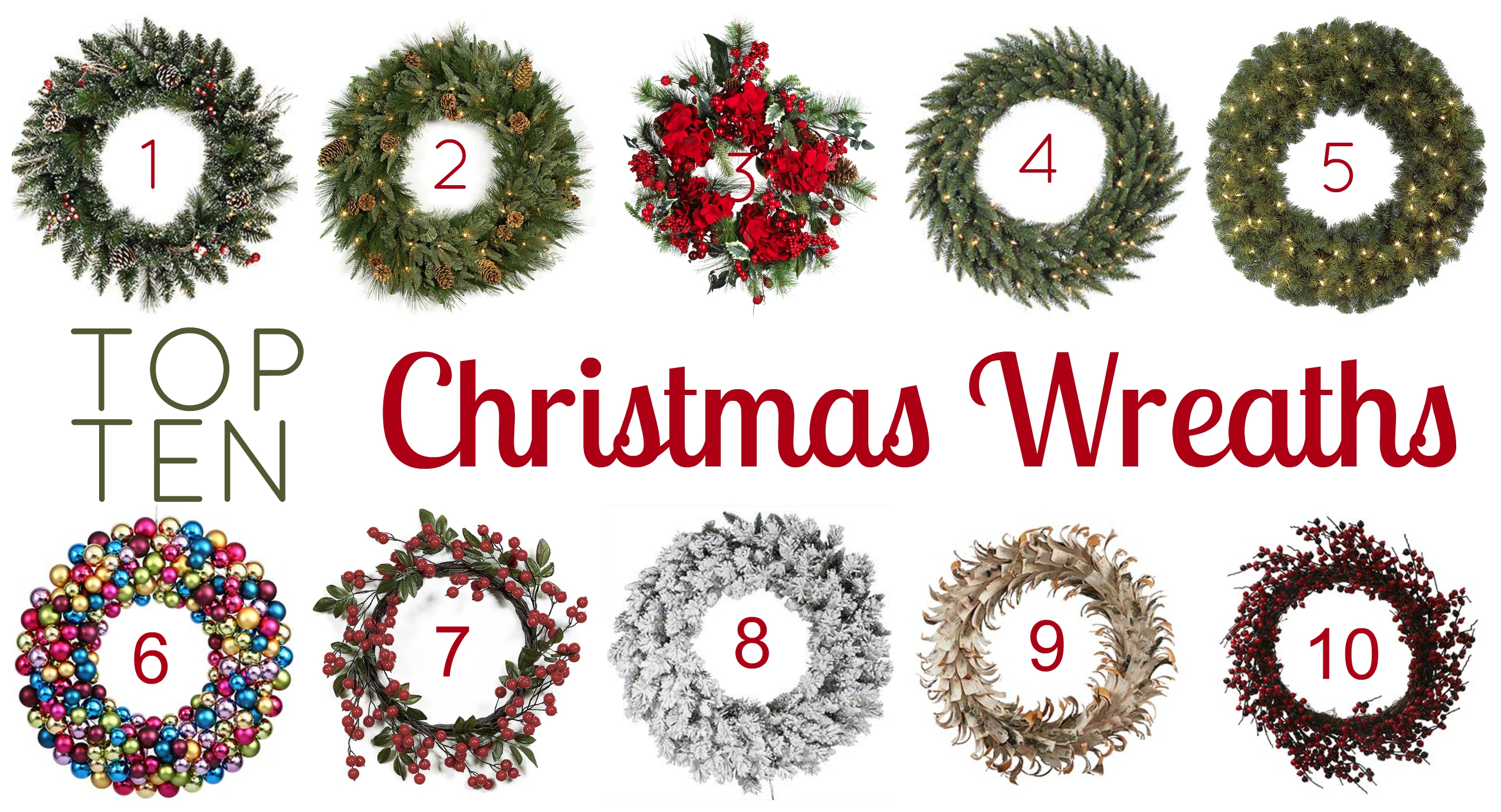 A Christmas wreath is a quintessential part of everyone's holiday decor. From traditional fir to rustic birch bark, there is a Christmas wreath that is the perfect fit for every decor. We have dozens of different wreaths available but have gone through and selected 10 of our favorites to share with you today. This small selection is a great sampling of the many different types of wreaths we have to offer. Get a closer look at each of our top 10 Christmas wreaths for yourself.
1. Snow Tip Pine
When you are looking for the ideal traditional Christmas wreath, the Snow Tip Pine is an excellent choice. Artificial pine needles are lightly flocked on the ends, giving it a chilly winter look. Holly berries and pinecones finish off the look while adding both texture and color to the finished wreath.
2. Mixed Pine Wreath
When you can't decide between a Virginia Fir, Camdon, or Pine wreath, opt for the Mixed Pine wreath. This artificial wreath mixes multiple types of branches in one single wreath for great variety and texture. The wreath is finished off with pinecones and comes pre-lit with warm white lights.
3. Hydrangea Holiday Wreath
Take your love for flowers and make it a part of your holiday decor with the Hydrangea Holiday wreath. This beautiful red wreath would look fantastic on a front door, over a mantle, or hanging above an entry table. This wreath measures 22 inches wide.
4. Camdon Fir
When you are looking for a classic holiday wreath without any of the bells and whistles, the Camdon Fir is an excellent choice. This beautiful artificial fir wreath comes in both unlit and pre-lit varieties and 14 different sizes. With so many options available, there is sure to be the ideal size for every use.
5. Virginia Pine Wreath
Make sure the Christmas wreath you display is thick, textural, and beautiful. The Virginia Pine wreath is a blank slate for you to build on. It comes pre-lit with 100 warm white lights. Add a decorative ribbon, bow, or even a couple stems of flowers to anchor it into your room's design.
6. Ornament Ball Wreath
If hanging ornaments on the christmas tree is your favorite part of decorating for the holidays, the Ornament Ball wreath may just be the ideal wreath for you. This wreath is absolutely covered in beautiful ornaments. Choose from the wide selection of colors.
7. Crabapple Wreath
Celebrate one of the classic fruits of the season when you decorate your home with the Crabapple wreath. This wreath is a sparse show-stopper that is ideal for homes that need a pop of color. Best of all, when you order this wreath you actually receive a set of two.
8. Flocked Snow Ridge
Make your home look like it was covered with a fresh dusting of snow with the Flocked Snow Ridge wreath. This beautiful wreath is wintery white and absolutely stunning. Available in three different sizes, you get to decide whether you want the light to be pre-lit or unlit.
9. Birch Bark Wreath
Whether you have a rustic lodge home or just enjoy things that you don't see every day, the Birch Bark wreath is a sure winner. This wreath features a foam base that is covered with curled strips of natural birch bark. The neutral tones and amazing texture make this a show-stopper for your home. This wreath comes in two different sizes to choose from.
10. Christmas Berry Wreath
The Christmas Berry wreath is a celebration of the holly berry. This wreath features a twig and berry design that adds color to your holiday decor. This wreath is available in two different sizes and three different berry colors. Check each one out for yourself to see which one is your favorite.