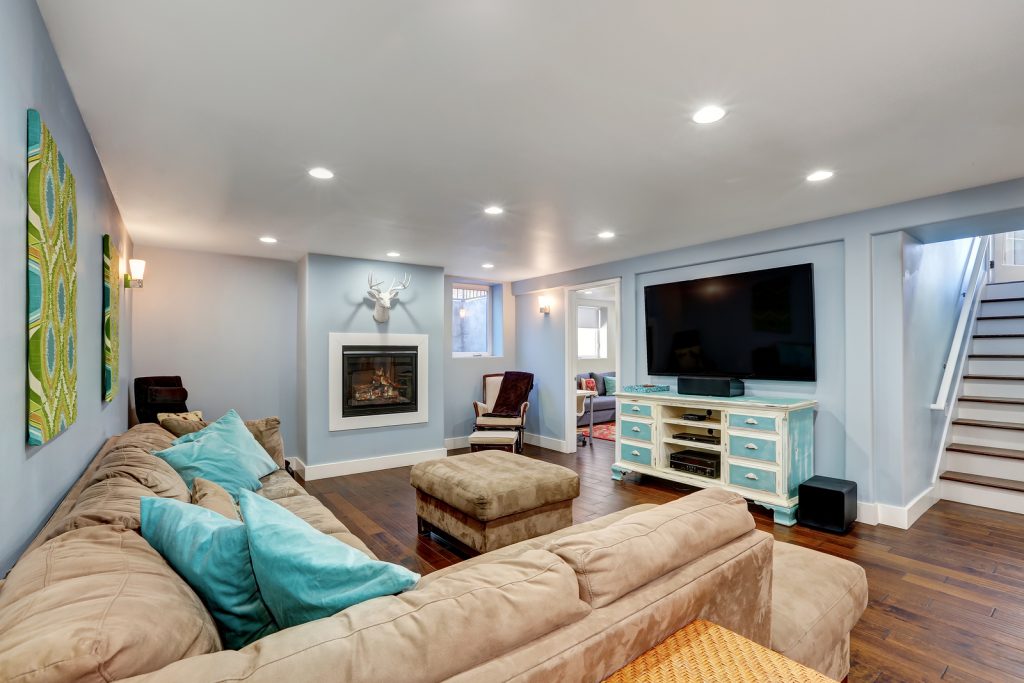 The basement, or man cave, is often the last thing homeowners tackle on their design and decorating agenda. It's usually the entertainment hub of the home, reined by the man of the house, and therefore more casual and laid back compared to the upper level. But what if you could make the basement elegant, stylish, and comfortable? The designers at Artificial Plants and Trees have put this guide together to show you exactly how you can improve the basement without costing you tons of money in renovations (or costing you your marriage).
Refresh the Lighting with Unique Fixtures
Basement lighting is often minimal, and a little dingy. Brighten up the basement and add a stylish focal point with one or more unique ceiling fixtures. Vintage Edison bulbs and metallic finishes are great gender-neutral elements to look for. Be sure to include a dimmer switch that can tone down the brightness for game day and movie night.
Hang Mirrors on a Wall to Brighten and Wow
Mirrors reflect light and are great for brightening up a dark basement. Hang a few statement mirrors on a wall to make the basement seem less like a cave, and to add a punch of style with minimal accessories.
De-Clutter with Additional Storage
If your basement is currently the catch-all room, you can organize and transform it into a space you want to show off by adding stylish storage options. Clear away the clutter like extra TV remotes, video games, movies, and more knick knacks with vertical shelving on either side of the TV that mimics built-in custom shelves. Stow away extra blankets inside an ottoman that can double as extra seating.
Add Warmth and Rustic Charm with a Fireplace
What would a cave be without a crackling fire? You can add the warmth and comfort of a flickering flame to your basement without any expensive remodeling. Just place a fuel-powered indoor fireplace against a wall and you've instantly created an incredibly warm and cozy cave.
Create a Designated Bar Area
Every man cave and entertainment hub needs a libation station. Wrangle the beer cans and liquor jars at your DIY bar area. All you need is a horizontal shelving unit, serving tray, and mini fridge. Add a few bar stools and voilà, you have an elegant serving and sitting area perfect for poker nights and dinner parties.
Use Rugs to Establish Separate Zones
A basement can be many things to a full house. It often doubles, if not triples, as the lounge spot, entertainment area, and the kid's play room. Area rugs help to distinguish and separate these areas, and establish them for their unique purpose. Choose a few rugs in complementary hues that add color and pattern and tie in each activity area.
Treat the Whole Family with a Large, Sectional Sofa
What would a basement or man cave be without the comfy sofa? If your couch is begging for a style update or needs to accommodate more people comfortably, then consider replacing your sofa with a sectional that can seat the whole family and that complements the rest of the basement with stylish options that include faux leather and pin cushioning.
When you organize and style it with these easy tips from Artificial Plants and Trees,
the basement really can be an area that is as stylish as the rest of your home and comfortable for everyone to enjoy.