Since summer is upon us, with its official start just about a week away, we thought we'd inspire you with one of our favorite summery artificial flower arrangements: the Golden Sunflower Arrangement.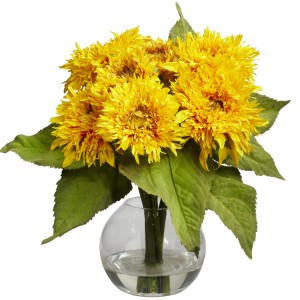 This beauty features a wild, thick bunch of cheery sunflowers, which are frames by large green leaves. Both flowers and leaves boast exquisite detail, creating the kind of realism you look for in an artificial flower arrangement. Plus, the stems sit in a couple inches of acrylic water, which only adds to the authenticity of this cheery bunch.
The Golden Sunflower Arrangement is an indoor artificial plant, measuring 12 inches high and 14 inches wide. It's perfect for a hall table or as a table centerpiece. The class vase measured 4 inches high by 4.5 inches wide.