We talk about all the plants and furniture that can make your decks and patios beautiful but what happens when a storm rolls in? With tropical storm Erika bearing down on the east coast, we thought now was the perfect time to talk about hurricane preparedness and prepping your outdoor spaces for any storm. With just a little bit of time you can protect your favorite outdoor items, and your house as well.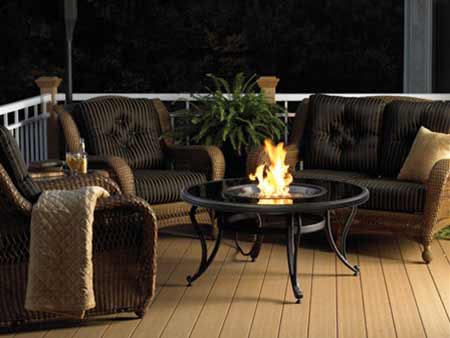 Box Up Projectiles
When the wind blows in, light-weight items such as accessories, pillows, and even umbrellas can get picked up and hurled into the yard and house. Take a couple of tempt plastic storage bins and head outside to box up anything small and light. This includes seat cushions, throw pillows, rugs, and small vases of flowers.
Make Room in the Garage
Furniture is going to have to make it's way indoors. Make some space in your garage or a storage shed to house your valuable outdoor furniture until the storm has passed. Small items such as dining chairs, ottomans, and benches should come into a secured space.
Tether Down Large Items
There are sure to be some larger spaces that you just can't move indoors. When that is the case, head to the hardware store and get some ratchet straps. Move the large furniture items to a railing, the side of your home, or somewhere else where there is some wind protection and strap them in place so they are not thrown into a window or sliding glass door.
Secure Plants
Just as we tethered furniture, it is necessary to tether larger plants as well. Group all of your large planters and urns in a place that is as protected as possible and use the same straps to secure them in place.
Trim Compromised Branches
Large trees in your yard can potentially be damaged when the winds pick up. To prevent a large branch damaging your car or home, inspect each of your trees and trim away any dead or compromised branches. During a storm, also make sure not to park under or near a large tree.
When you take the proper steps to prepare for a big storm such as Erika, you drastically reduce the chances that your outdoor furnishings get damaged or ruined. Once the storm has passed you can put everything back where it was and be thankful that you took the time to prepare your deck and patio properly.