Once the Christmas decorations come down the whole house can seem a little bit empty. Fill up that void of space with brand new seasonal decorations. Valentine's Day is right around the corner and the bright pinks and reds are just what you need to infuse that missing joy back into your home decor. Our collection of artificial daisies are a must-have item for February decorating. They come in bright, rich colors and can be used to create custom floral arrangements, wreaths, and more. Today, we are going to talk about how to use these faux flowers to create a custom Valentine's Day wreath.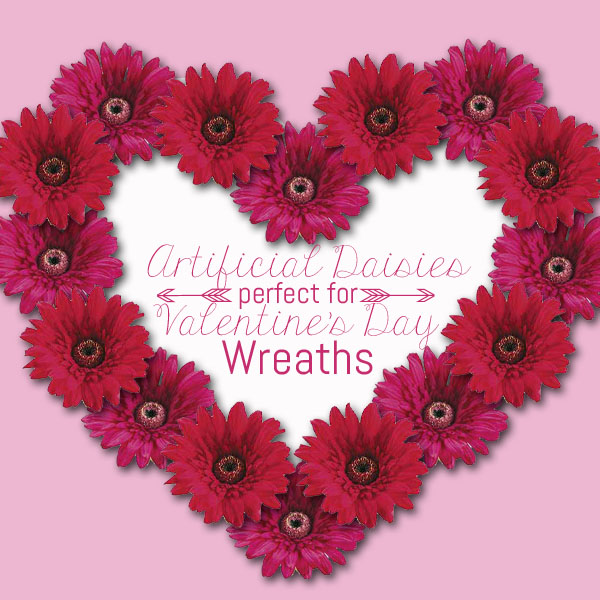 Supplies
Grapevine Wreath Form (Maybe a Heart-Shaped One)
Assorted Artificial Daisies
Wire Cutters
Valentine's Day Ribbon
Assemble Your Wreath
Assembling a Grapevine wreath is so easy that anyone can do it. If you have never worked with artificial stems before, this is a great beginner project. Lay your wreath form on the table or counter that you are working on.
Step 1:
Take your selection of daisies and lay them on top of the wreath until you get a general idea of where you want the daisies to be placed. Once you do, clip the stems with the wire cutters so they are just four or five inches long.
Step 2:
This shorter length allows you to stick the stem into the overlapping branches of the grapevine wreath to secure it into place. No additional adhesive should be required but if you want to ensure that those flowers never go anywhere you can also use hot glue to adhere the stems to the wreath form. One by one, continue inserting the daisies into the wreath form until you are happy with the look.
Step 3:
With all your flowers in place it is time to hang your wreath. Over the door hooks are always as option but if you don't have one, a ribbon is a great solution. Thread the ribbon through the top of the wreath and tack it to the top edge of the door with a flat thumbtack.
Hopefully today's blog inspired you to take on your first custom wreath project. Send us pictures of your finished products so we can share them on our Facebook page!