Dare to be different this holiday season by decorating your home with a nontraditional Christmas tree. These fun, festive designs will be an instant conversation starter among all your houseguests. Before we can talk about nontraditional Christmas trees, let's take a look at where the tradition of trees began and how artificial Christmas trees were first introduced.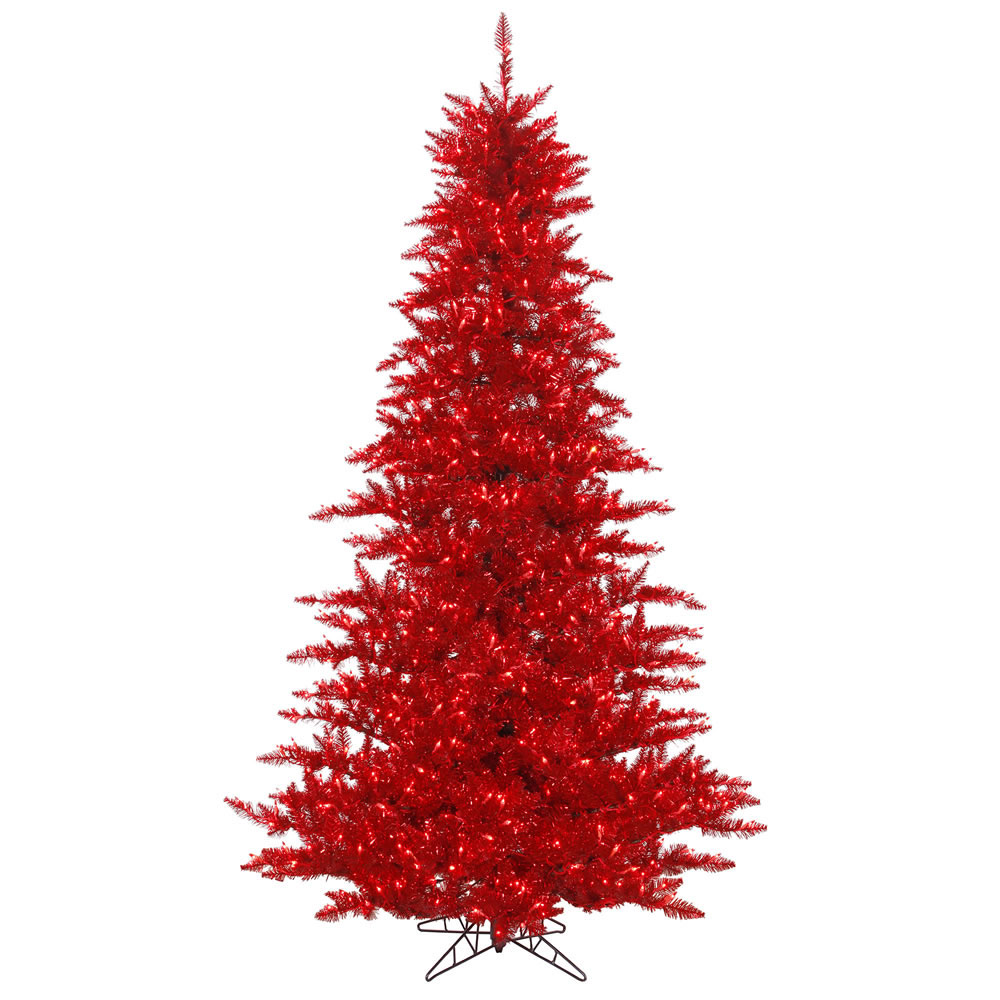 The First Christmas Trees
Although today there are many nontraditional Christmas trees from which to choose, the earliest Christmas trees were pine trees simply decorated with wax candles, paper flowers, wrapped candies and small gifts. Even though Christmas trees were popular in Germany in the 16th century, they did not make an appearance in the United States until the mid 1700s when German immigrants introduced the custom. It took another 100 years for the tradition to reach the White House, where the first Christmas tree was introduced by Franklin Pierce in 1856. Electric lights for Christmas trees were invented by Edward Johnson, one of Thomas Edison's assistants, and were first mass-produced in 1890. This invention made Christmas trees much safer than the ones lit with wax candles.
Artificial Christmas Trees Introduced
The first artificial Christmas trees in the United States were produced by a brush company in 1930. They were made from dyed brush bristles and were produced on machinery used to make toilet brushes. Aluminum trees made their appearance in 1958. Today, most of the millions of artificial trees sold annually are made of PVC plastic for their realistic appearance. These PVC trees make it possible to design trees in nontraditional shapes, sizes, and colors. Let's check out some of our favorites.
Most Nontraditional Christmas Trees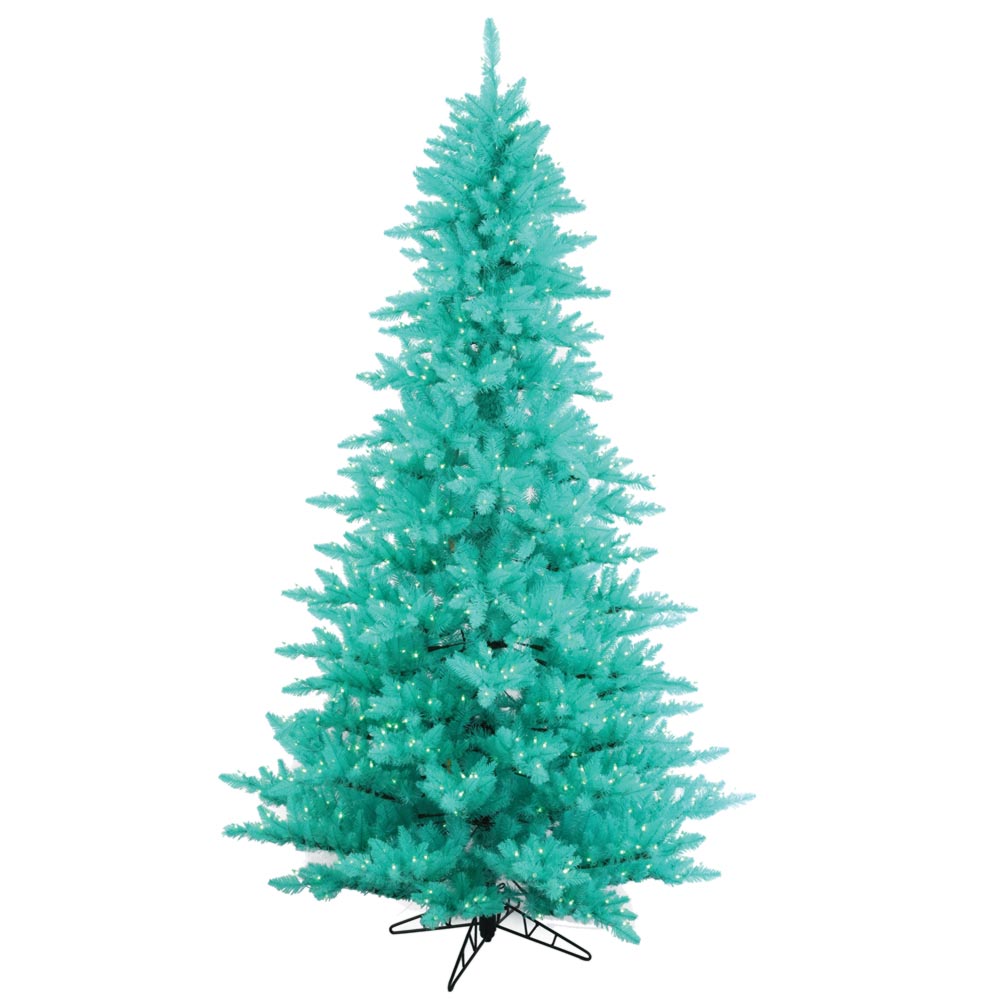 Nontraditional Colors
For a nontraditional Christmas tree that makes a bold statement, consider an unusual color. Today's Christmas trees come in all colors from raspberry to aqua. My sister has a beautiful champagne colored Christmas tree adorned with peach and gold ornaments that makes an elegant statement. For a beach inspired tree, consider an aqua or sky blue tree as a background for your tropical ornament. You can also consider a nontraditional Christmas tree color to match your décor. Today's bold colors are also a great base for a favorite sports team themed tree. No matter what your favorite color, there is an artificial tree to match your style.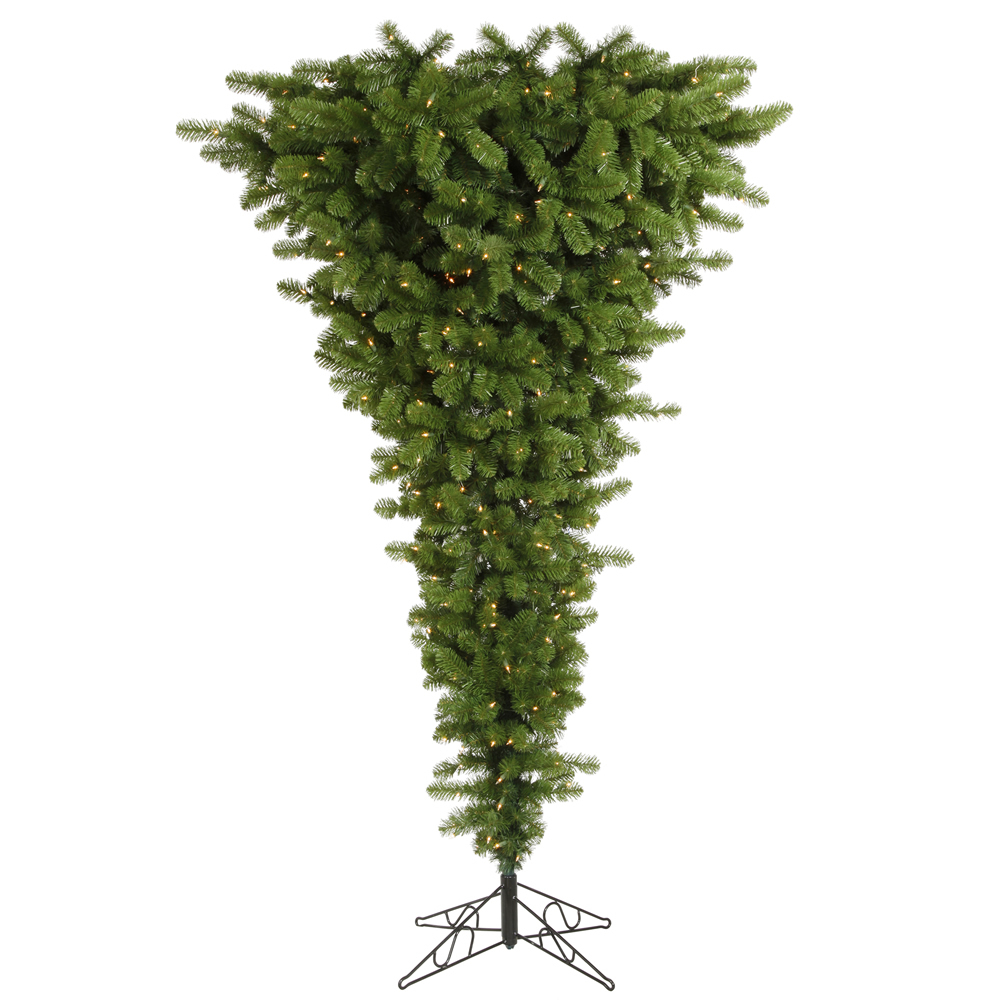 Nontraditional Shapes
Today there are nontraditional Christmas tree shapes to suit any need.  If space is limited, consider a half tree. These nontraditional Christmas trees are only half a tree and fit beautifully against a wall, taking up far less space than a more traditional tree. They are a great fit for a narrow entry way or any place where you want to conserve floor space. For an even more compact Christmas tree, choose a quarter tree. This shape fits neatly into a corner and takes up very little space. It is perfect for a stair landing, small apartment, dorm room or anywhere space is limited.
In the Middle Ages, pines were hung upside down to represent Christ on the cross. Today there are upside down artificial tree options. This shape takes up less floor room and displays ornaments beautifully. While some options hang from the ceiling, others come with a convenient stand.

There are also many pencil trees in various heights. These trees are thinner giving a more vertical effect. This is another shape that lends itself to small spaces. Whether you choose a pencil shaped tree for your main tree or use it to decorate a smaller bedroom or dining room, this shape takes up less floor space and draws the eye up.

A spiral shaped Christmas tree is another nontraditional choice. The topiary style works well both indoors and out. Lights and decorations make this a dramatic focal point to your holiday decorations.

For a more tropical appearance, consider a lighted palm tree. Decorate with traditional Christmas ornaments for a fun centerpiece for a tropical Christmas party.
Nontraditional Sizes
From the smallest 3 inch tabletop Christmas tree to a 12 foot artificial tree, nontraditional Christmas trees come in many sizes.  Create a winter wonderland on a mantle or table top with these tiny Christmas trees.  For a bolder look, add a beautiful grouping of colored Christmas trees to your holiday décor. With so many size choices available, you can match your space and height needs to the perfect nontraditional Christmas tree.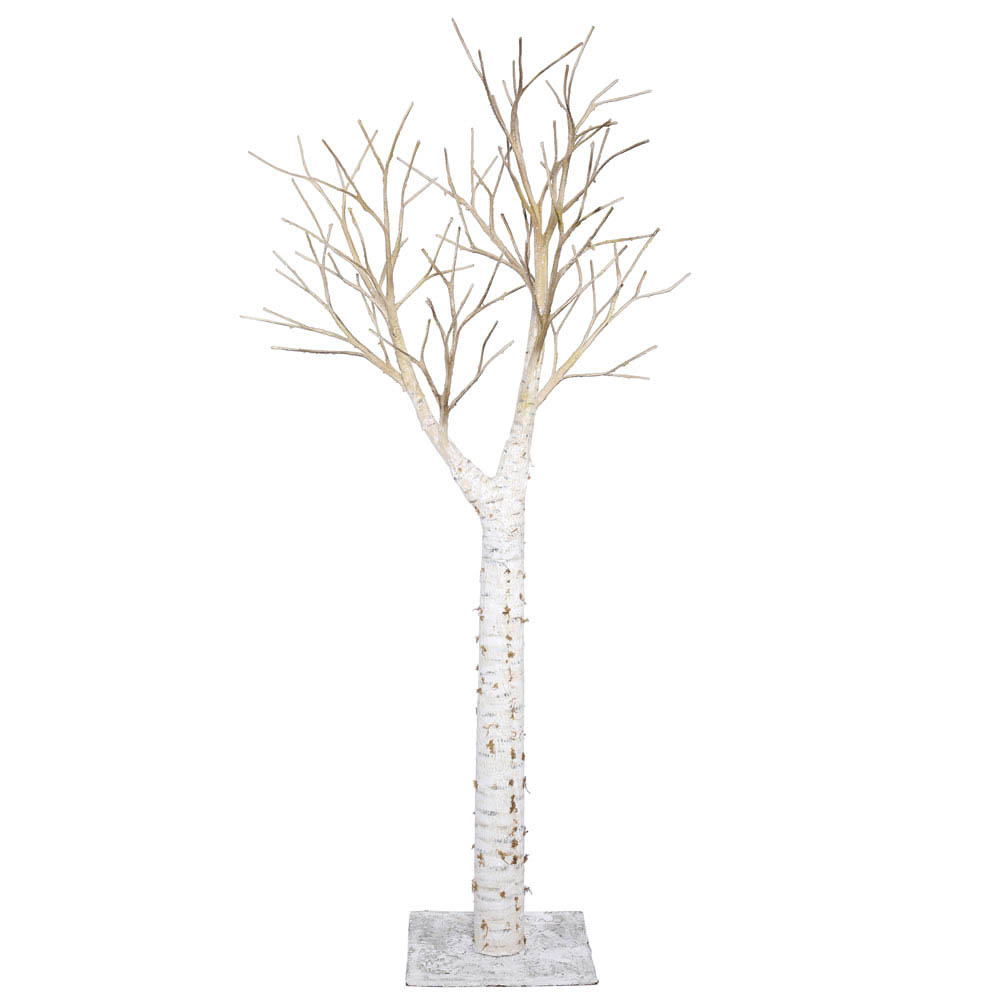 Nontraditional Materials
Today's Christmas trees come in many different materials. While most artificial trees are made of PVC plastic, several more nontraditional choices can be found. Birch bark is a wonderful nontraditional material. These trees are a natural looking alternative to the more traditional pine. Some use birch bark strips on a cone shape for a rustic table top design, but there are also tall birch tree options. The beautiful white birch branches provide a wonderful backdrop for your colorful holiday ornaments.
For a really nontraditional material, consider a finial Christmas tree. These stacked ornaments look like a decorative finial. They would make a festive addition to you mantle or sofa table.
There are also Christmas trees made of acrylic. The architectural style of a cone-shaped acrylic Christmas tree would be an eye-catching addition to any holiday décor. Pair one of these nontraditional Christmas trees with more traditional decorations or let it make a bold statement on its own. Lighted acrylic palm trees are another nontraditional choice. Lighted against the night sky, these trees look almost like ice sculptures.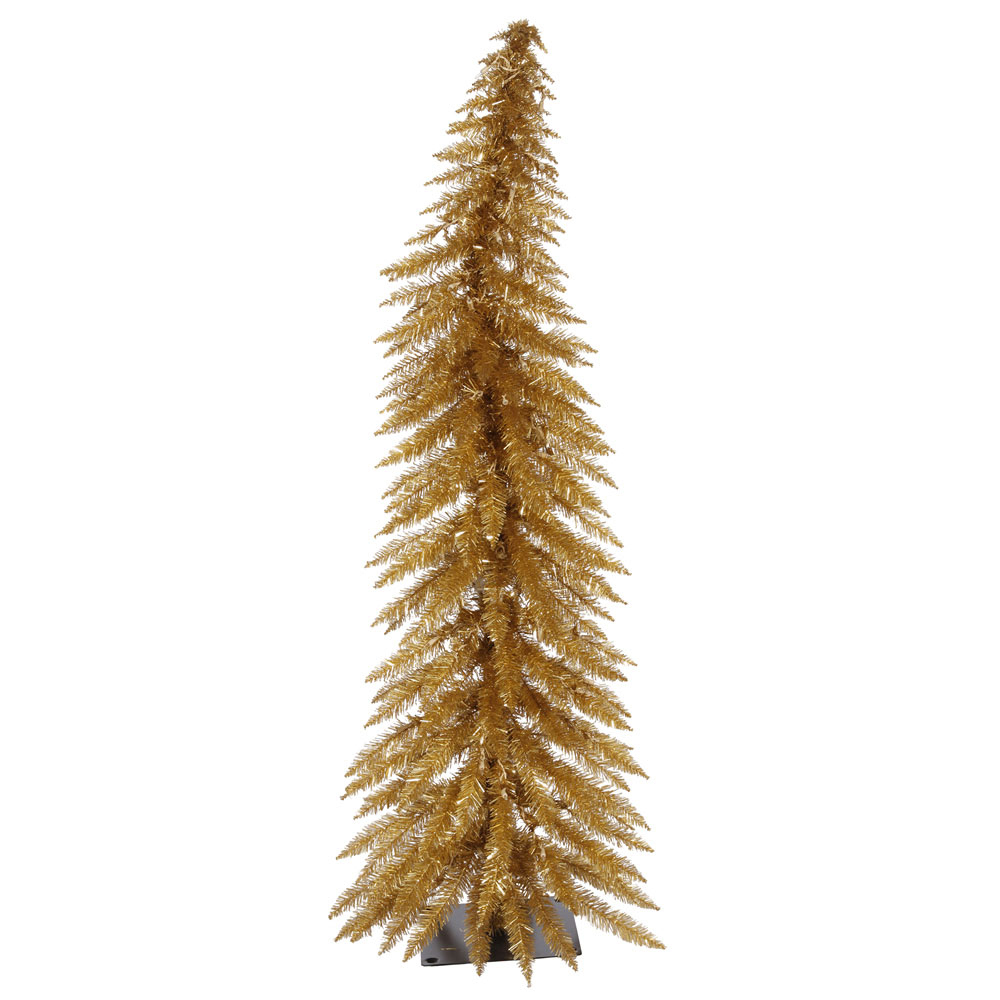 Nontraditional Styles
For a truly nontraditional look, consider a whimsical Christmas tree. The bold color and unusual shape make this tree look like something that jumped off the page of a Dr. Seuss book. Finish the look with fun ornaments in bold colors for a humorous nod to a holiday tradition that will bring a smile to your visitors' faces.
A Christmas tree does not have to be three dimensional. If you don't have space for a traditional Christmas tree or you have a wall or door you want to make a focal point, consider an LED Christmas tree. The bold lights are a nice backdrop to your holiday decorations. Unlike a traditional Christmas tree, this lighted display takes up no floor space and attaches directly to a flat surface.
As you prepare for the 2016 Christmas season, consider one of the many nontraditional Christmas tree choices available. Whether your main tree or a supplemental decoration, these trees add interest to your festive décor.