In just a couple of hours you can create handcrafted holiday arrangements that can be used to flank a fireplace, warm up an entryway, or lead up to a front porch. All you need is a couple of decorative urns, floral foam, and an abundance of beautiful Christmas urn fillers.
Step 1: Select an Urn
The first step to any custom arrangement is determining where you are going to place your urn and choosing one that fits perfectly in that space, both in size and in style. Fortunately, there are many different types of urns to choose from, many of which look great year-round when you switch out the foliage seasonally.
Step 2: Fill with Soil or Floral Foam
Fill the urn with your choice of filler. Floral foam is a great choice for indoors but it sometimes needs covered with a moss or other filler. Soil can be used if you are placing the urn outdoors. Rocks are a third option that can look lovely and help weigh the urn down as well.
Step 3: Purchase Tons of Filler
Now that you know the vessel you are going to fill, it is time to go crazy deciding what is going to go into it. There are many ways to gather inspiration. You can browse the entire line of sprays and fillers here or you can check out a Pinterest page, such as this one on Christmas urn fillers to help focus your design.
Some Things to Consider
Start with Greenery
A small artificial tree, a round kissing ball, and pine sprays are all great urn fillers.
Create a Color Story
Before you purchase filler, think about the overall color scheme of the finished arrangement.
Consider Adding Ornaments
Large christmas ornaments are a great way to add a pop of color to Christmas urn fillers.
Add Something Unexpected
The occasional glittered branch or artificial flower may be just what you need to complete your look.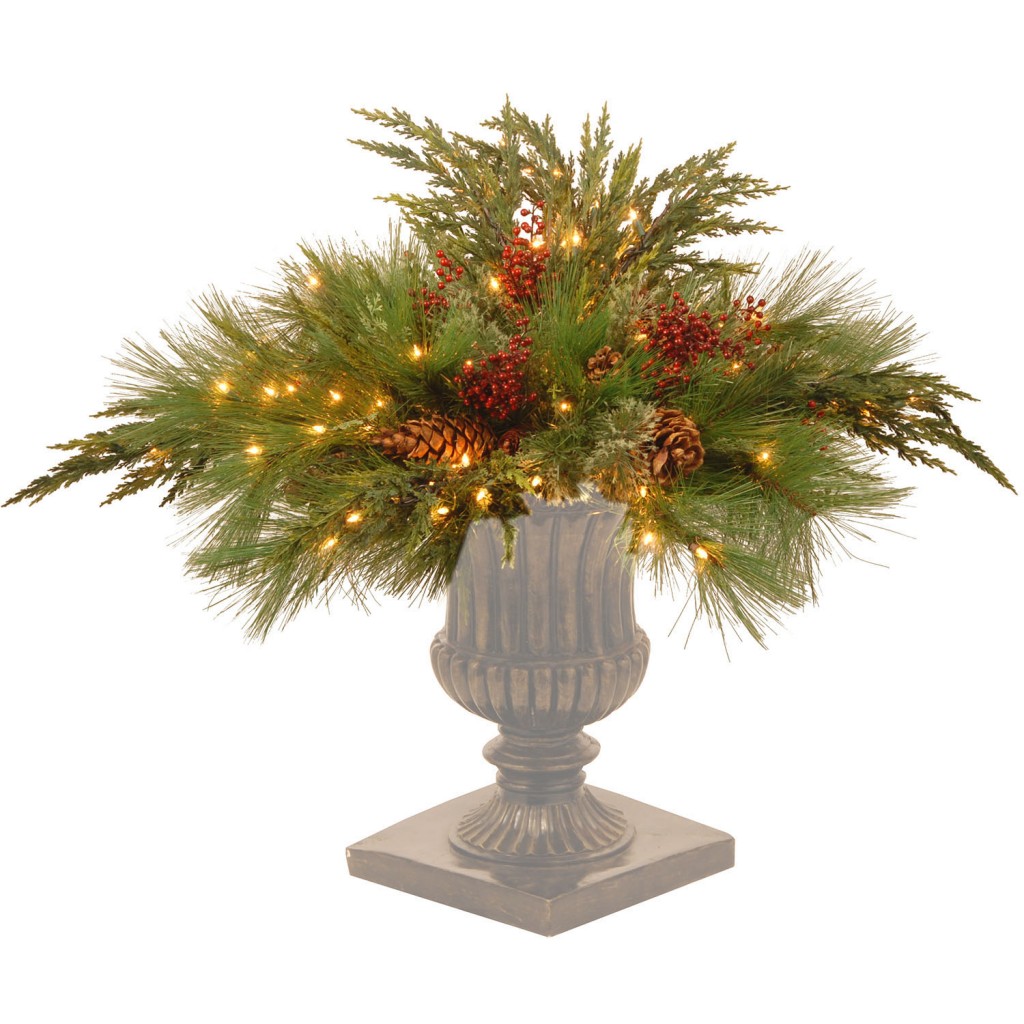 Step 4: Fill Your Urn
Start in the center and begin loading your urn with all of your individual stems. Continue until you have your entire urn full. If you are creating two matching urns, you may want to fill them at the same time, using the same number of each types of sprays so you end up with a consistent look. If a little of your florist foam is showing, use a pine garland or other bit of greenery to cover the exposed floral foam.
Pre-Made Urn Fillers
If the idea of creating a custom arrangement is just a little too scary for you, these Christmas urn fillers are pre-arranged and ready to use. All you have to do is place them in your favorite urn, basket, or planter.