Christmas trends change just as often as fashion trends and this year, we are seeing a ton of teal. This bright jewel tone adds a cheerful touch to your holiday decor. From traditional glass ornaments to colorful teal trees, this color has been infused in nearly every aspect of holiday decorating. Today, we are going to share with you some of our favorite new teal Christmas decorations. Maybe you will be inspired to bring this trendy color into your decor this holiday season.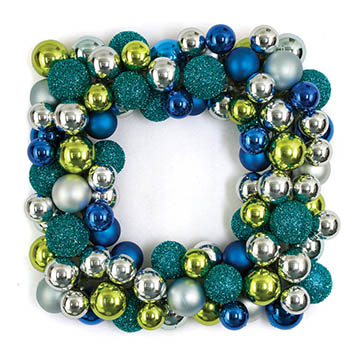 Teal Color Pairings
Teal is a versatile color that looks fantastic when paired with silver, lime green, and even other blues such as this royal hue. This versatility makes it a great new color to incorporate in with your existing decor. Imagine how beautiful this wreath would be used as a frame for your favorite family photo.
Trendy Teal Christmas Decorations
We have tons of teal decorations to choose from. These are just a few of our favorites. A teal ribbon can easily be transformed into a big beautiful bow for an existing tree or holiday wreath. Ornaments coordinate beautifully with the ribbon and can be used to hang from trees, architectural niches, or even window frames. Finally, illuminate your home this holiday season with the gorgeous glow provided by teal Christmas lights.
Your Thoughts on Teal?
So what do you think?  Is this trend a winning color combination or could you do without this non-traditional holiday hue? Not ready to incorporate this color into your main living room? Why not try it as a color scheme for a playroom or a child's bedroom instead. We would love to see what you have paired our teal christmas decorations with. Share your pictures on our Facebook or Pinterest pages and you may just see your images on a future blog.