Whether you are hosting Christmas Eve dinner for the first time or are a seasoned pro at the process, you will love some of the ideas we have for making the process as stress-free as possible. I am faced with a very strange scenario this holiday season. For 60 plus years my grandmother has been hosting a large, multi-generational Christmas party that the whole family shows up to attend. This is the first year that she has not hosted and we find ourselves completely reinventing Christmas.
Now that the matriarch has stepped down we have decided to spend the holidays at my Mother's house and as such, the job of hosting has fallen to her, my sister, and myself.  Over the past two weeks we have spent hours talking about Christmas Eve, Christmas Day, and our menu each. What we have done is taken tips from years past and combined them with new Christmas Eve dinner ideas to create two days that provide us with the food we want but without pulling us away from visiting with our guests. Finding that perfect balance results in a successful Christmas Eve dinner party.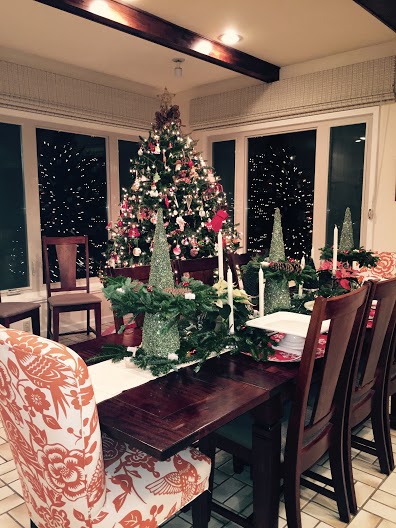 Tip 1: Take the Time to Plan a Menu
I cannot stress enough how important it is to take the time to plan out your Christmas Eve menu. Not only will it provide you with a precise shopping list, but it also gives you an opportunity to select a combination of items that need to be cooked last-minute and which can be prepared way in advance. As you are fleshing out your menu there are a couple of things that you should take into consideration.
How much oven and stove space do you have?
Are you comfortable cooking all the recipes?
Do you have serving pieces for each component?
Are there any specific items that are traditional to your family?
Do the guests coming have any family recipes that will make it feel more like Christmas to them?
Tip 2: Make Some Items in Advance
No matter how well you plan, getting dinner on the table will always be a last-minute sprint to the finish line. That is why it is so important to incorporate items into your menu that you can make well in advance. Christmas cookies, pies, fudge, dips, and cheese balls are all items that can be prepared at least a day in advance and stored in the refrigerator.
Tip 3: Assign Items to Others
Reduce your work even more by taking some of those make-in-advance items and assigning them to people coming to your home. My mother has assigned brownies, ranch pretzels, crabbies, and beverages to me because I can make them at my house and transport them to her house easily. Not only does this reduce her work load, but it also helps spread out the cost of ingredients.
Tip 4: Lay Out Labeled Serving Items
I stole this trick directly from my grandmother. Every year she would start arranging her table and laying out the serving plates and bowls days in advance. In the center of each dish she would put a post it note with the name of the food item that the dish was assigned to. This is genius for two reasons. One, she was able to make sure that she had a serving piece for every item and that they all fit on her tables. Two, on the big day when guests started arriving and she was laying out dishes, they could help her fill the serving pieces without messing up her plan.
I knew exactly which napkin-lined basket was to be filled with rolls and which sectioned plate was for assorted sweets. As a teenager I made fun of her for her labeling craze but as an adult and a mother myself, I fully understand why she did it and it is an idea that I just had to pass on. If it was a holiday dish that she was not going to use again until the following Christmas she would take it a step farther by packaging the post it not inside the plate when she boxed them away.
Tip 5: Don't Forget About Decorations
No Christmas Eve dinner would be complete without beautiful Christmas decorations. Start with a beautiful holiday tablecloth. With that in place, start setting your table with dishes and serving pieces first. Once you know how much additional space you have, layer in candlesticks and floral arrangements. If you don't have a lot of space on the table itself, use the buffet to showcase artificial poinsettias, garlands, and table runners.