It is officially December! With the Thanksgiving weekend and Black Friday shopping behind you, now is the time to let the Christmas decorating commence! This is the week to purchase and set up your christmas trees, hang your wreaths, arrange your garlands, and decorate your shelves. Do you love the look of a well-decorated home but don't know how to start. Today we are going to transform a simple bookshelf into a beautiful holiday display and tell you exactly how we did it.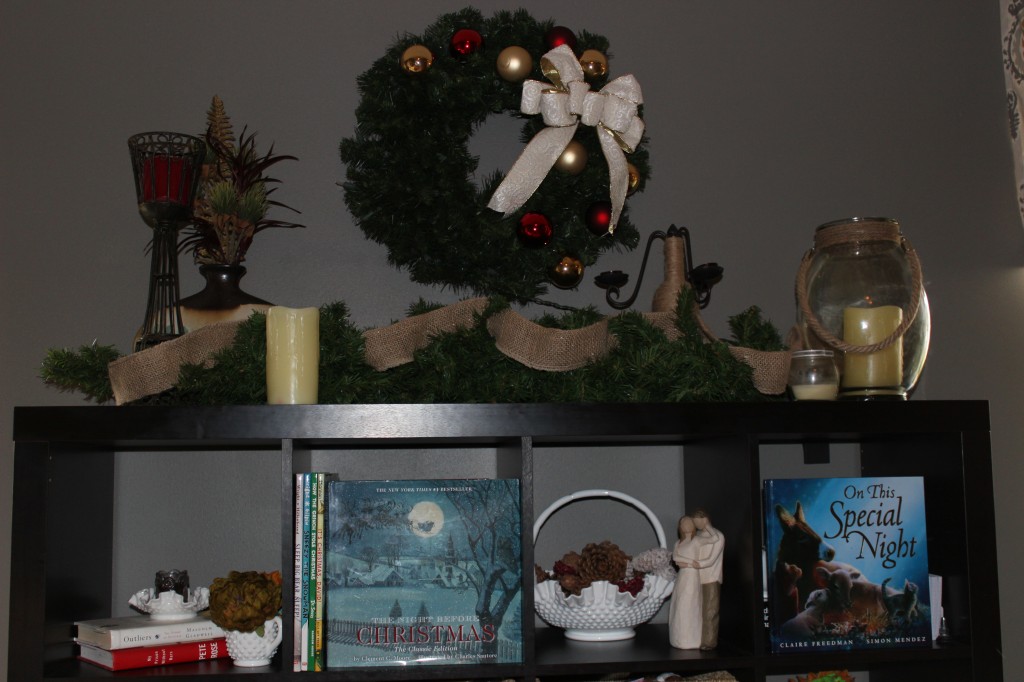 Step 1: Start with a Focal Wreath
Every beautiful Christmas display needs at least one gorgeous green wreath. We took our Douglas Fir Pre-lit Wreath and made it our own by adding a beautiful wire edged ribbon bow and some red and gold Christmas ornaments. These ornaments are easy to add to the wreath. Just take 2 inches of floral wire and use it to attach the ornaments securely to the wreath. Hang the wreath above your mantel or bookshelf and then move onto our next step.
Step 2: Wrap a Garland with Burlap Ribbon
With your wreath in place it is easy to start decorating under it. We took a simple plain fir garland and rested it on top of the bookshelf. To add a bit of something extra we took a pre-lighted  burlap ribbon and wrapped it around the garland in a free-flowing way. This particular ribbon runs on a batter pack and features the same soft white twinkle lights as the wreath.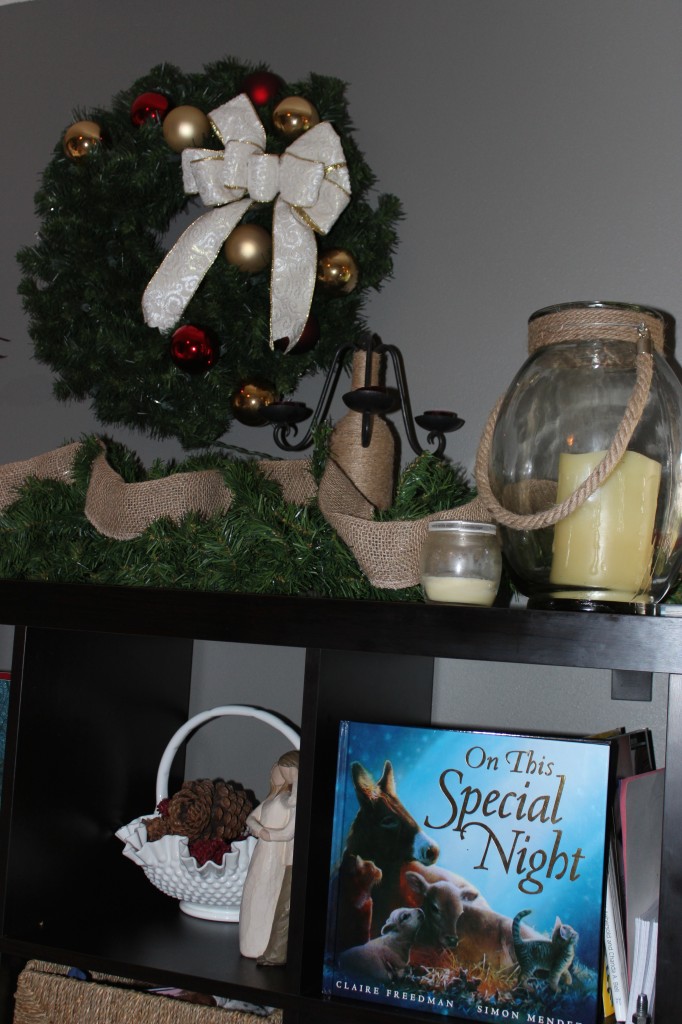 Step 3: Add Beautiful Accessories
Hurricane jars with candles, wrought iron candlesticks, battery operated candles, and vases are all great accessories to add to your mantel or bookshelf. Try using what you already have and making fast adjustments, such as trading out the colors of your candles or the filler in your hurricane. We also took a vase that is used all-year and traded out the artificial stems in it for holiday leaves and sprays.
Step 4: Dress the Shelves with Seasonal Decor
When you are decorating a bookshelf such as this, the shelves are every bit as important as the top of the furniture. We displayed a gorgeous collection of antique milk glass and made it holiday-friendly by filling it with cinnamon-scented pinecones in a Christmas color scheme. In addition to the milk glass, we took a collection of children's books around the Christmas theme and stood them up. Not only are they within easy-reach for December bed-time routines, but they are also a constant reminder of what the holiday is all about.