According to the National Association of Home Builders (NAHB) the average lot size for a new home in 2013 was 14,359 square feet. This is down from 21,879 square feet in 2009. As new neighborhoods continue to be built and space is at a premium, lot sizes continue to decrease. Space is at a premium both inside and outside the home. That is why so many new homes feature these wide-open floor plans. While these plans offer a ton of versatility for growing families, they can also present challenges when it comes to defined spaces and privacy.
Fortunately, there is an affordable solution that can help you separate these open spaces and add privacy from your neighbors. Let's take a look at 10 ways that you can use screens and bookshelves both inside your home and outside your home to help define spaces.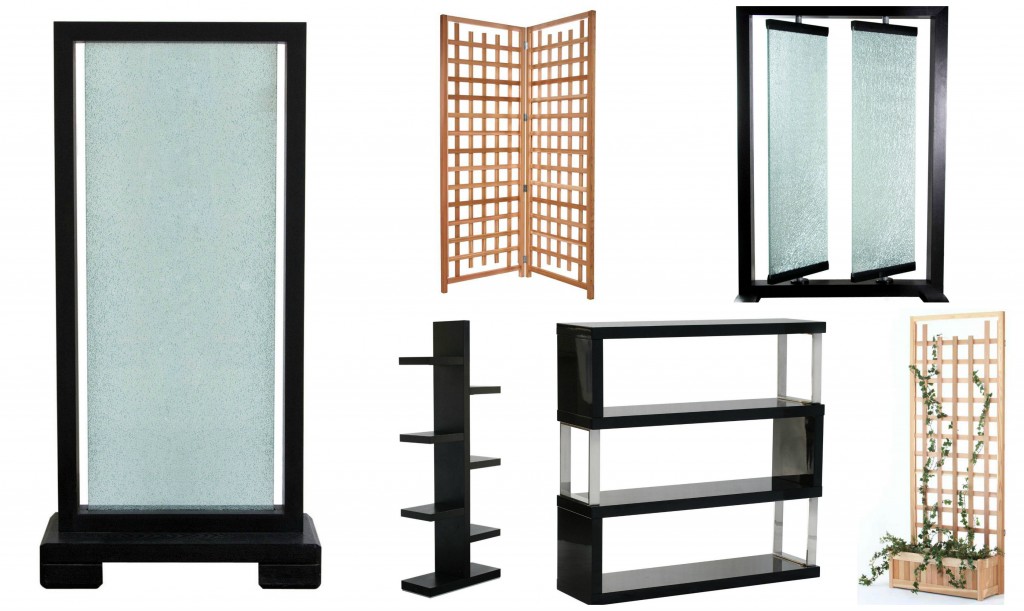 1. Add Privacy to a Deck or Patio
As lot sizes continue to diminish, your neighbors are closer than ever. Many decks back right up to the back of lots and can easily be seen from the windows of houses around them. Enhance the privacy around your deck or patio by placing hinged 2-panel cedar screens to the corners of your deck. These screens still allow plenty of sunlight to shine through but they also add to the feeling of intimacy on an otherwise exposed patio.
2. Create a Defined Foyer
So many homes have front doors that walk right into a large living room. Give yourself a fake foyer by placing a bookshelf perpendicular to the wall just to the side of the door. A bookshelf doubles as a convenient drop zone for keys, cell phones, and mail.
3. Separate Your Living Space and Dining Space
So ofen living rooms and dining rooms are all one large space with no noticable definition of space from one to the other. This is great because you can decide how much room you need for your dining room and how much can remain living room but if you are wanting more of a separation of rooms, a divider is a great way to achieve it. Consider using a free-standing panel such as the Diamond Sofa Crackled Glass Room Partition. It looks equally beautiful from both sides, making it perfect for this application.
4. Create an Intimate Seating Area
Sometimes, we just want a cozy place to sit and curl up with a good book. If that is the case, a bookshelf placed alongside a oversized reading chair is a great way to create a personal space for one. Load it up with your favorite books, perhaps a candle or two, and you are ready to enjoy your seating area. Exposed bookshelves such as the Diamon Sofa Low Profile Shelf Unit are a great choice because they look great from both sides.
5. Conceal a Home Office
If you don't have a designated home office, chances are you will have to find a place in a bedroom, den, or living room for a desk and chair. Create a separate zone in your home for this office by placing a free-standing screen or two around the desk.
6. Create Zones in a Shared Kid's Room
Kids don't always love the idea of sharing a space but it is ofen a necessity. Help them create a place to store their own belongings while giving a litle bit of separation beween beds by placing a tall tree shelf between them. They can each have a place to display their personal items and gain ownership of their own area.
7. Add Privacy Around an Exposed Tub
Teak and cedar screens aren't just for the outdoors. They are also a great accessory for a large master bathroom with an exposed tub. Place them wherever you need a little more privacy. Add a couple artificial flower arrangements to create a little garden oasis right in your master bath.
8. Break Up a Large Deck or Patio
If you are fortunate enough to have a large deck or patio, you may be able to pull double-duty and break it up into both an outdoor living room and a dining room using a couple of cedar trellis panels. These panels even come with attached flower boxes at the base to showcase your favorite artificial plants.
9. Narrow a Large Room Opening
Many open floor plans feature wider-than-usual openings from one room to another. Narrow those large openings by adding a pair of free-standing room screens. These decorative screens are also a way to reinforce theme in your home.
10. Add Visual Interest to a Garden
Do you have a flower bed or garden that is sorely lacking vertical interest? A great way to add some is to choose an outdoor screen to place in the rear of your garden. If is a trellis style you can even coax climbing plants up the screen.