It doesn't matter whether you are designing a residential outdoor dining room or a huge outdoor dining area for a restaurant, many of the rules are still the same. Pick a theme or an overall design style, add quality furniture that coordinates with that look, and accessorize like crazy. Today, we are going to break it down, step by step, until you have the outdoor dining room of your dreams. And we are going to do it with POLYWOOD outdoor furniture.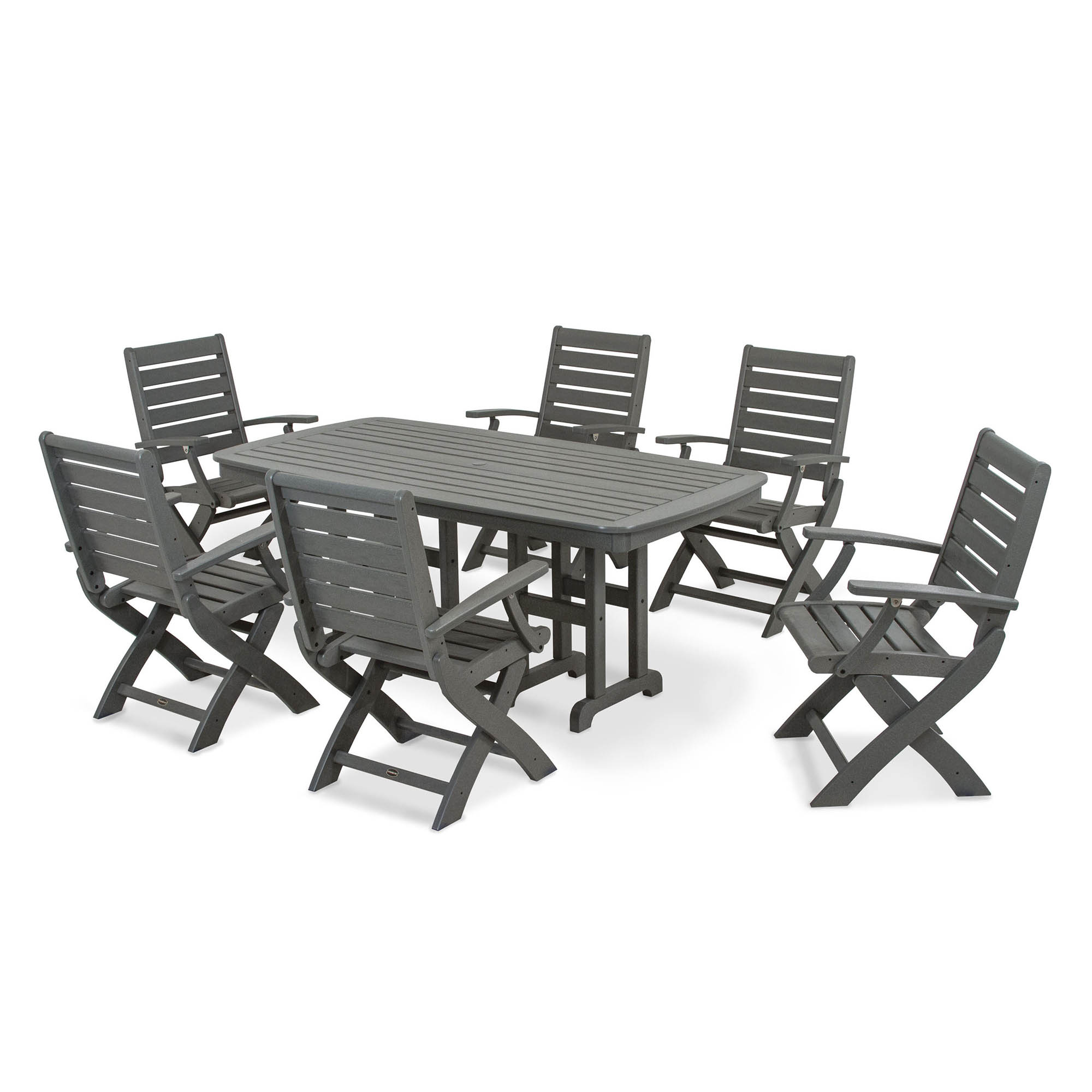 Start with a Vision
Every exceptionally designed room starts with a vision. Think about what you want out of the space. What is the feeling you want people to have when they enter the space? What style is in keeping with your home, both inside and outside? If you need inspiration, don't hesitate to flip through our different Pinterest boards to get you motivated.
Choose a Quality Outdoor Dining Table
We cannot emphasize enough how important it is to choose a quality piece of furniture, especially for commercial applications. When you invest in nice furniture from the start, it becomes a part of your outdoor room for many more years to come. It is also a great idea to choose something in a neutral color. It allows you to change up the look anytime you want.
POLYWOOD dining sets are an excellent choice because of the durable synthetic wood they are made out of. Even though it looks like a wood product, it is actually made out of recycled bottles. At a time where environmentally choices are popular, you can't go wrong with a green outdoor product.
Purchase Non-Breakable Dinnerware
When you have an outdoor dining room, especially one where children will be dining, it is inevitable that something will get dropped at some point. Choose a beautiful non-breakable dinnerware and glassware set that you can save for this use. This is a must-do if you have a pool that is near the outdoor dining table. This is also an opportunity to have some real fun. Bright colors can enter the space in the form of placemats, chargers, and serving pieces.
Time to Accessorize
Encourage your guests to relax and talk long into the evening with the addition of seat cushions on your dining chairs. An artificial outdoor plant or beautiful umbrella in the center of the table will help to ground the look and add an extra pop of color.
Consider Climate Control
There is only so much you can do when it comes to the weather but on a nice fall or winter evening, you can make things a bit more bearable with the careful placement of a patio heater or fire pit. Our vast selection of restaurant-grade heaters aren't just functional, they are also very stylish.
Enjoy Your Space
Now that your vision has come to life, all that is left is enjoying your brand new outdoor room. If you order your new outdoor dining set before May 25th you can also save 10% by using code MyPatio10 at checkout.