Drought affects thousands of homeowners in the western U.S. every year, and as a result, they are coming up with some pretty incredible ways to conserve water while creating beautiful landscaping.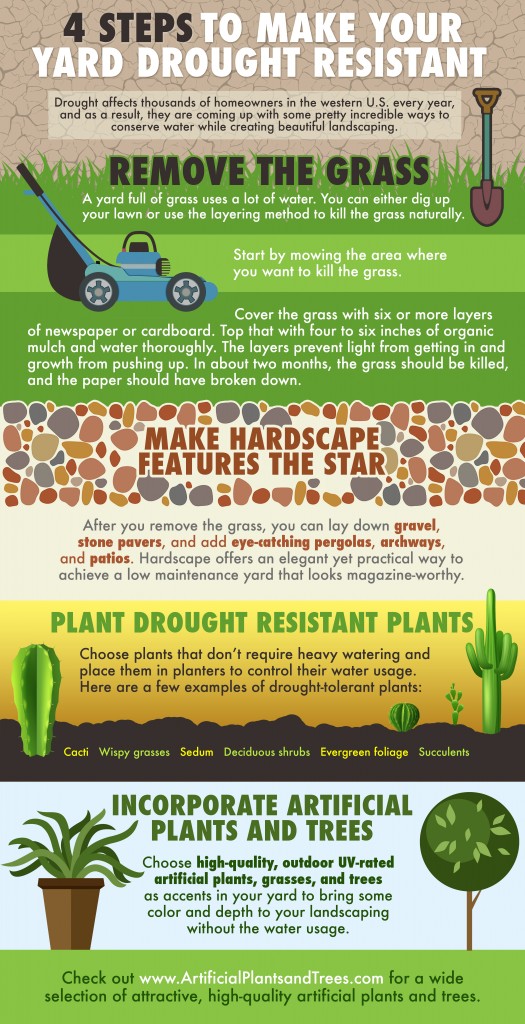 Share this Image On Your Site
Remove the Grass.
A yard full of grass uses a lot of water. You can either dig up your lawn or use the layering method to kill the grass naturally. Start by mowing the area where you want to kill the grass. Cover the grass with six or more layers of newspaper or cardboard. Top that with four to six inches of organic mulch and water thoroughly. The layers prevent light from getting in and growth from pushing up. In about two months, the grass should be killed, and the paper should have broken down.
Make Hardscape Features the Star.
After you remove the grass, you can lay down gravel, stone pavers, and add eye-catching pergolas, archways, and patios. Hardscape offers an elegant yet practical way to achieve a low maintenance yard that looks magazine-worthy.
Choose Low-Water Plants.
Choose plants that don't require heavy watering and place them in planters to control their water usage. Here are a few examples of drought-tolerant plants:
Cacti
Wispy grasses
Sedum
Deciduous shrubs
Evergreen foliage
Succulents
Incorporate Artificial Plants and Trees.
Choose high-quality, outdoor UV-rated artificial plants, grasses, and trees as accents in your yard to bring some color and depth to your landscaping without the water usage.
Check out Artificial Plants and Trees for a wide selection of attractive, high-quality artificial plants and trees.