Don't let the frigid weather and inches of snow give you a case of the winter doldrums. Look forward to a bright, colorful spring with the help of the vibrant hues in the Polywood furniture collection. Polywood furniture is made out of a synthetic wood product that is unbelievably durable. Because this material is man-made, they are able to saturate it with color the whole way through. What is so special about all of these stylish furniture pieces is that they really are built to last. If they do get dirty, a hose is all you need to restore this colorful outdoor furniture to their original beauty.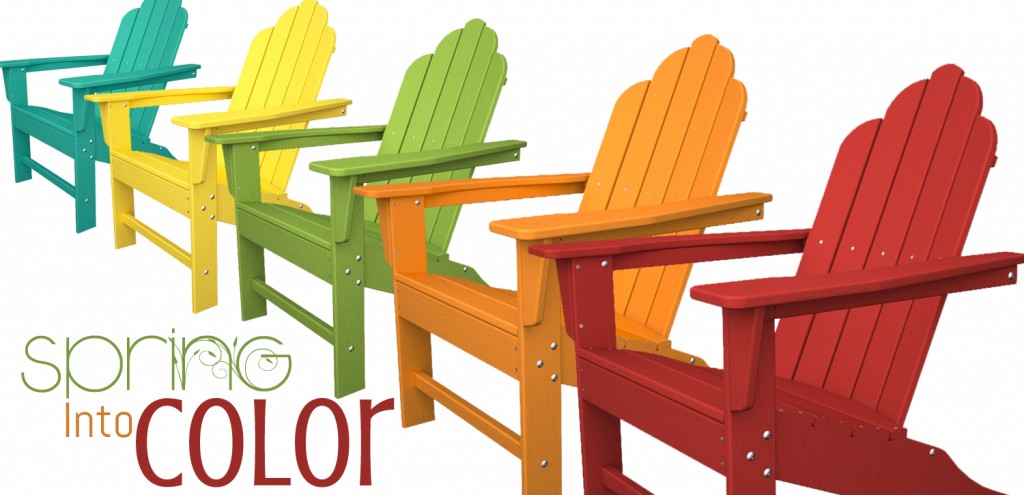 Ultimate Durability
This line of outdoor furniture embodies a cozy, casual feeling. Dining tables, benches, adirondack chairs, poolside furniture, rockers, and seating areas are all included in this line. While each one is beautiful on it's own, they also coordinate perfectly with one another, giving you the ability to decorate an entire outdoor space. Whether you are furnishing a coastal retreat or a country cabin, these pieces will blend in beautifully.
Bold Color Options
Once you do find the pieces that are ideal for your space, take a few minutes to check out the bright, beautiful color options. Polywood really does give you the opportunity to make your outdoor space a fun, vibrant, place to spend your time. You can choose for all your pieces to be the same color or mix and match them to create a truly unique space.
A More Natural Look
If you aren't a fan of these bright color options, these pieces are also available in white, cream, and grey, and traditional wood finishes. These more subdued colors are even more beautiful once they are paired with the brighter ones. Imagine a white dining table surrounded by aqua chairs or a pair of cream love seats accentuated with a deep red side table.