Here's a little bit of advice this Mother's Day: Don't buy your mom fresh flowers. Yes, of course she loves receiving a bouquet or arrangement, and surveys indicate they're still a favorite gift, but they're dead within a week. In lieu of (real) flowers, please send silk flowers to honor you mother this year!We have some lovely silk flower suggestions to inspire you as you begin your quest to find the perfect ever-lasting blooms for mom. They come in all sorts of arrangements, so we've provided a sampling of each type to give you a well-rounded idea of the options.Moms love to show off gifts from their children. Whether it was the scribbly mess you made during art class in kindergarten, or the macramé plant holder you made for her in middle school; she beamed brightly whenever she had cause to explain to friends that you made it for her for Mother's Day. So, do mom a favor and get her a floral creation everyone will see, like a door wreath.These wreathes with purple flowers (lavender and hydrangeas) are perfect for May.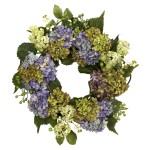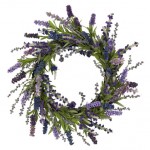 Acrylic arrangements are very beautiful, and a lot of fun. To the casual onlooker, they appear to be fresh cut flowers sitting in water. But they'll never dry up or wilt. Mom will just have to dust them off once in a while.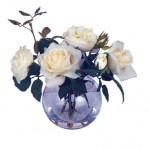 Cream roses in a fishbowl vase are elegant, and just what your mom needs for that side table in the hallway.How about a floral centerpiece for mom to show off on special occasions? This preserved sunflower centerpiece is perfect for fall gatherings—especially Thanksgiving. It's made with real flowers that have been chemically preserved for long-lasting beauty.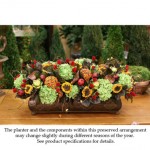 Finally, what's life without accessories? Look for a special piece, like this submerged orchid candle holder, to serve as a perennial reminder to mom of how much you love her!