Adding artwork is one of the fastest ways to make a house feel like a home. Why not add something fresh and different to your space with one of these beautiful succulent arrangements. Plant art has been seen decorating everything from commercial businesses and wedding venues to homes and outdoor spaces. Now you can bring this stylish trend into your home with one of our succulent-filled boxes.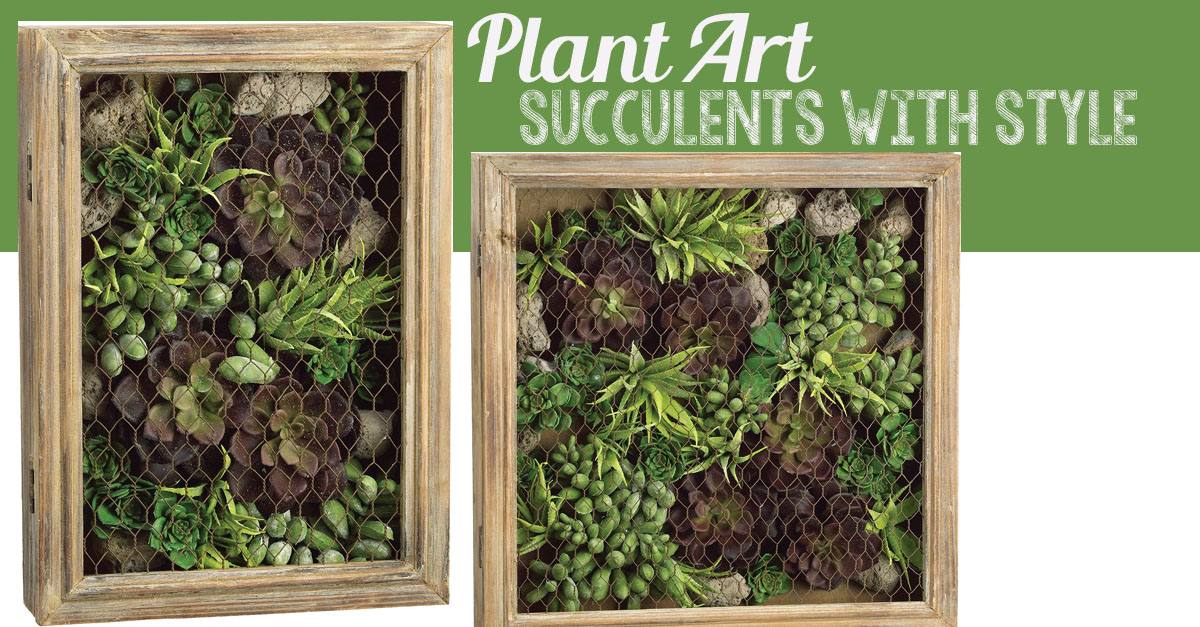 The Beauty of Plant Art
Instead of opting for a traditional piece of wall art, make a statement with one, two, or even three of these succulents in wooden boxes. A lovely assortment of artificial succulents are carefully arranged inside the rustic wooden box and contained behind a chicken wire screen that adds an added layer of texture to the finished arrangement.
Succulent Box Sizes
Our succulent filled boxes are available in three sizes. Whether you choose just one or create a larger wall hanging with all three, you are sure to love the quality of the pieces you receive. These arrangements feature a combination of echeveria, aloe and sedum succulents in shades of green and burgundy.
12-Inch Rectangle
14-Inch Rectangle
16-Inch Square
Want to Create Your Own?
Do you love the idea of these pieces of plant art but want a sleeker style? Make your own with any deep frame or shadowbox by gluing artificial succulents to the back panel using a hot glue gun. If you love the look but don't have any interest in succulents, use the same idea to arrange roses, tulips, or any artificial flower of your choice into a shadow box. Take this idea to the extreme by covering an entire photo backdrop in flowers or succulents and using it for a special event or wedding. Making your own plant art gives you complete creative freedom to use the plants you want to create the size you want.